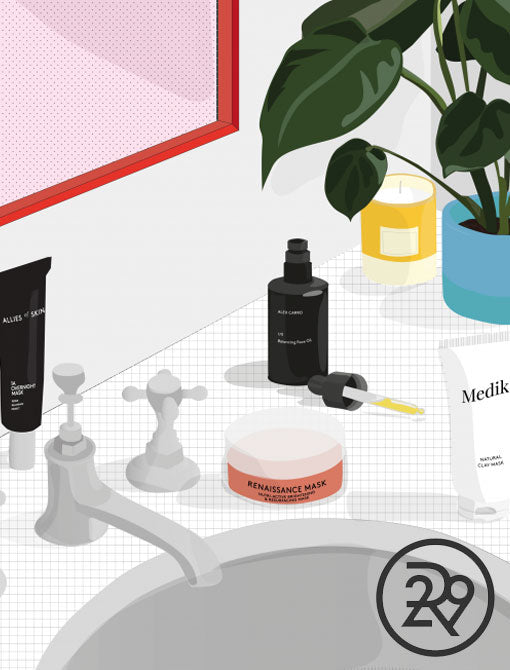 Everything Team Refinery29 Uses For An At-Home Facial
The hashtag #SundayFacial trends at the end of every weekend, and with good reason. Alongside a slap-up roast, getting lost in a good book, a dog walk or yoga class, spending some TLC time in your bathroom is one of the best ways to fend off the fear of Monday.
Whether your beauty routine is more centred around relaxation – a bathtub strewn with candles, a facial oil massaged into your skin – or pumping and prepping your visage with your favourite products for another working week, the ritual itself is an important time-out.
Ahead, Refinery29 staff talk through their #SundayFacial, from the routines they've finessed to the products they favour. Click through to get some inspiration for your own end-of-week at-home spa session. Aaaaand relax.
Kara Kia, Editorial Intern
After seeing how well oil works for removing makeup, I think jojoba makes a decent pre-cleanse. Jojoba has antibacterial and anti-inflammatory properties, for keeping my pores clear and calm. The oil also gives my combination skin a bit of moisture before deep cleansing. Using a dropper, I dispense one to two drops on my cheeks, forehead, nose and chin and then lightly massage my face before rinsing with warm water.
MV Skincare Pure Jojoba
My HG [Holy Grail] cleanser, going strong for two years. It's gentle, great for acne-prone and sensitive skin without the tight feeling, and has a pleasant non-irritating scent. After moistening my skin with warm water, I put a microscopic amount in the centre of my palm and emulsify the product into a foam before massaging my cheeks, nose, forehead and chin.