Cruelty Free
Passionately against animal testing
Plant-Powered
Using plant medicine for skin health
Therapeutic-grade
Only the highest quality, used at their therapeutic dose
Cruelty Free
Passionately against animal testing
Plant-Powered
Using plant medicine for skin health
Therapeutic-grade
Only the highest quality, used at their therapeutic dose
Our Ingredient Policy
Crafted from the purest ingredients and formulated solely for their beautiful, natural affinity with your skin - this is MV SKINTHERAPY.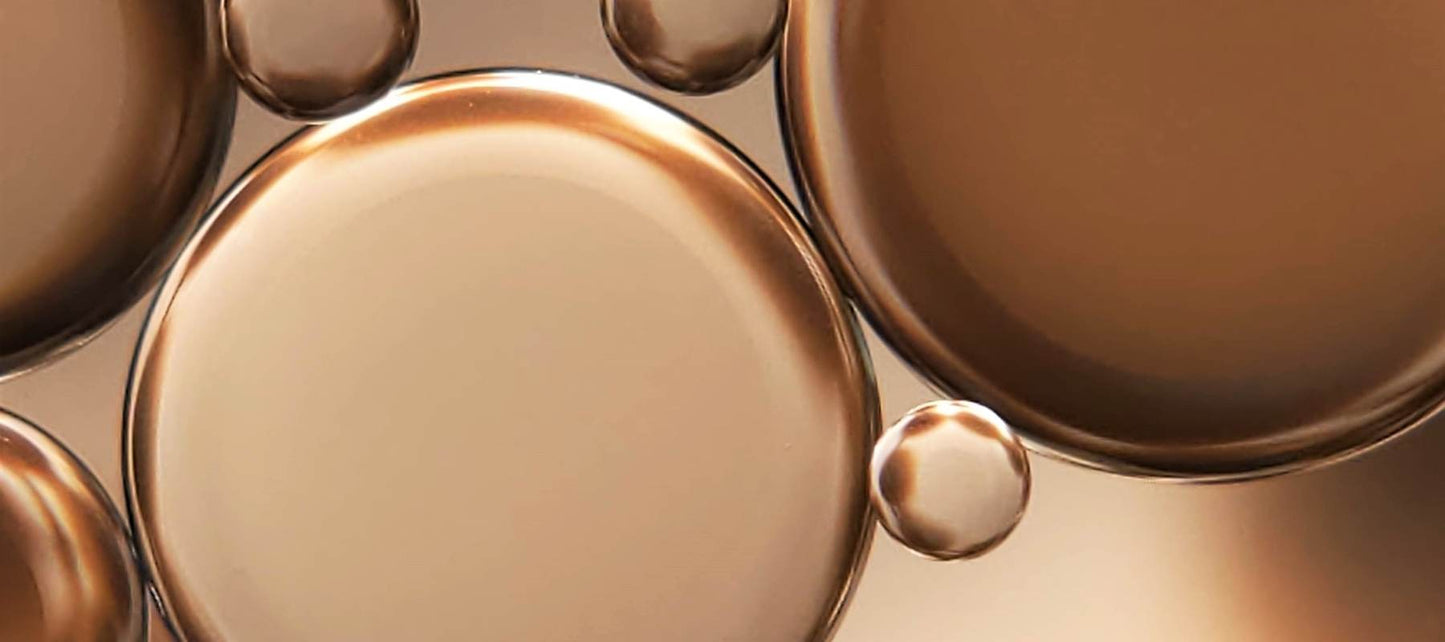 UNRIVALLED QUALITY

As a skin therapy innovator, Sharon insists on quality - above all else. We have no budget for our raw ingredients and this is where all of our money is spent. This isn't high-tech skin science, it's simple.
Quality equals efficacy.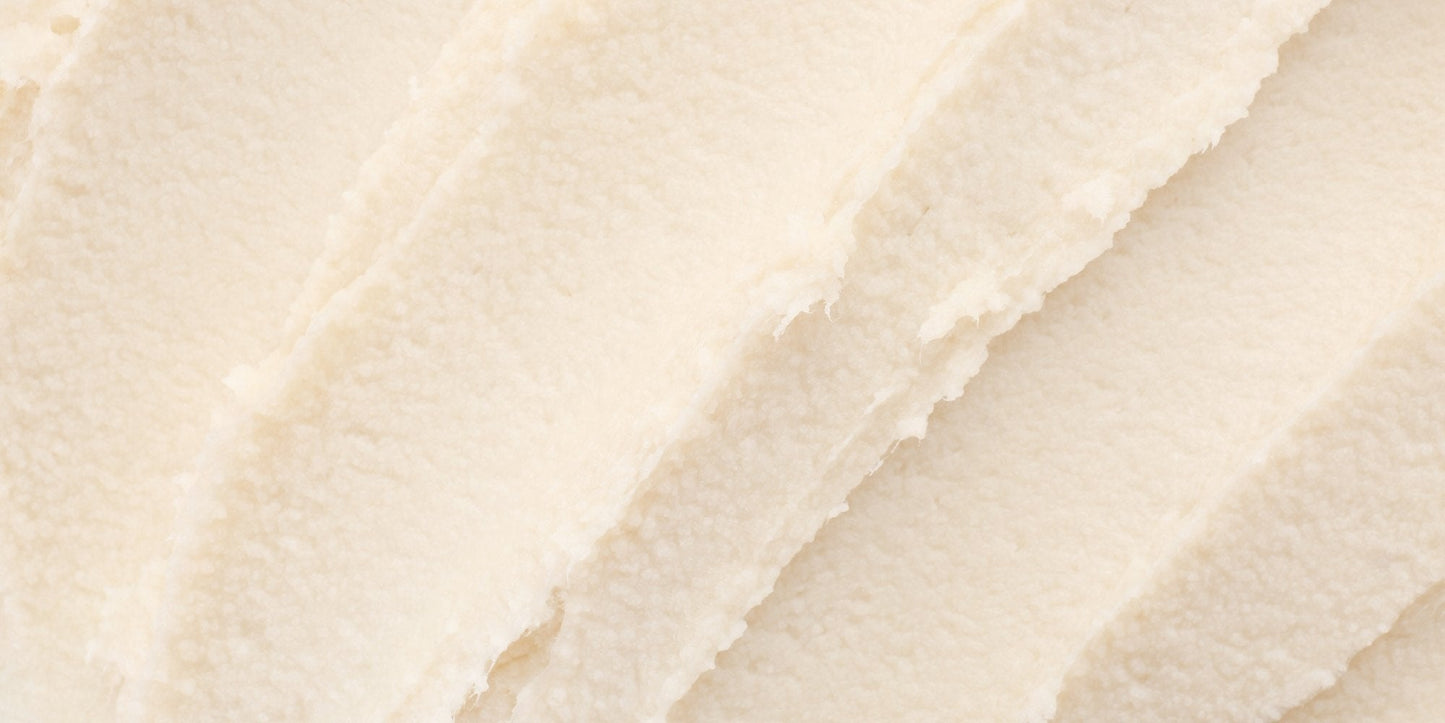 ARTISANAL PRODUCTION

We create every single product ourselves, in-house. This means we have full control over our unique (and time-consuming) manufacture process that is very small-batch, handcrafted, slow, and respectful.
Meaningful manufacture ensures potency.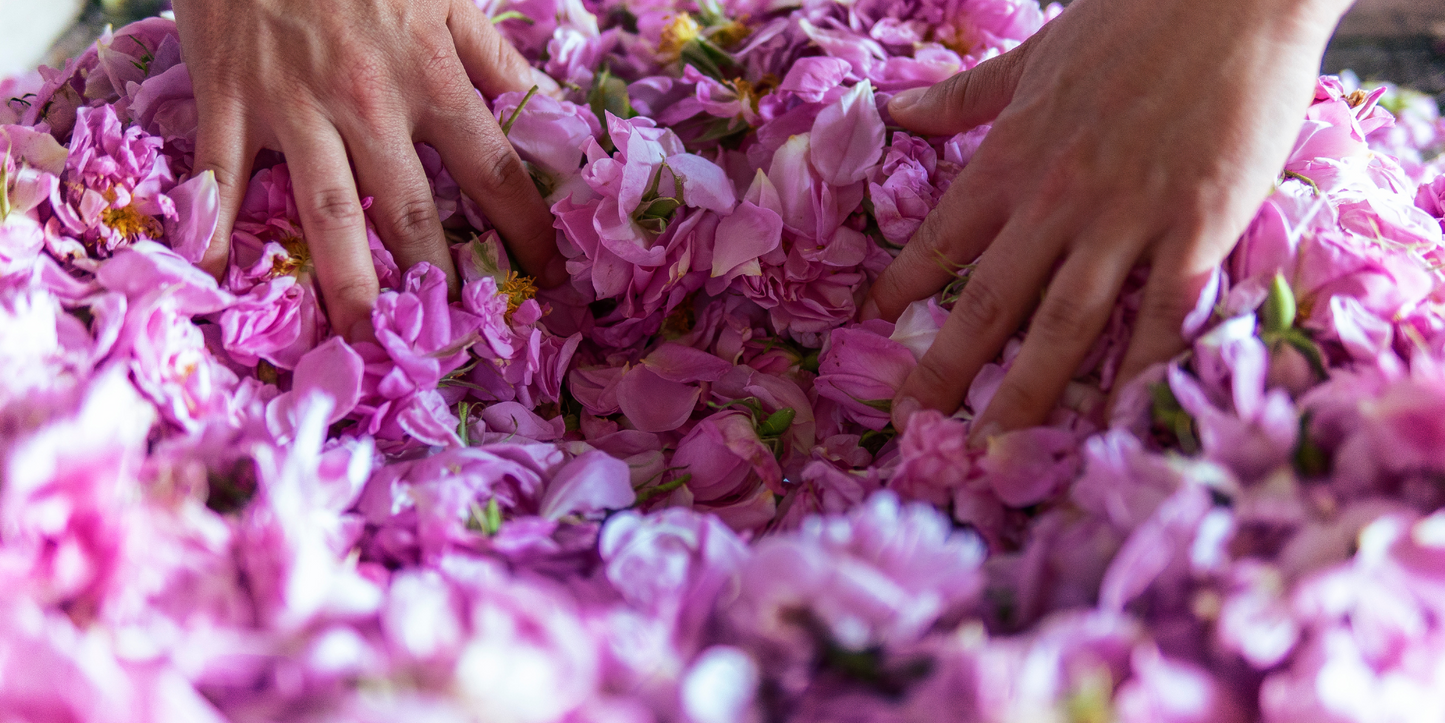 INDIVIDUALLY CURATED
Sharon has personally curated (and scrutinised) each and every ingredient, to ensure the purity and quality of every plant and essential oil meets her exacting standards - no product is bottled without her approval.
Bespoke curation ensures purity.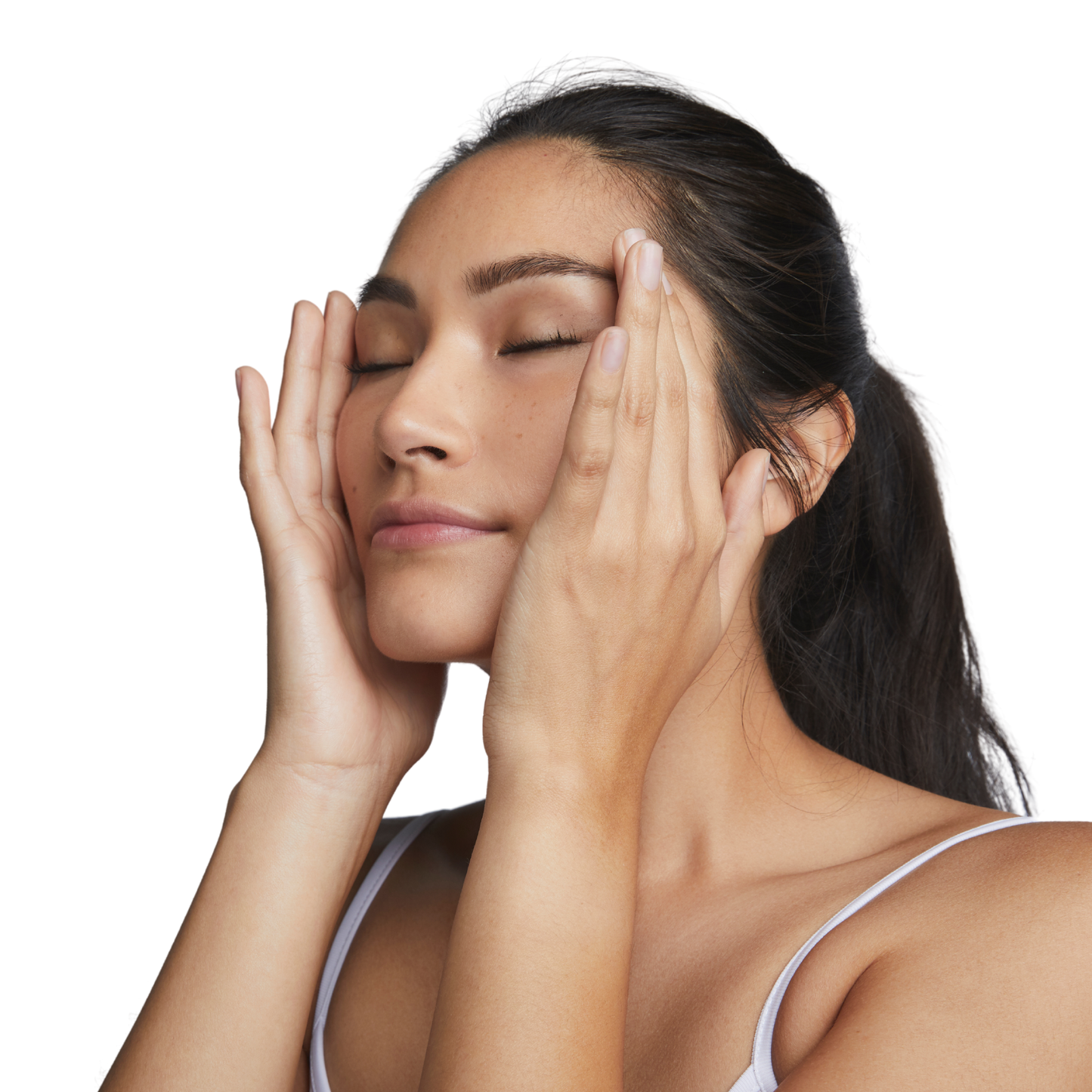 Clean & Green Beauty, that works.
Topically applied products are absorbed into your bloodstream, so we implore you to make the switch to the world of clean, green beauty.

Not only is MV 100% petrochemical free, the following toxins are absolutely not allowed in our ingredients lab - and nor should they interact with your face.
╳ Parabens, mineral oils, endocrine disruptors, SLS and SLES, formaldehydes and formaldehyde releasing agents, phthalataes, oxybenzone, triclosan + more.

MV was created because of - and for, sensitive skin.
Plant Oils & Butters
Our formulations harness the very best of what nature has to offer, and when combined with our unique and respectful manufacture process, preserve the potency and life force of the precious essential oils, resins, Native extracts, and organic plant oils we use.
Camellia Oil

Native to Japan and South East Asia, this stunning floral plant is more commonly known as the plant from which tea is produced. The oil obtained from the seeds of this therapeutic plant is particularly abundant with skin loving lipids, most notably it's ultra-high content of Omega 9 (oleic acid).

Camellia Oil has a uniquely lightweight and easily absorbable characteristic, allowing for deep dermal penetration that supports the skin, improves flexibility and structure, and creates an instantly supple complexion - without any greasy feel. Seeds of this wonderful plant hold impressive medicinal properties due to the collection of unique tea polyphenols with Vitamins A, B, D, and E. Together, this combination provides a diverse range of antioxidant actions that function to protect and repair from UV damage and support healthy cell growth. Our Camellia Oil is always certified organic and cold-pressed.

We regard this oil and it's therapeutic benefits so highly that it features in almost all of our products.
Avocado

Rich in Vitamins A, D and E, plant sterols and fatty acids – Avocado oil is known to penetrate the skin deeply and promote softness, elasticity, and even collagen production. In addition to it's impressive antioxidant profile, it also contains a unique fatty alcohol that has been demonstrated to offer cellular protection from UV induced damage both prior to and following sun exposure.
Carrot

Rich in beta-carotene, the pre-cursor to Vitamin A, Carrot Seed helps improve skin tone and elasticity, soothes dry and irritated skin and stimulates cell regeneration.
Jojoba

Not an oil at all, Jojoba is a unique liquid wax similar to the skin's own sebum, making it highly compatible with just about everyone. From the seed of a desert shrub, this superfine, easily absorbed waxy substance is brimming with antioxidants, omegas and Vitamins A, D & E. Unlike most plant oils, Jojoba does not oxidise easily and tolerates high temperatures well, so is an ideal travel companion or daily skin essential for those living in hot climates.
Rosehip

Rich in essential fatty acids, Vitamin A and Beta-carotene, Rosehip Oil helps to repair and regenerate damaged tissue, reduce inflammation, boost collagen formation and protect against free radical damage. An essential ingredient for mature and sun-damaged skins, burns and scarring, as well as those with dry, flaky and itchy skin conditions.  
Seabuckthorn Berry

A rich source of vitamins, minerals and Omega 3, which help promote hydration, elasticity, cell regeneration and - with powerful anti-inflammatory properties - benefits a host of skin conditions including eczema, rosacea and psoriasis.
Calendula

A magical and highly therapeutic oil extracted from Marigold flowers, Calendula is prized for its anti-inflammatory, anti-fungal and antibacterial properties. Also enriched with flavonoids, this powerful healing ingredient can also provide valuable relief for eczema, acne, rashes, insect bites, sunburn and dry flaky skin conditions.

To ensure the highest medicinal properties, MV sources only Calendula extracted through traditional maceration – the process includes the entire dried flower as most of the medicinal oils are found in the resinous green base of each flower head.
Centella - Gotu Kola

Rich in beta carotene, fatty and amino acids and powerful phyto-nutrients, Centella is reputed to reduce inflammation, speed wound healing, stimulate new cell growth, build collagen and increase microcirculation. A valuable oil to help restore compromised or mature skins.
Olive

Containing fat soluble Vitamins A, D, E and K and high concentration of squalene, Olive Oil is a powerful antioxidant and, with antibacterial properties, is also beneficial for pimple prone skins. This emollient plant oil will gently cleanse, nourish and soften the skin whilst preserving the delicate microbiome.
Coconut

Excellent moisturiser for dry, rough and wrinkled skin - protects the skin from premature ageing - fast absorbing.
Shea Butter

Shea Butter is a wonderful skin softener, rich in essential fatty acids and antioxidants. It has anti-inflammatory and healing properties, has a natural UV factor, promotes elasticity and helps treat acne and breakouts.
Essential Oils & Resins
Pure, potent, and therapeutic. Volatile compounds within quality essential oils deliver unparalleled results.
Rose Damascena (Otto)

One of the world's most precious and sought-after essential oils, it takes around 2 tons of rose petals to produce just 1kg of Rose Oil. Rose has antibacterial and anti-inflammatory properties which benefit conditions including rosacea, acne, PCOS and hormonally affected skins. Also a natural hydrator, skin strengthener and mood enhancer, this versatile and beautifully aromatic oil is an excellent skin all-rounder.
Rose Geranium

This versatile oil reduces inflammation and infection, eases eczema, benefits acne and burns, and is an excellent skin balancer for hormonal, oily and pimple prone skins.
Sandalwood

We love Australian Sandalwood because it increases and restores the skin's ability to retain moisture. With anti-inflammatory, antibacterial and skin softening capabilities, this highly versatile oil is one of our go-to ingredients for inflamed, pimple-prone, dry, chapped, sun-damaged or dehydrated skins.
Lavender

A wonderful cell regenerator and excellent oil to treat burns, rashes, skin infections and sun-damage, as well as protecting expanding skin during pregnancy.

Our Lavender of choice is French 'High Altitude' with it's high Linalyl Acetate content, the key to boosting this oil's inherent antibacterial and antiviral properties.
Bitter Orange

Bitter Orange is an exceptional skin tonic and circulatory stimulant to boost superficial circulation and increase oxygenation.
Frankincense

An ancient essential oil with deep spiritual connections, Frankincense is also a powerful cell rejuvenator for mature skin, an anti-bacterial for acneic skins and an excellent wound healer.
Myrrh

An anti-inflammatory and regenerative oil to benefit mature skin and dry, flaky skin conditions including eczema.
Palmarosa

A distillation from fermented leaves, this distinctive aromatic essential oil has antiseptic and regenerative properties, making it suitable for mature skins and those suffering from eczema and inflamed skin conditions.
Chamomile - Roman

A soothing, anti-inflammatory and relaxing essential oil for both the skin and the senses. Roman Chamomile has similar properties to the German variety but contains less chamazulene.
Chamomile - German

Containing chamazulene, a potent anti-inflammatory, this precious blue oil is ideal for sensitivity and inflamed skin conditions such as dermatitis and eczema, and is also of benefit to those who suffer from insomnia, anxiety and stress.
Sweet Marjoram

A powerful sedative to ease headaches and relax tense muscles, Sweet Marjoram is a perfect oil to relax the mind and body and help induce sleep.
Benzoin

A naturally occurring gum resin extracted from the Styrax tree, this rich resin has been used for centuries in the treatment of dry, cracked and chapped skin. Antiseptic and antifungal, Benzoin also improves skin elasticity and speeds wound healing.
Carrot Seed

Rich in beta-carotene, the pre-cursor to Vitamin A, Carrot Seed helps improve skin tone and elasticity, soothes dry and irritated skin and stimulates cell regeneration.
Tangerine

An all-round skin tonic - assists lymph congestion.
Neroli

Often used for stretch marks, scars and to treat mature skin, Neroli is known as a powerful tissue regenerator.
Patchouli

Known to treat conditions such as dermatitis, eczema, dry, cracked skin and stretch marks, Patchouli also works wonders on mature skin, acne and blemished complexions.
Native Australian Extracts
The therapeutic use of Native plants is traditional knowledge and medicine practiced for centuries by Australian First Nations people, passed on for generations.
We are honoured and priviledged to bring these ingredients to you within our products.
Kakadu Plum

Grown in abundance in the harsh environment of Northern Australia, Kakadu Plum has developed a rare antioxidant profile which offers an impressive list of skin benefits.

With the world's highest natural concentration of Vitamin C, Kakadu Plum is an effective free radical scavenger with unique compounds that work to promote collagen production, improve elasticity and protect against environmental aggressors. In addition, the anti-inflammatory and antifungal properties of gallic and allegic acids work to restore the skin's protective barrier and provide welcome relief for pimple prone skins.
Davidson Plum

Found in grape-like clusters in the Australian rainforest, Davidson Plum is known to be anti-inflammatory, skin strengthening and pore cleansing. Behaving like a natural AHA, this extract works to delicately exfoliate the skin and promote cell regeneration.
Quandong

Sometimes called the 'Desert Peach', this fruit is supercharged with antioxidants, phenolic compounds, essential fatty acids and Vitamins C & E – ingredients that work in synergy to stimulate collagen and cell renewal while soothing inflammation.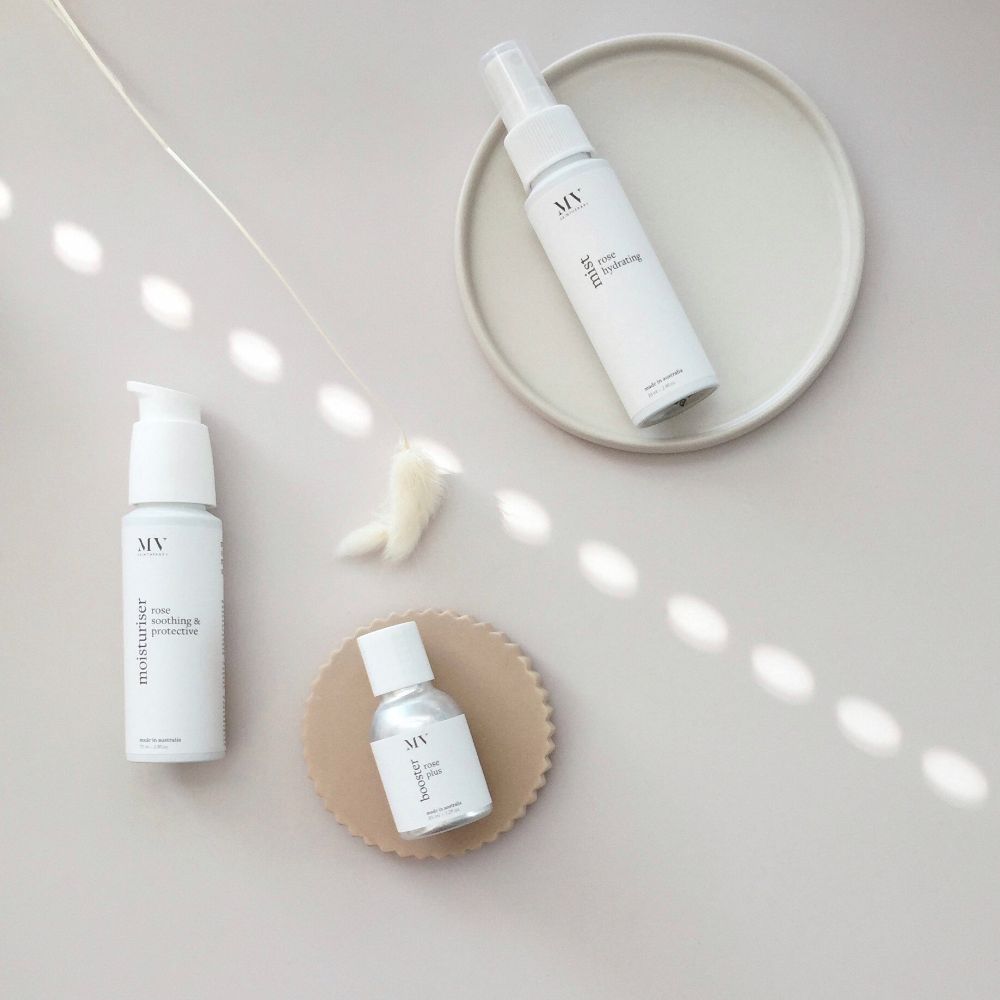 Bridging The Gap Between Beauty Therapy & Complementary Medicine
Explore our range of skin therapy, and discover the MV difference for yourself.