Shipping & Delivery
Let's get these gorgeous products into your hands as soon as possible!

We've popped the quick answers below, and created a dedicated page for more detailed info.
Where do you ship to?

We ship all around the world!
Visit our shipping information page for more info.

Located in the UK? Lucky you! We've just opened a dedicated warehouse on your shores, so you can enjoy speedy and affordable domestic shipping. Visit our UK website.
www.mvskintherapy.co.uk
How much does shipping cost?

Australian Shipping

Orders over $99

FREE Standard Shipping

Need it super fast?
Upgrade to Express Shipping for $10

For orders under < $99
Standard Shipping ~ $10
Express Shipping ~ $15



International Express Shipping

New Zealand $30
Everywhere else in the world $40
How long will my order take to arrive?

Orders places before 11am are dispatched on the same day.

Depending on your location and which postage service you have selected, delivery times will vary.



Australian Express orders usually arrive within 1-2 business days.
Australian Standard parcels typically arrive > 2-4 days.
Click here for international delivery speeds.


Products & Manufacture
Everything you need to know about how MV has been created
Where is MV made?

MV is entirely made in-house, by us, at our HeadQuarters on the northen beaches of Sydney, Australia.

We do not outsource our manufacture to big facilities; this is part of our secret to success. Instead, we take full control over the sourcing and quality of every single ingredient, and then we produce each batch with absolute care and craftmanship. That is, small-batch and handcrafted. MV is the definition of a truly artisanal brand and while this consumes much people power, we are proud of the quality of MV - and you will absolutely feel the difference.

Think fast food versus home cooking from a celebrity chef. That's MV.
Who owns MV SKINTHERAPY?

Our founder and CEO is the lovely Sharon McGlinchey. Celebrity facialist, sensitive skin expert, truth speaker, and all-round great person to have around.

Learn all about her here

P.S: MV is 100% female owned and run.

What is the shelf-life of MV products?

We produce in small batches for a number of reasons, one of those is to ensure that you are receiving fresh and living product.


Our Mineral Masks have a shelf life of 12 months after opening, and all other MV products have a shelf life of 6 months after opening. Please refer to the best before BB dates on the base of your product.

What ingredients do you use?

Only the very best!

Click here to learn more about our ingredients and their therapeutic properties.
Do you use preservatives?

Yes! This is absolutely essential for your safety. However, our preservation system is entirely natural, (very clever), and not anything like a conventional skincare brand.


Primarily, we rely heavily on a range of expensive essential oils for their natural antioxidant preservation qualities.
For some products we also use natural preservatives such as Honeysuckle Extract or Potassium Sorbate (derived from berries) to naturally preserve products, giving a 12 month shelf life. These preservatives are safe & effective, approved by some of the worlds' largest organic skincare certification bodies.

Quality plant ingredients, made small-batch, and bottled immediately within dark and airtight bottles has allowed us to achieve EU Compliance (one of the strictest compliancy models in the world), without the need for harsh chemical preservatives.
Are MV products vegan?

Every product in the MV range is 100% vegan, with the exception of our new multiBALM - which uses beeswax from Jeffrey, a local beekeeper in the NSW Hinterland of Australia.

Is MV a certified organic brand?

We use a combination of certified organic, wildharvested, and natural ingredients in MV formulations.

MV is not a certified organic brand, and we have no intention to achieve certification.

Why? That answer is multifactorial, and explained in this blog post.


How should I care for and store MV products?

Please store our products in a bathroom cabinet or on a shelf that is not exposed to sunlight. Because MV products are fresh, it is important they are treated like living products, and not exposed to full sunlight or a heat source. The volatile essential oils and fragile essential fatty acid oils do not tolerate high temperatures and UV light well. During the hot summer months (26 degrees or more) it is recommended you store your MV products in the refrigerator.
Packaging, Sustainability, and Ethics
Issues close to our heart
Is MV packaging recyclable?

Opting for primarily aluminium bottled packaging was no accident. Glass bottles are lovely - but boy are they heavy! We ship products to you so it's important to reduce the wastage from breakage, packing protection, and weight of our freight shipments.

Aluminium is an incredibly eco-conscious choice because it is safe & food grade (coated with an inert resin lining), and while it's not only lightweight it is also 100% recyclable as a 'closed loop' product. Which means that it can be recycled infinitely!

Recycling aluminium uses only 5% of the initial energy and only 5% of the greenhouse gases. It is for this reason that approximately 75% of the aluminium  ever produced is still in use today!

Some products are boxed in 100% recyclable paper, to offer better protection during transport, and to allow us the space to print all the information necessary for compliancy protocols for international sales like the EU.
How are MV products packed for shipment?

We need everything to arrive to you in pristine condition, without costing the earth.

So we use  100% Biodegradable Packaging peanuts
What are those funny 'lil peanuts in your order? 
These are actually bio-fill and manufactured from renewable resources that are made from 100% corn and potato starch. They break down completely and are compostable too, in-fact they can actually improve the soil structure of your garden. Yipeee. Don't have a compost? That's fine, just add them to your garbage and they'll disintegrate with no residue.

Eco Bubblewrap (only when we send larger shipments from Australia to our warehouse in the UK). This is made by a degradable plant based material. The breakdown process is activated by UV light (a renewable resource) and will ultimately biodegrade into C02, H20 and biomass when discarded - whether it ends up in landfill or another part of the waste stream.

Recycled & Recyclable Boxes

The boxes we package your order in are made from recycled paper, and are 100% recyclable too.

You may have noticed that some of our products are boxed, while others are not. 


We choose to only box products that either required the extra protection, or because we needed the available space to communicate all the information required for certain compliance bodies around the world.
Do you test on animals?

Absolutely not, we never will.
MV Skintherapy has been tested on humans only (that's us). Our team recently trialled countless samples of our new multiBALM before the final formualtion was decided.We also ban the sale of MV products into countries that mandate compulsory animal testing.
Indigenous knowledge

We are honoured and privileged to use Native Australian ingredients in some of our products. However we would like to acknowledge that the therapeutic use of Native plants is traditional knowledge and medicine practiced for centuries by Australian First Nations people, passed on for generations - and not 'modern', nor 'cutting-edge'. This is their bush medicine, and we are proud to bring these ingredients to you within our produts.

We are honoured to feature Australian Native extracts in our;
Native Power Serum

Rose Hydrating Mist

Rose Soothing & Protective Moisturiser

Oxygen Moisturiser
Sustainability

MV pledges an allegiance to the planet. We are mindful of the way in which we interact with the world around us, and we consider our impact on the environment in every choice we make. Every business will have their own unique opportunities to make better eco-conscious and ethical choices. We are forever evolving and challenging the way we do things, but we like to adopt the model of 'reduce, reuse, recycle'.

Concentrated Formulas
This is one of the most important points to communicate, because it really is so rare and we consider it our point of difference. Since inception, MV formulations were created with the intention to be CONCENTRATED and never diluted or greenwashed with organic ingredients for marketing gain.

Of course, the benefits of this are multi-factorial and ultimately result in our customers using less product, customising the dosage, and spending less money. The positive impact on the environment means that you purchase less frequently, we ship less frequently, and everyone wins.

Reuse, Reuse, Reuse
This one is MAJOR. Waste is only waste, when it becomes.....well, waste.
We all need to reuse as MUCH AS POSSIBLE in our everyday lives, and this is something really and truly practiced around the office every.single.day. How? Boxes we receive goods in are repurposed for stockist orders, we make notebooks from scrap paper, we upcycle containers, we make our own cleaning products, we share recipes and leftovers.
The list is exhaustive, trust us - we care, in a big way.

We have more to say on this topic, please click here if you're interested :)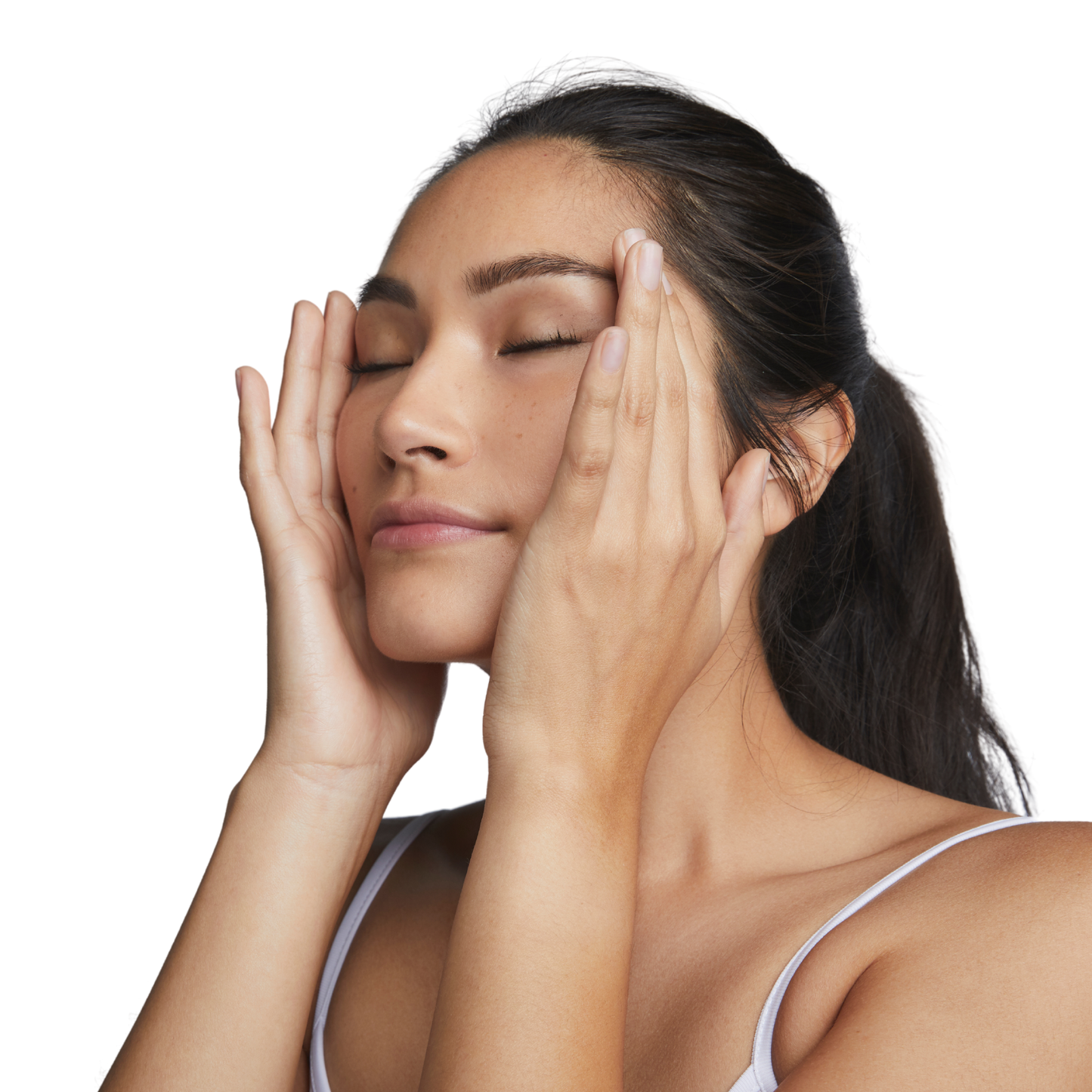 PRODUCT ADVICE
We do things differently at MV.
So it's no suprise that you're bound to have a few questions about the way we prescribe and reccommend MV.

Here are our most commonly asked questions...
Can I use MV products during pregnancy?

Yes, absolutely ALL of our products are safe to use during pregnancy.
This is often a time where mums-to-be seek out natural and organic products and stop using unnecessary chemicals on their skin.

You can feel safe knowing that all essential oil components in our products are present at <2% and none of the essential oils present in our formulations are contra-indicated in pregnancy.
Why don't you have a dedicated eye cream?

MV advocates for honesty and multi-functionality, and this extends to how we approach our eye care.

The Pure Jojoba is your eye care all-rounder - as a natural hydrator, it is very light, absolutely non-irritating, and helps strengthen lashes too!
You simply touch the dripper lid to collect the residual Jojoba, press the pads of 2 fingers together then massage around the outer circle of your eyes for around 30 seconds, before one final sweep over the entire eye area. Yes, that's right - Jojoba is totally safe to use over the whole eye area!

If you love a super hydrating eye cream, customise your favourite MV moisturiser, with a 1/4 pump of Native Power Serum, a spritz of Rose Mist plus 1 drop of Pure Jojoba, blend together in your palm then gently massage around the outer circle of the eye until fully absorbed.

Our Native Power Serum can also be used as a stand-alone super hydrating treatment. Simply massage over damp skin until fully absorbed and lock in the skin quenching hyaluronic acid with MV's Pure Jojoba and/or your favourite MV moisturiser.

You can take eye care to a whole new level by smoothing our multiBALM around the outer edges (laugh lines) of your eyes too.
Do you have a lighter moisturiser for combination and oilier skin types?
Why can't I let the Signature Mask dry on my face?

We know, it's confusing because EVERYONE (for some reason) assumes that clay masks should be left on your face until they turn into a dry and crackly desert, flaking off when you try not to laugh. This is so wrong, and here's why.
Clay that has become dry is.... (you guessed it) DRYING, really really drying. It will just completley rob your skin of all it's moisture and oils. You'll feel 'tight' and you'll mistake this as a nice and 'clean' feeling. But boy oh boy, this isn't ideal at all. The opposite, in fact.

We absolutely adore prescribing our Mineral Rich Clays to soften the skin, refine texture, reduce inflammation, and strengthen the skin for improved barrier function. Our clays are pure and full of minerals that are therapeutic for the skin, when you mix them with water they 'activate' and will work their magic - infusing into the skin. When you allow the mask to then become dry, it starts it's process of taking all this goodness back. So do your skin a favour and keep an eye on the change of consistency when you've applied it - once it has started to tighten and dry around the edges of your face, yet remains wet towards the surface - this is perfect. If you're confused, watch our Mineral Mask Ritual for the full tutorial.

If you want to know more about this interesting topic, we've written a blog about it -here.
Can I wash off the Gentle Cream Cleanser, instead of using a cloth to remove?

Our unique and skin-loving formula has been designed to be removed with a steamy Compress Cloth at your bathroom sink. Simply rinsing with water will leave a cream residue on your skin, and will not give the incredible clean that we promise you can achieve. This is a wonderfully nurturing way to gently cleanse and exfoliate without stripping.


Our goal is to change the way you approach your 'skincare routine'. We believe that taking simply a few minutes to be still and cleanse your face with purpose, will create a soul nourishing ritual, calm your nervous system, and improve your skin health.

Oh, and taking the bottle into the shower is a big 'no-no' because it will allow water into your beautiful cleanser; contaminating the cream.

Watch our 3 Minute Ritual to see the art of compress cleansing in action.
Which products do I apply to DAMP skin?

Please apply the following products to dampened skin:


Native Power Serum- very important!


Both the Rose & Oxygen Moisturisers

All Oils - Boosters, and 9 Oil Radiance Tonic

WHY?

Spritzing with Rose Hydrating Mist after cleansing and before product application:
a) allows for rapid penetration of product
b) locks in a vital layer of moisture to hydrate the skin and
c) reduces the amount of product required

Additionally, when using the Native Power Serum, damp skin application is essential for the hyaluronic acid molecules to 'grab' and draw into the skin, delivering moisture.
Which products do I apply to DRY skin?

Please, please only apply our Gentle Cream Cleanser to dry skin. It needs to grip the surface of your skin - grabbing hold of all that grime, makeup, and sunscreen.

Our Mineral Masks should also be applied to dry skin.

These products don't mind if they are applied to dampened or dry skin:
multiBALM
How much moisturiser do I need for my face and neck?

If you need a rich creme for dry skin - apply 1 pump.

If you need a light moisturiser for oilier complexions - blend a 1/2 pump with a few spritz' of Rose Hydrating Mist into the palm of your hands.


MV is concentrated. Designed so that you can use sparingly, applied to damp skin, and then customise the dose based on your skin type or season.

This is a hard habit to crack, because most (if not all) skincare products are not formulated this way, so you've become accustomed to slathering large amounts of it all over your beautiful face. More is more, right? Not in this instance.
How should I layer MV products?

Here is the 'layering' rule for how MV should be applied in your ritual.

1st - SERUM
If you're using our Native Power Serum, this comes first. It's water based and needs to go onto DAMP skin, before an oil or a moisturiser.

2nd - OILS
If you'e using our Pure Jojoba, or one of our Oil Boosters- these are applied on top of a serum and underneath a moisturiser cream.

3rd - MOISTURISER
On top, always. We consider this an 'overcoat', moisturisers are designed to be occlusive, which means they sit atop the surface of your skin designed to protect and prevent against moisture loss. Definitely on top. We have seen some other brands recommend moisturiser underneath an oil, and this confuses us greatly.

Here are some exceptions to the rules.....

If you prefer blending your Rose Soothing & Protective Moisturiser and Booster Oils together, this is fine too.
While you'll get a more intensive experience by first massaging with your favourite oil booster, and-then applying your Rose Moisturiser. Some customers prefer to;
- pump a little Rose Moisturiser into their palm
- add a few drops of booster oil
- add a spritz or two of Rose Hydrating Mist- then blend together to create a customised moisturiser

If you are genuinely hyper sensitive,you may find great comfort in using Pure Jojoba as your protective layer. Applying a thin veil, waiting for it to absorb, and then applying any other product on top. This is only for those who are very sensitive, and can find that even water will be aggravating. The reason this isn't really a rule-breaker, is because Jojoba is actually not an oil, but a very clever liquid wax!
How do I use MV Booster Oils?

It's up to you, there are a few ways:
a) use them alone (particularly at night)
b) mix 2 drops in with a half pump of Rose Soothing & Protective Moisturiser, blend together and apply to the skin or
c) apply the oil first then follow with moisturiser where the skin is particularly dry or dehydrated.
Do you have products for pigmentation?

Pigmentation is incredibly stubborn and therefore one of the most difficult skin concerns to treat. Historically, hydroquinone has been used to bleach the skin but this is no longer recommended and for very good reason. Laser is marketed as a solution but can often make pigmentation worse. Topical products have very limited success as anyone who has tried a 'whitening' or 'brightening' product will attest to. The very best advice MV can give is to use a product high in Vitamin C and ingredients known to be beneficial for sun damage and discolouration such as cold pressed Avocado Oil. A good natural sun screen is essential when outdoors for prolonged periods so be sure to wear a wide brimmed hat and sun glasses too.

Native Power Serum:
Our water-based treatment product, with Kakadu Plum (the worlds highest source of Vitamin C) combined with Davidson Plum, Quandong ad Hyaluronic Acid. These plants are rich in phytonutrients that offer antioxidant support and unique reparative and protective properties, designed to survive in a harsh Australian climate.


Instant Revival:
As the name suggests. Watch as this powerful Booster delivers oil rich nutrients into the lower layers of the epidermis, reviving and rejuvenating complexions that have been exposed to a little too many environmental aggressors, especially UV. Also adored by mature skins who have experienced more of life in general.


9 Oil Tonic:
9 powerful botanicals (and absolutely no fillers) work synergistically to provide a nourishing treatment for either targeted care, ongoing maintenance - or both! This is a medicinal tonic designed to be experienced with gentle facial massage and warm compress infusion. Repair barrier-impaired skins, calm inflammation, reverse dehydration, all whilst enjoying the aromatic sensation that this antioxidant-rich experience delivers.
Are essential oils suitable for sensitive skin?

It is a common misconception that essential oils are irritating to sensitive skin. Driven by the impact of low-grade, poor quality essential oils mass produced by the market, the common belief that essential oils can't be used on sensitive skin is one that has unfortunately become thoroughly entrenched.  What's little known is that beautiful, therapeutic-grade essential oils have the ability to completely transform skin for the better.  After 23 years of hands-on experience across thousands of clients, I have seen the difference firsthand and can attest to the power of high grade, pure oils.

Sharon McGlinchey
MV Founder & Sensitive Skin Expert

xo
Not What You're Looking For?
These are our most frequently asked questions.
We hope to have provided answers to your queries, but if you're still unsure we are absolutely available to help you. Please connect with us if the answer to your query isn't found on this page.