Certified organic & cold-pressed
Sourced to meet our uncompromising standards, the highest quality in the world
A Multi-Purpose Hero
Versatile and endlessly useful. This single ingredient compound is powerfully diverse
Sensitive Skin Saviour
Suitable for absolutely every skintype, including hyper-sensitivty and uber delicate
Certified organic & cold-pressed
Sourced to meet our uncompromising standards, the highest quality in the world
A Multi-Purpose Hero
Versatile and endlessly useful. This single ingredient compound is powerfully diverse
Sensitive Skin Saviour
Suitable for absolutely every skintype, including hyper-sensitivty and uber delicate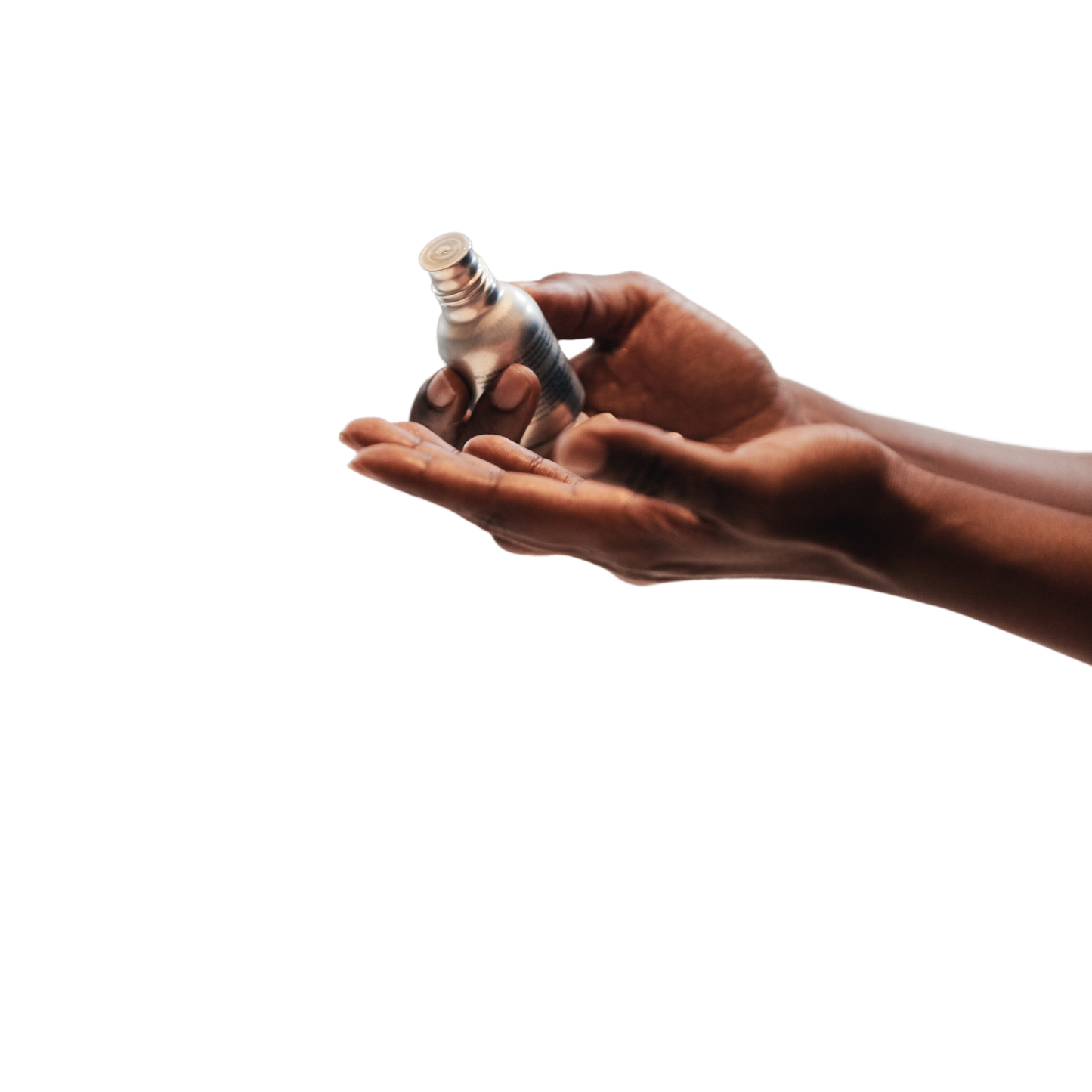 Why You'll Love It
The epitome of 'less is more'.
Highly compatible with the skin's structure, this unique liquid wax penetrates deeply to deliver vitamins A,D,E + omegas 6 & 9 for immediate hydration and protection to even the most delicate skins. If you're in the mood for balanced, soft, and nurtured skin – Pure Jojoba is for you.

✔️ Salve for sensitivity
✔️ Calmative for dry, itchy skin
✔️ Balancer for blemish-prone skins
✔️ Fine non-clogging moisturiser
✔️ Eye make-up cleanser, lash conditioners, and all-round eye treatment product
✔️ Post shaving balm
✔️ Infant skin care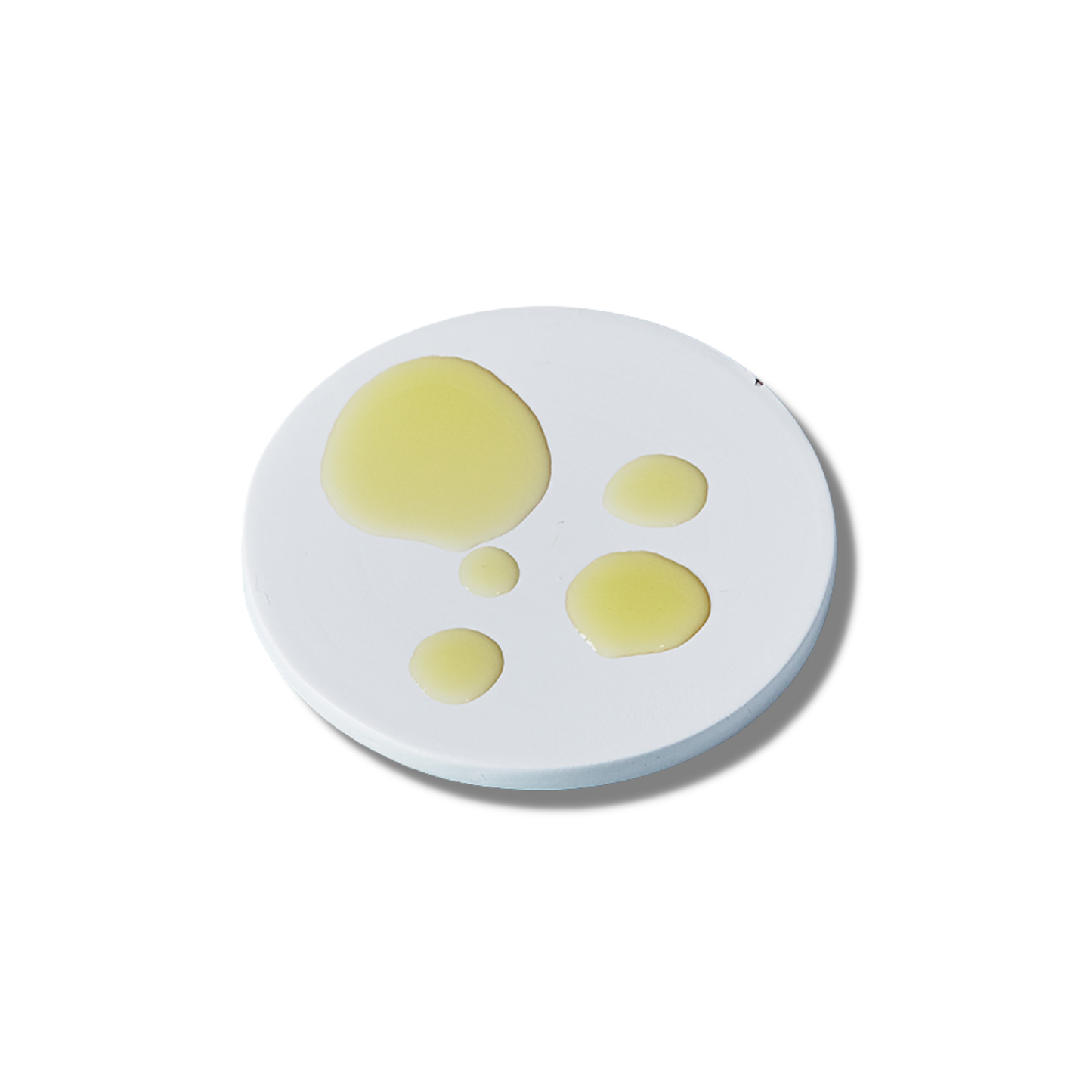 All Jojoba is not created equal
My challenge was sourcing consistently premium quality. Some Jojoba feels more viscous, not delicate or appropriate for the face (if you've tried multiple Jojoba's, you'll know what I mean). Others are cloudier, less or more pungent, there were so many variables - even when dealing with just the one ingredient!
As I focused more of my time treating those with difficult skin conditions, it became clear I needed to source the certified organic variety to ensure zero pesticide or chemical residue. I went one step further, sourcing my own supply to ensure consistent and reliable quality of the highest standards, anything less than perfect simply wouldn't do. The lengths I went to acquiring this beautiful golden liquid wax were well and truly worth it, thousands of MV Pure Jojoba devotees will attest to this.

Sharon McGlinchey
-MV Founder, Celebrity Facialist & Sensitive Skin Expert
The Power Of Multi-Purpose
Discover some of the many ways we multi-purpose MV Pure Jojoba.
Skin Shield For Sensitivtiy
An indispensable daily calmative. Used as a 'buffer' when applied before many common and potentially irritating products such as make-up, sunscreen, and even other skincare products (think, harsh conventional cosmeceuticals). Apply 2 drops underneath any other product to shield your skin.
Superfine Moisturiser For Acne & Congestion
By mimicking the skin's own sebum, Jojoba works as a signal to calm down the sebum overdrive whilst simultaneously reducing inflammation and protecting the skin barrier while it heals. Even the most oil-phobic will fall in love with this non-comedogenic, fast absorbing moisturiser. Apply 1-2 drops onto a freshly spritzed complexion.
All-in-one Eye Treatment Product
The only product that we believe is entirely safe for even the most delicate areas, including the inner circle of the eye. Simply touch a fingertip to the dropper lid, and apply this small amount to the eye area. Softening creases and hydrating this ultra-delicate area with natural ceramides.
How To Use Pure Jojoba As An Eye Makeup Remover
And incredible lash strengthening conditioner!
Can I use the Jojoba as a cleanser?

Yes - you definitely can! As a cleanser, simply place 3-4 drops of Pure Jojoba on a slightly damp make-up removal pad and gently wipe over face to remove traces of make-up and grime.
How do I use the Jojoba as an eye-make up remover?

Dampen a cotton disc in warm (not cold) water and squeeze v-e-r-y tightly - so the disc is barely damp (this allows the Jojoba to sit on the surface of the disc rather than absorbing into it). Place 4 drops across the centre of the disc and hold across the lash line whilst applying gentle pressure, for a slow count of 5. Wipe away with a light touch, wiping towards the outer corner of the eye.

For those using eco-pads, the technique is quite different. First, place 1 drop of Jojoba into your palm, dip the pads of your middle and index fingers into the Jojoba then gently massage one eye lid for around 10 seconds. Immerse eco-pad in warm water, squeeze tightly, and place over the eye. Hold for a slow count of 5 before gently wiping away. For stubborn make-up, repeat the process once more on the same eye before moving to the other eye.
How do I use the Jojoba as a fine-clogging moisturiser?

For those who simply require a lightweight moisturiser, such as acneic or heavily congested skin – or for those who are extremely sensitive and unable to tolerate any form of moisturising product, a few drops of Pure Jojoba smoothed over the skin will be beautifully hydrating on its own. Otherwise, Pure Jojoba can be used as a nourishing enrichment, by being layered directly underneath moisturiser. For the active person who notices that cream-based moisturisers tend to sweat right back out during exercise, applying Pure Jojoba instead will be the solution – as its similarity to the skin's own sebum means that it stays in the skin!
Can I mix Pure Jojoba with a Booster Oil?

Only if you suffer from moderate/high sensitivity.
You may choose to layer Pure Jojoba underneath an MV Booster Oil. This provides a protective buffer or shield, suitable for those who are strengthening their skin barrier integrity.
All other skin types can simply choose either a Booster Oil or Pure Jojoba as their nourishing layer underneath our Moisturisers.
Does Jojoba need to be applied to damp skin?

Spritzing the face with Rose Hydrating Mist before Pure Jojoba application will ensure the very best results. This improves absorption and delivery, and allows less product to be required.
However, our Pure Jojoba is incredibly versatile and multi-purpose. So for the instances where Pure Jojoba is being applied to wounds, rashes, itchy bites, delicate areas (such as nasal cavities), then application to dry skin is absolutely fine.
The Ultimate Skin Preservation Tip: Use Jojoba as a protective buffer

A game changer for those with sensitvity. No matter your age, your skin type or your skin condition, this tip will benefit any kind of barrier impaired skin.

Simply smooth 2 drops of Pure Jojoba over a freshly cleansed face and neck just before showering. This will provide protection from the often harsh, drying effects of water and preserve the skin microbiome.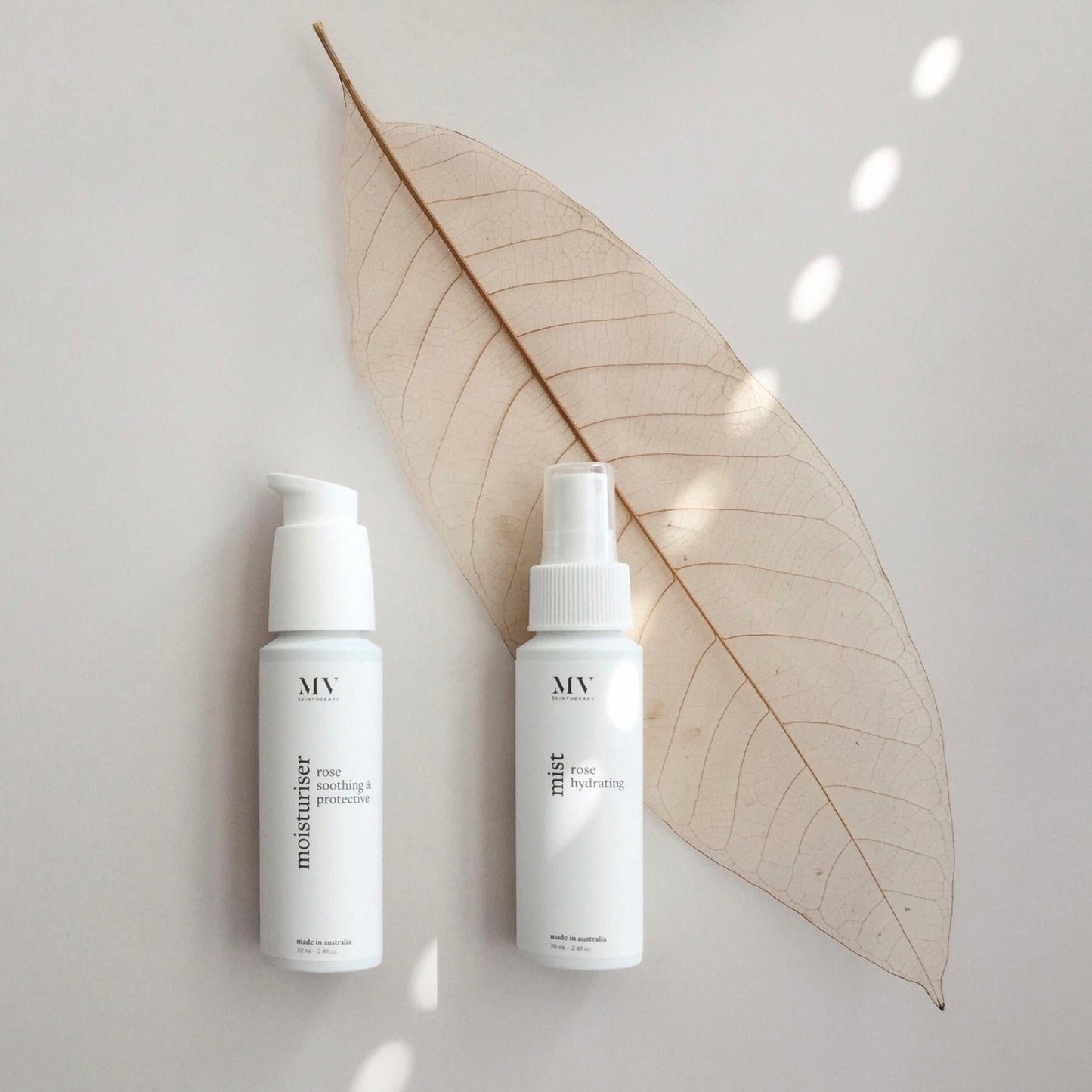 The Perfect Pair
A sensitive skin power couple, made in heaven.

Rose Soothing & Protective Moisturiser + Rose Hydrating Mist
Therapeutic grade ingredients
Therapeutic grade ingredients