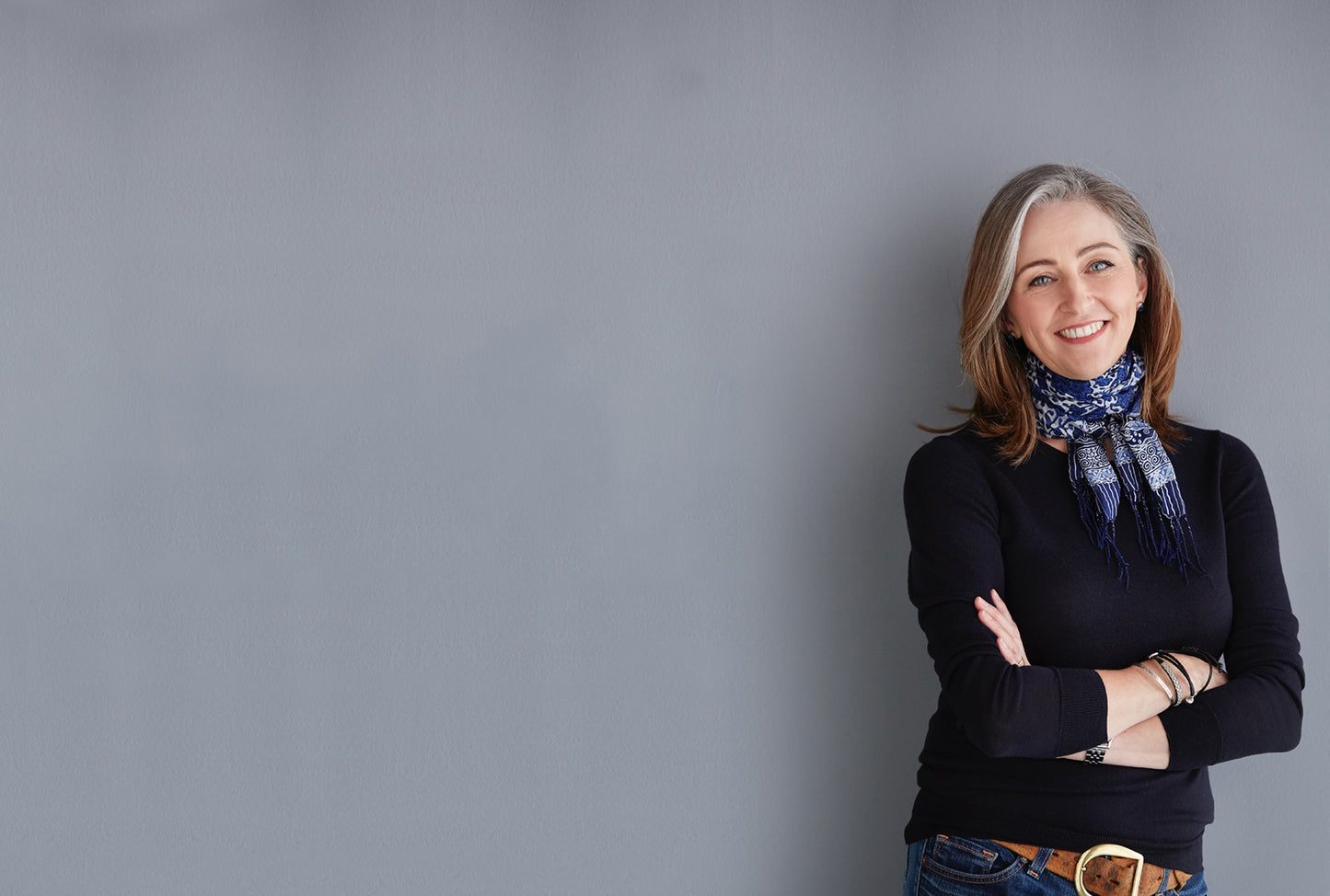 Sharon McGlinchey's path to organic skincare has been a winding one, but it has always been sign-posted by her trademark 'no BS' ethos.  Her journey began after she grew disillusioned with some of the practises she learned as a Beauty Therapist and whilst working at a commercial beauty counter.  After several harsh glycolic peels which ravaged her skin, Sharon decided to take matters into her own hands and began crafting natural products to repair her skin from her own kitchen bench.   
The incredible results from these products provided the fuel for the launch of her own (now famous!) skincare line but it was one shocking encounter with a cosmetic chemist which struck the match.  The experience related below was what galvanised Sharon in her vision of purity, simplicity, efficacy and integrity – everything that MV was built on, and stands for today.
"When I first decided it was time to find a manufacturer, roughly 18 months after I started making creams in my kitchen, I flew to Melbourne to meet with a cosmetic chemist who had been recommended to me as he understood natural formulations.  

From his impressive set-up I figured this would be smooth sailing, so I sat down with my samples and explained what I was hoping to achieve. The first 5 minutes were fine but then we started chatting about what he thought I needed rather than what I'd just explained I wanted.

The first revelation for me was that "cream cleansers are all pretty much the same."  He offered to make one very straight-forward lotion but create 3 different aromas by using some of the less expensive essential oils because apparently, "in the industry it's classified as a 'wash off' product so it's not on the skin long enough to matter."    

When I expressed my concern at his last comment he wasn't at all phased and followed with, "You'll need 3 cleansers. Just colour code your boxes - put a pink band on the box for sensitive skin, a blue band for dry skin and maybe a green band for combination skin." 

When I explained that I'd prefer to create just one really fantastic cream cleanser that works for most skin types and conditions, which would be honest and minimize the cost of unnecessary packaging, I was again corrected. 

"Oh no, that won't work. You see - women like to feel special.  Women want to have something that's been selected especially for them."  

At that moment I just wanted to get up from my chair and walk out but - going against my usual bolshy nature - I decided to listen to his advice to see what other 'pearls' of industry wisdom I could gather.  

Next, this reputed cosmetic chemist explained that four moisturisers would be a good starting point for my range.  When I explained I simply wanted to replicate the cream that I was having so much success with, he told me he would make me a far more 'viable' cream – one with higher water content, because hardly anyone was making creams that rich anymore and women really didn't like that feel.  He then said he could add an ingredient that would make my cream feel 'silky' and that would be a great selling point.  There were no other benefits to this ingredient, I learned – it simply made the cream "feel silky".

Just when I thought it couldn't get any worse and I was desperate to leave he said, "And don't forget about your 'cash cow'?!"

I repeated with a puzzled look on my face "cash cow?"

"Yes" he said.  "You have to include an eye cream - it's your cash cow. You create a light lotion with aloe vera, put it in a small jar inside a nice box and inflate the price.  It's what women think of as a 'specialised' product that they HAVE to have, so you should get a really good margin on it.  That's your cash cow." 

At this point, I gathered up my samples from his desk, made my excuses and left to catch my flight back to Sydney.  We shook hands and - needless to say - I never clapped eyes on this man again!

I flew back with my head spinning from these revelations.  I thought of all the product knowledge training I had attended both as a student and then as a qualified Beauty Therapist and almost cried thinking about the amount of BS I had swallowed over the years.

I vowed to myself then I would never create unnecessary products and I would not buy into beauty industry marketing clap-trap.

From that moment on my course was set on a very different path - a path where purity, simplicity, efficacy and integrity would become the cornerstones of my business and skin health would be prioritized above all else."