Highly therapeutic
Formulated with plant-powered actives used at their therapeutic doses
Concentrated & Customisable
Transform this decadent moisturiser into either a rich and targeted cream, or a lightweight lotion
Hand crafted & small-batch
This protects the potency, efficacy, and ensures incredible quality is preserved
Highly therapeutic
Formulated with plant-powered actives used at their therapeutic doses
Concentrated & Customisable
Transform this decadent moisturiser into either a rich and targeted cream, or a lightweight lotion
Hand crafted & small-batch
This protects the potency, efficacy, and ensures incredible quality is preserved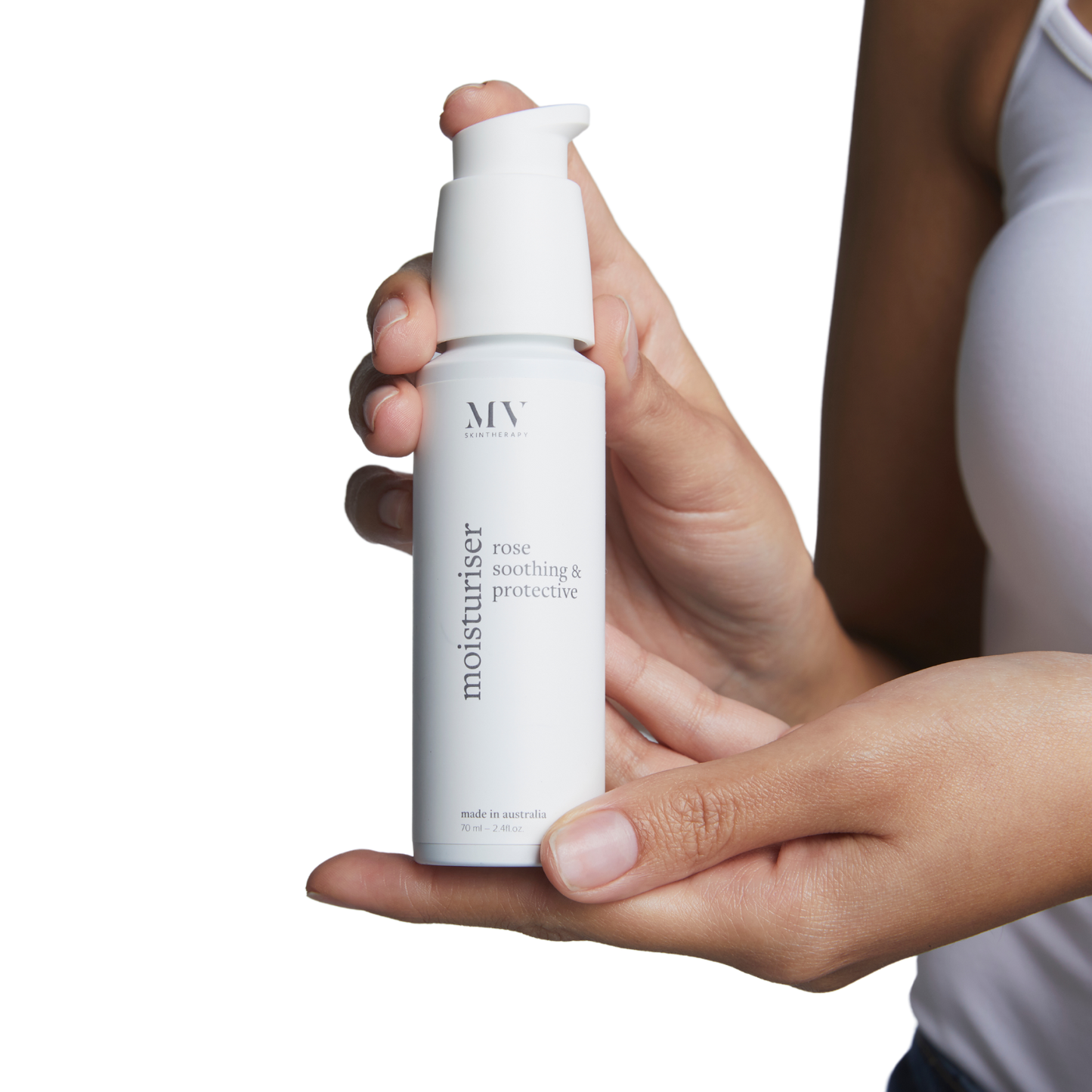 Why You'll Love It
Adored by celebrities and make-up artists across the globe for its impressive performance and versatility, this is the iconic product that started it all.
Thousands of Bulgarian Rose petals work harmoniously to soothe unsettled complexions, protect delicate skin, and provide wonderfully quenching relief for all skin types.
✔️ Strengthens delicate and barrier-impaired skins
✔️ Calms inflammation and soothes irritated complexions
✔️ Provides day-long hydration, with cumulative benefits
✔️ Balances hormonal skins
✔️ Stimulates collagen and cell renewal
✔️ Provides a natural source of AHA to clarify and smooth
✔️ Healing and reparative
✔️ Protects the skin throughout the day from environmental aggressors, pollution, and irritants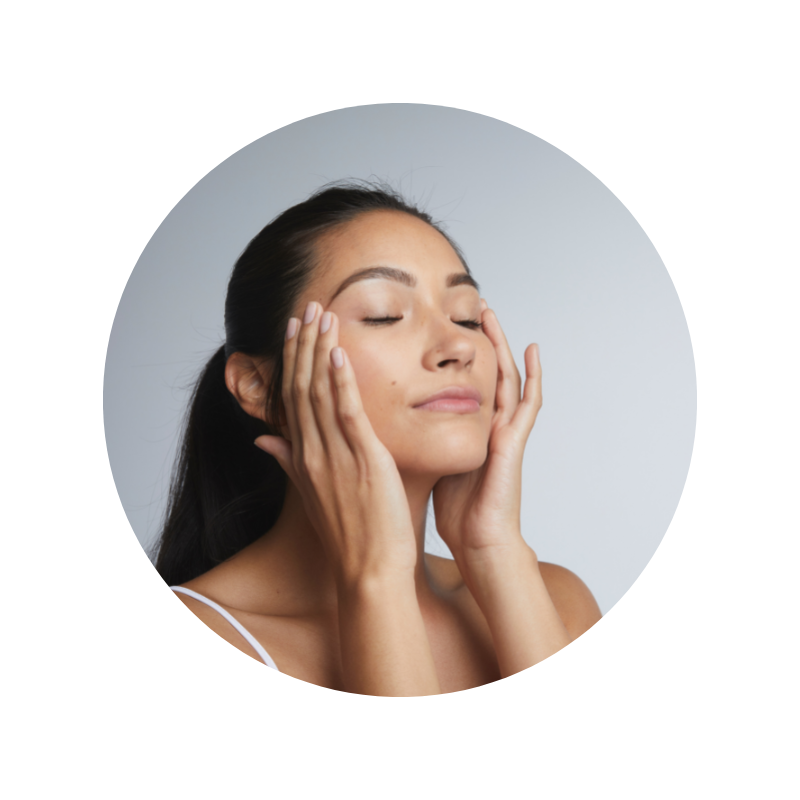 Prescribed For
This much-loved skin treat is more than 'just a moisturiser', it is a comforting companion for all ages and skin types, including;
・Dehydration
・Sensitivity
・Rosacea
・Eczema
・Hormonal skins
Why It's Not Like Other Moisturisers
We believe in fuss-free skin solutions.
The Rose Soothing & Protective Moisturiser is uniquely designed to be transformed into either a lightweight lotion or a rich, decadent cream.

Used alongside its hero companion - Rose Hydrating Mist, this moisturiser transforms instantly into your own bespoke lotion or cream.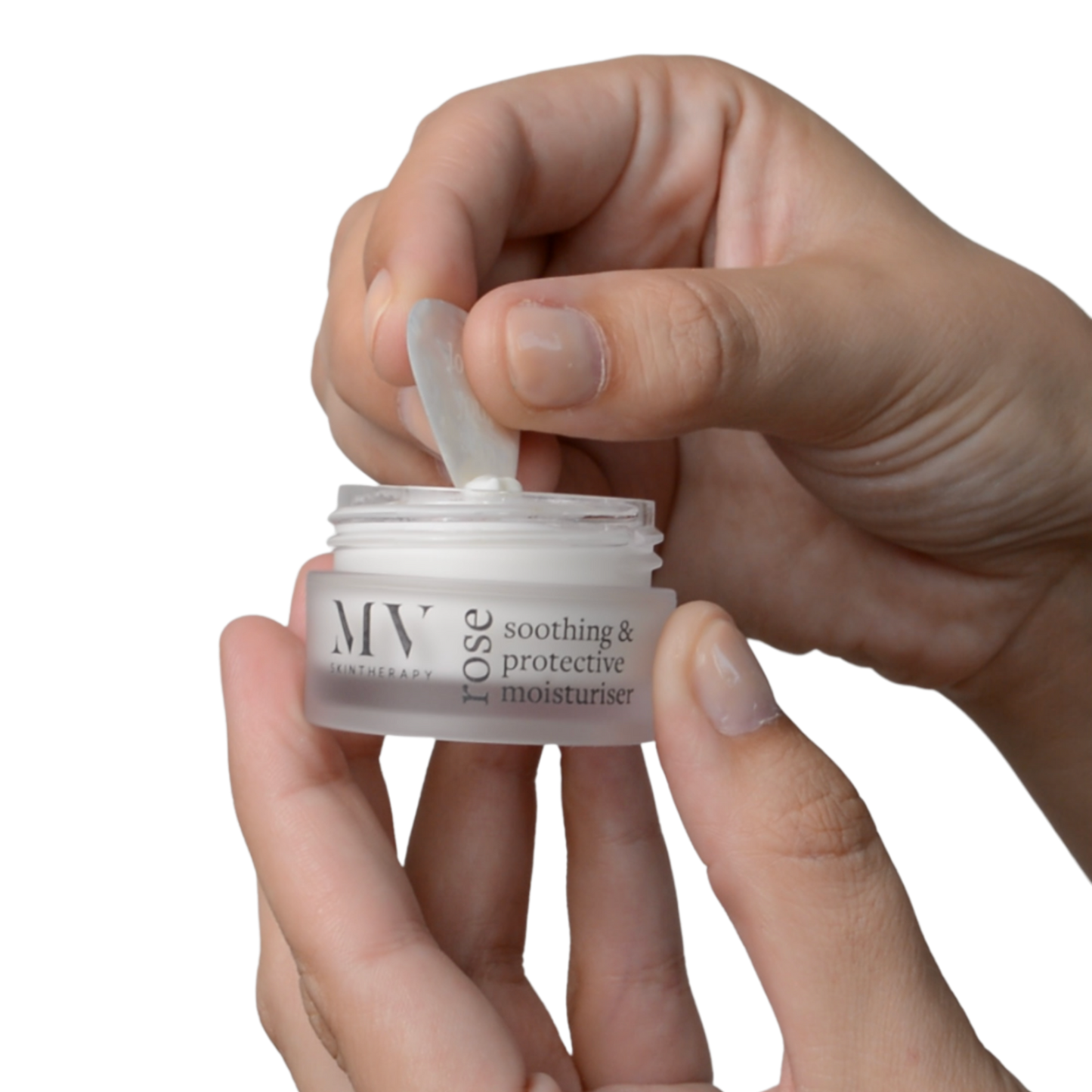 Our Secret?
Concentrated Formulations
We can't stress this enough. MV moisturisers are concentrated rich creams, loaded with therapeutic plant-actives. So, we've given you the power to create a bespoke moisturiser, every day!

Creating concentrated formulations is one of the many differences of MV. This allows us to be matter-of-fact with you about skincare, and be transparent about beauty industry marketing. It also saves you money - and this is important to us. A little goes a long way and if you only require a lightweight lotion - lucky you - because used correctly, our moisturisers will last you a very long time. 

Finally, shipping concentrated formulas to all of our customers around the world is how we can be conscious of our carbon footprint, reducing the amount of refill shipments we need to make. Win-win.
Celebrity Fans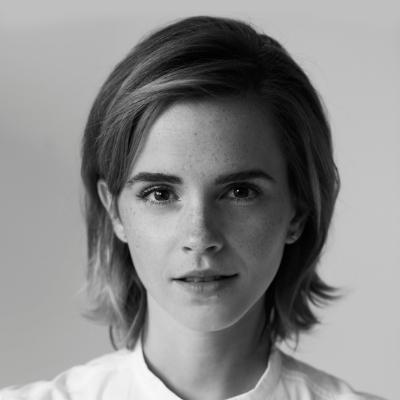 'I have the most unbelievably sensitive skin in the world, so I love this moisturiser. It's extra hydrating and smells of roses, which is heaven.'
EMMA WATSON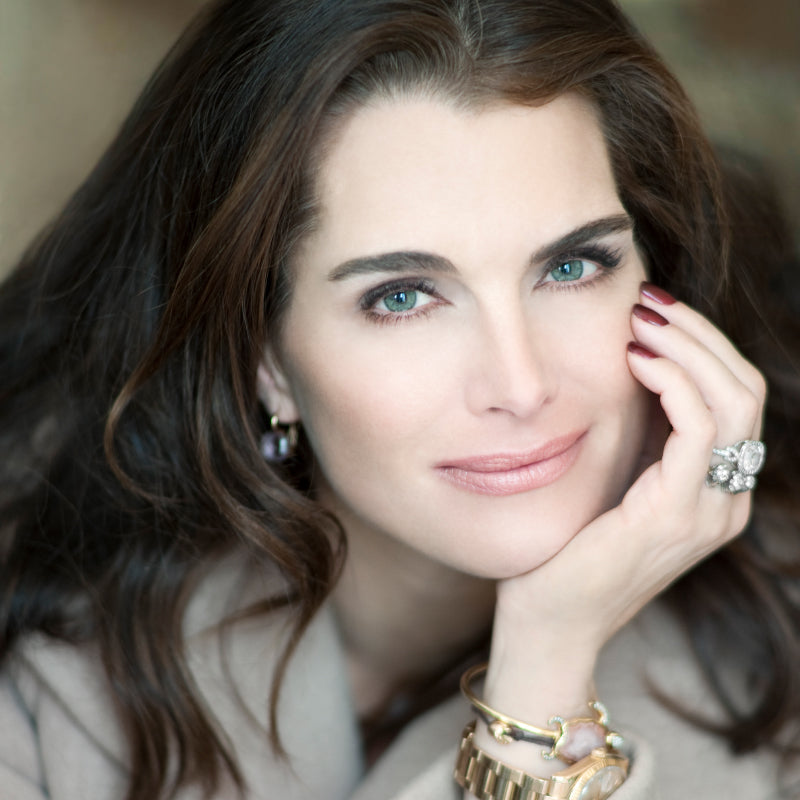 'I absolutely adore all the products in the MV Organic Skincare line. They are luxurious, smell divine, and make me feel pampered every day. I can't do without the Instant Revival Booster and the Rose Plus Booster and I even carry the Rose Soothing & Protective Moisturiser around with me, in my purse.'
BROOKE SHIELDS
Hero Ingredients
Every ingredient used in this formulation is active and therapeutic. MV products are concentrated formulations, without fillers.
Gluten free, cruelty free, and 100% vegan.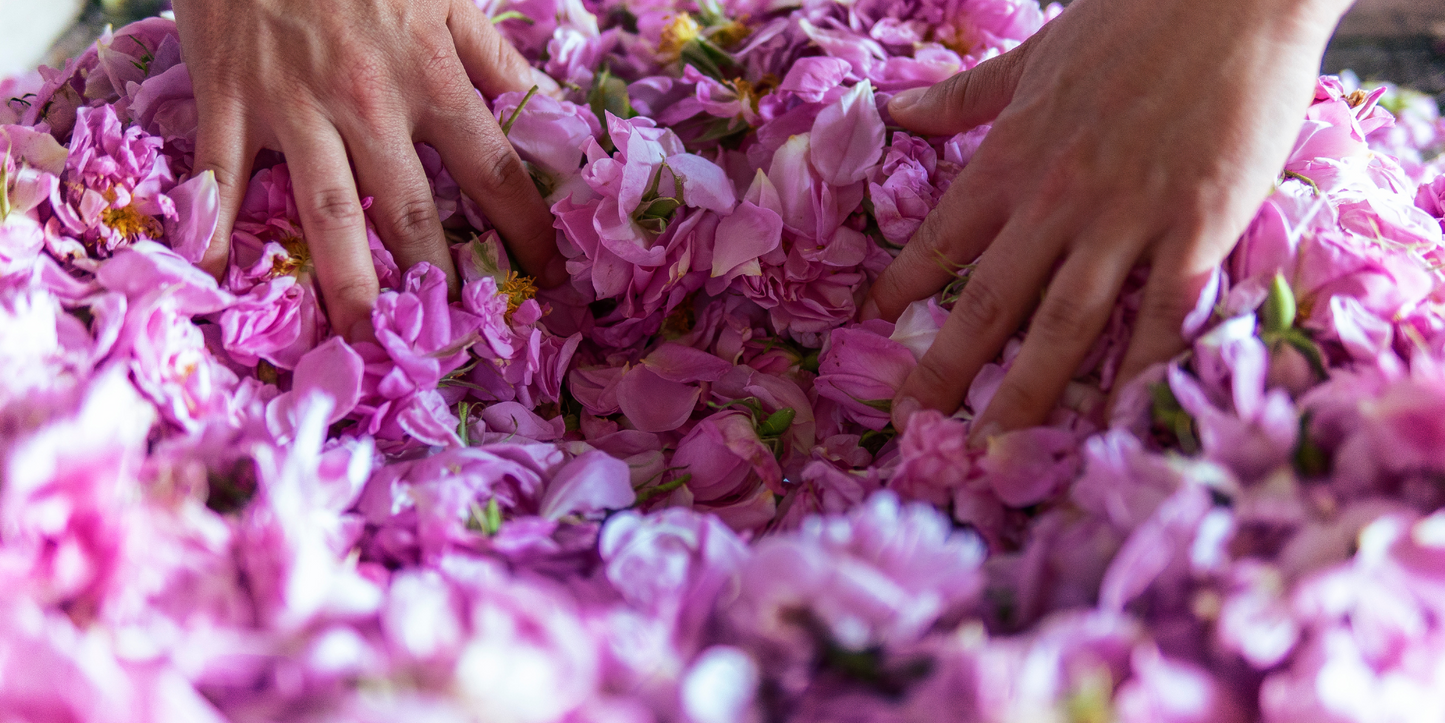 Rose Damascena (Otto)
One of the world's most precious and sought-after essential oils, it takes around 2 tons of rose petals to produce just 1kg of Rose Oil.
Rose has antibacterial and anti-inflammatory properties which benefit conditions including rosacea, acne, PCOS and hormonally affected skins. Also a natural hydrator, skin strengthener and mood enhancer, this versatile and beautifully aromatic oil is an excellent skin all-rounder.
Rose Geranium

A gentle and balancing oil that marries beautifully with Rose Otto, to create a synergistically powerful therapy.

Reduces inflammation and infection, eases eczema, benefits acne and burns and is an excellent skin balancer for hormonal, oily and pimple prone skins.
Quandong

Sometimes called the 'Desert Peach', this glossy red fruit is native to Australia and has been used medicinally by Indigenous Australians for centuries.

Supercharged with antioxidants, phenolic compounds, essential fatty acids and Vitamins C & E – ingredients that work in synergy to stimulate collagen and cell renewal while soothing inflammation. Unique compounds found within Quandong function as a natural AHA and antihistamine, beautifully healing and reparative.
Calendula

A magical and highly therapeutic oil extracted from Marigold flowers, Calendula is prized for its anti-inflammatory, anti-fungal and antibacterial properties. Also enriched with flavonoids, this powerful healing ingredient can also provide valuable relief for eczema, acne, rashes, insect bites, sunburn and dry flaky skin conditions.

To ensure the highest medicinal properties, MV sources only Calendula extracted through traditional maceration – the process includes the entire dried flower as most of the medicinal oils are found in the resinous green base of each flower head.
Full Ingredient List

Aqua (Water), *Camellia Oleifera (Camellia) Seed Oil, Cetearyl Alcohol, *Glycerin, Glyceryl Stearate, Cetearyl Glucoside, *Simmondsia Chinensis (Jojoba) Seed Oil, Santalum Acuminatum (Quandong) Fruit Extract, Sodium Levulinate (Sugar Cane), Sodium Anisate (Star Anise), Calendula Officinalis (Calendula) Flower Oil, Rosa Damascena (Rose Otto) Flower Oil, Tocopherol (Vitamin E non-GM), Xanthan Gum, Pelargonium Graveolens (Geranium Rose) Flower Oil, Lactic Acid, Potassium Sorbate, Sodium Benzoate, Citric Acid
**Citronellol, Geraniol, Linalool, Farnesol, Eugenol, Citral, Limonene

*Organically Grown
** These compounds are naturally occuring within essential oils

Gluten free, cruelty free, and 100% vegan.
The Ritual
Follow these simple steps for application perfection.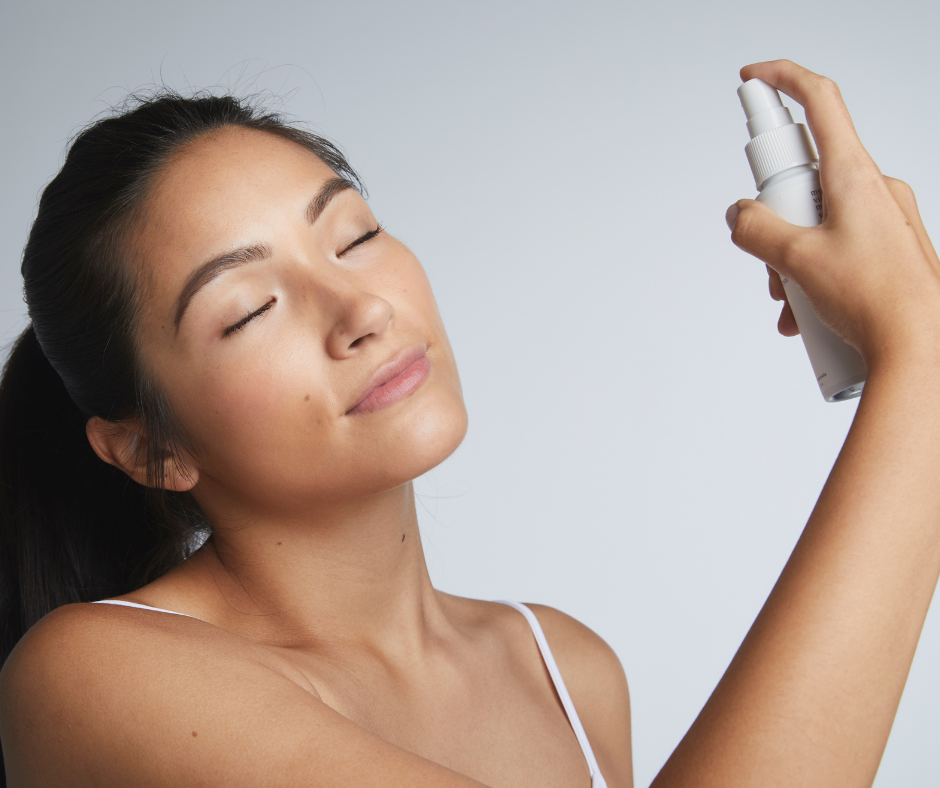 Prep
Spritz the face 2-3 times with Rose Hydrating Mist, immediately before application of any MV moisturiser to lower the skin surface tension and allow for absorption of both hydrating and therapeutic actives.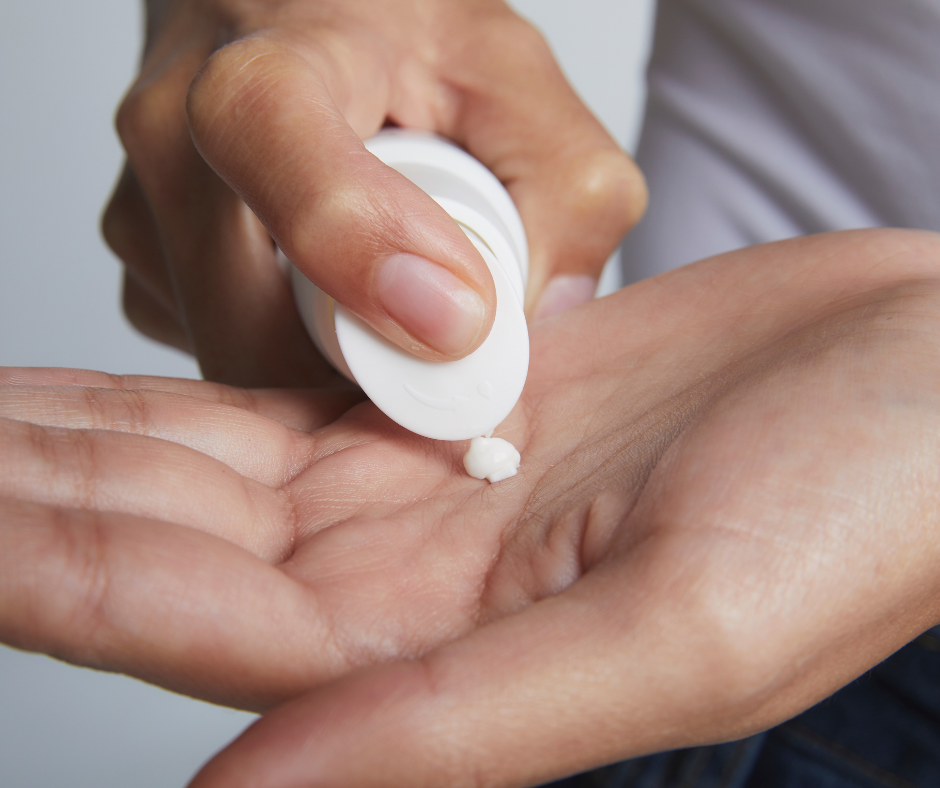 Dose
Here, you're able to choose just how much product you require today, remembering that you're working with a concentrated product.
Lightweight Lotion
1/2 pump of moisturiser
Rich Cream
1 full pump of moisturiser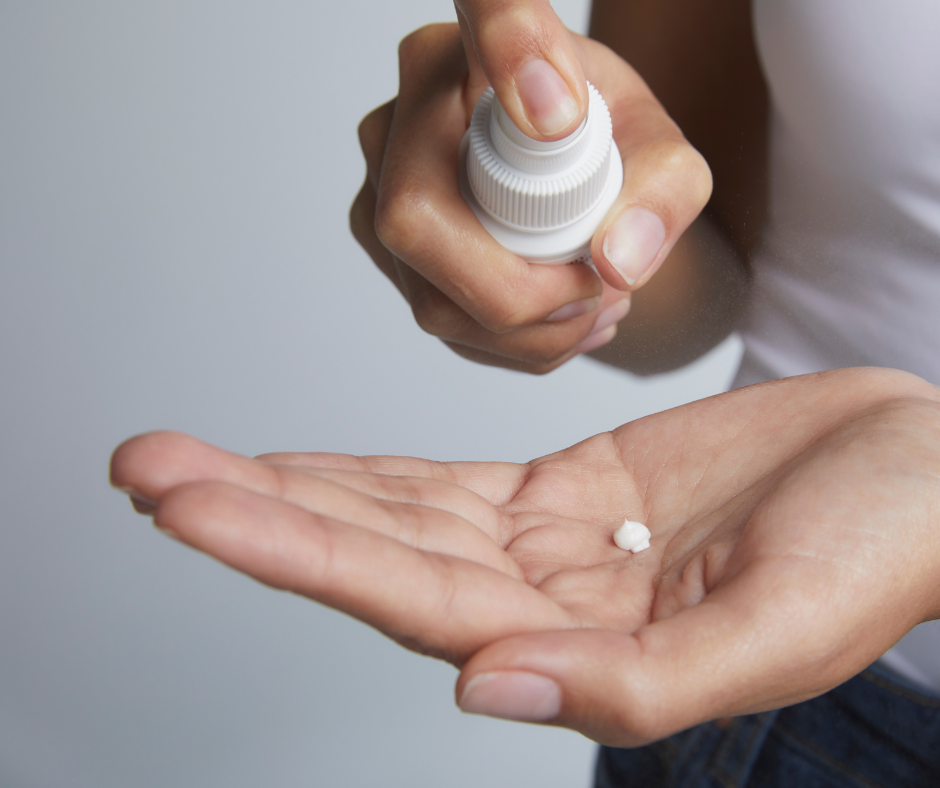 Spritz
Use the Rose Hydrating Mist to create a tailor-made consistency that is perfect for your skin's (ever-changing) needs.
Lightweight Lotion
Spritz 2-4 times
Rich Cream
Spritz 1-2 times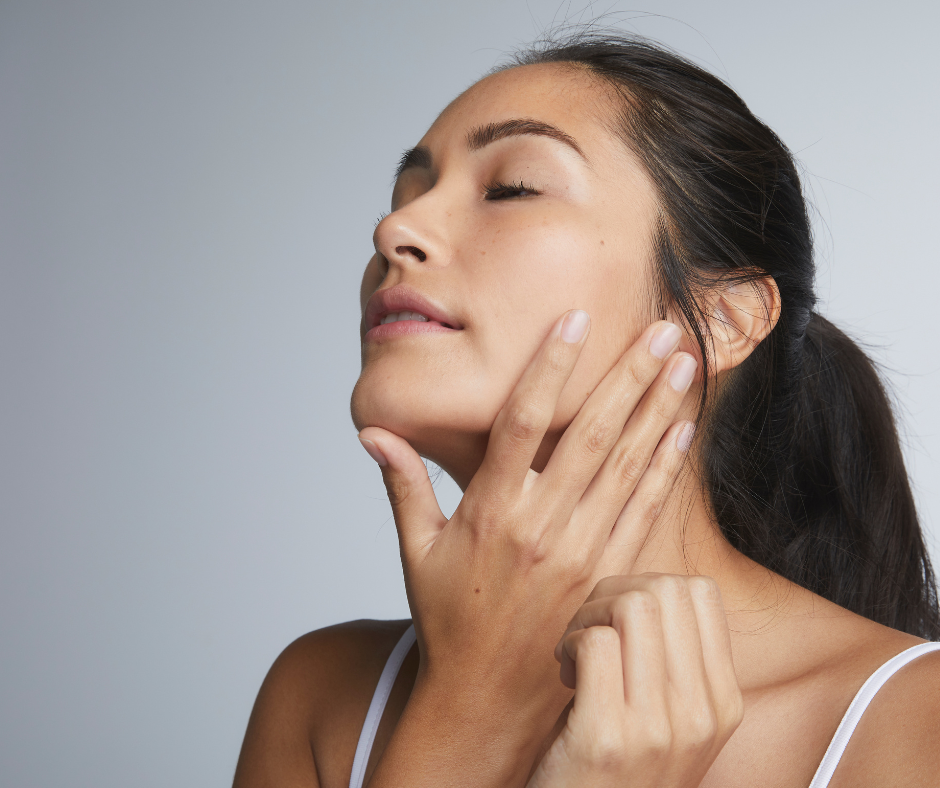 Blend
Blend together in the palms of your hands and discover how such a tiny amount of moisturiser can be transformed into so much more! This is the beauty of concentrated formulations.
Using relaxed palms, smooth the moisturiser over your face, down your neck and across your décolletage. Use soft, kind sweeps, instead of tapping or patting.
Discover the practicality and customisation of MV moisturisers.
Our decadent crème concentrate is easily transformed from rich to uber-light.
Light Lotion
Transform MV concentrated moisturisers into a light lotion for oilier complexions.
Rich Cream
Discover how to use MV Moisturisers as a rich and nourishing cream.
Can I use the Rose Moisturiser around my eyes?

Yes, you can. 'Around' being the operative word here, please don't place any products except the Pure Jojoba across your actual eyelid and close to your lash line.

We believe in multi-purpose, and that's the great thing about the versatility of the Rose Moisturiser. Using only a tiny amount (half a pump or less), place in your palm along with 1 drop of Pure Jojoba and 2 sprays of Rose Hydrating Mist. Blend between palms and voila, you've created a fast absorbing light lotion to smooth over your face, neck AND outer eye area.
How do I layer with a facial oil or serum?

Here is the 'layering' rule for how MV should be applied in your ritual.

1st - SERUM
If you are using our Native Power Serum, this comes first. It's water based and needs to go onto DAMP skin, before an oil or a moisturiser.

2nd - OILS
If you're using our Pure Jojoba, or one of our Oil Boosters - these are applied on top of a serum and underneath a moisturiser cream.

3rd - MOISTURISER
On top, always. We consider this an 'overcoat', moisturisers are designed to be occlusive, which means they sit atop the surface of your skin designed to protect and prevent against moisture loss. Definitely on top. We have seen some other brands recommend moisturiser underneath an oil, and this confuses us greatly.

Here are some exceptions to the rules.....

If you prefer blending your Rose Moisturiser and Booster Oil together, this is fine too.
While you'll get a more intensive experience by first massaging with your favourite oil booster, and-then applying your Rose Moisturiser.

If you are genuinely hyper sensitive, you may find great comfort in using Pure Jojoba as your protective layer. Applying a thin veil, waiting for it to absorb, and then applying any other product on top. This is only for those who are very sensitive, and can find that even water will be aggravating. The reason this isn't really a rule-breaker, is because Jojoba is actually not an oil, but a very clever liquid wax!
How much moisturiser do I need for my face and neck?

If you need a rich creme for dry skin - apply 1 pump.

If you need a light moisturiser for oilier complexions - blend a 1/2 pump with a few spritz' of Rose Hydrating Mist into the palm of your hands.


MV is concentrated. Designed so that you can use sparingly, applied to damp skin, and then customise the dose based on your skin type or season.

This is a hard habit to crack, because most (if not all) skincare products are not formulated this way, so you've become accustomed to slathering large amounts of it all over your beautiful face. More is more, right? Not in this instance. Please, please, read the instructions on your label to see how much you should be using. Or ask us: skin@mvskintherapy.com, and we'll be happy to help x
What is the main difference in application of MV moisturisers compared to other brands?

Both our moisturisers are concentrated* formulations and therefore give YOU the power to completely customise them. A bespoke moisturiser every day? That's exactly right!

*We can't stress this enough, these are concentrated creams loaded with therapeutic plant-actives. A little goes a long way and if you only require a lightweight lotion - lucky you - because used correctly, our moisturisers will last you a looooong time. 

Creating concentrated formulations is one of the many differences of MV. This allows us to be matter of fact with you about skincare, educating our customers on some of the marketing *faff* within the beauty industry. It also saves you money - and this is important to us. We want MV to be inclusive, and while our luxury ingredients and blending process are costly (small batch, handcrafted), we know that our products will last you. Finally, shipping concentrated formulas to all of our customers around the world is how we can be conscious of our carbon-footprint, reducing the amount of refill shipments we need to make. Win-win.
How to store & care for your MV moisturiser?

Please store products in a bathroom cabinet or on a shelf that is not exposed to sunlight. Because MV products are fresh, it is important they are treated like living products, and not exposed to full sunlight or a heat source. The volatile essential oils and fragile essential fatty acid oils do not tolerate high temperatures and UV light well. During the hot summer months (26 degrees or more) it is recommended you store your MV products in the refrigerator.
Customise With MV Skin Booster Oils
For specialised treatment, add a booster oil for intensive, targeted, and bespoke therapy.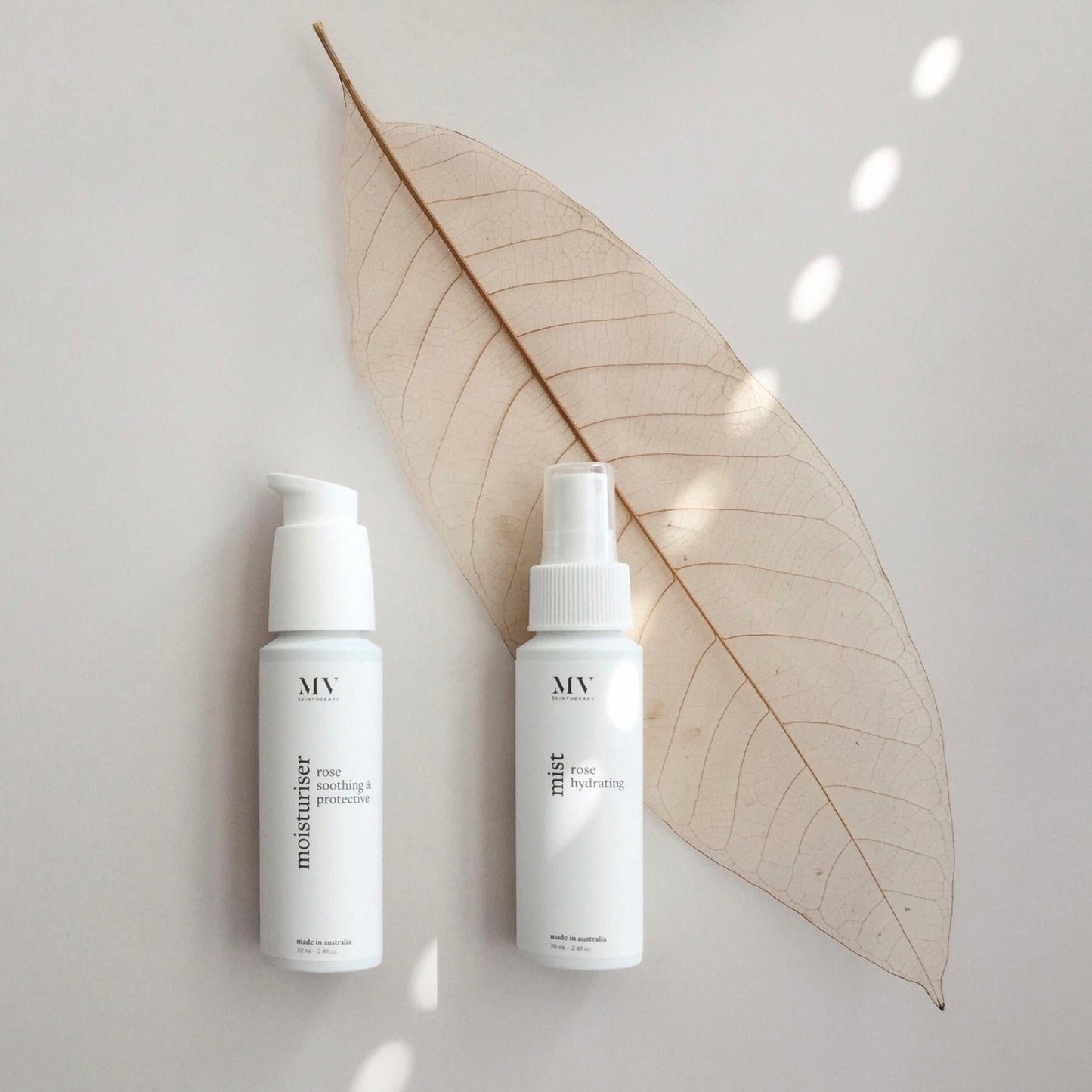 The Perfect Pair
A power couple, made in heaven.

The Rose Hydrating Mist will transform this concentrate into a bespoke consistency - whether rich cream or lightweight lotion.
Therapeutic grade ingredients
Therapeutic grade ingredients