Therapeutic Grade
The incredible quality and source of our clay is unmistakably superior
Mineral Rich
Brimming with naturally active minerals such as silica, zinc, and magnesium
Hand crafted & small-batch
This protects the potency, efficacy, and ensures incredible quality is preserved
Therapeutic Grade
The incredible quality and source of our clay is unmistakably superior
Mineral Rich
Brimming with naturally active minerals such as silica, zinc, and magnesium
Hand crafted & small-batch
This protects the potency, efficacy, and ensures incredible quality is preserved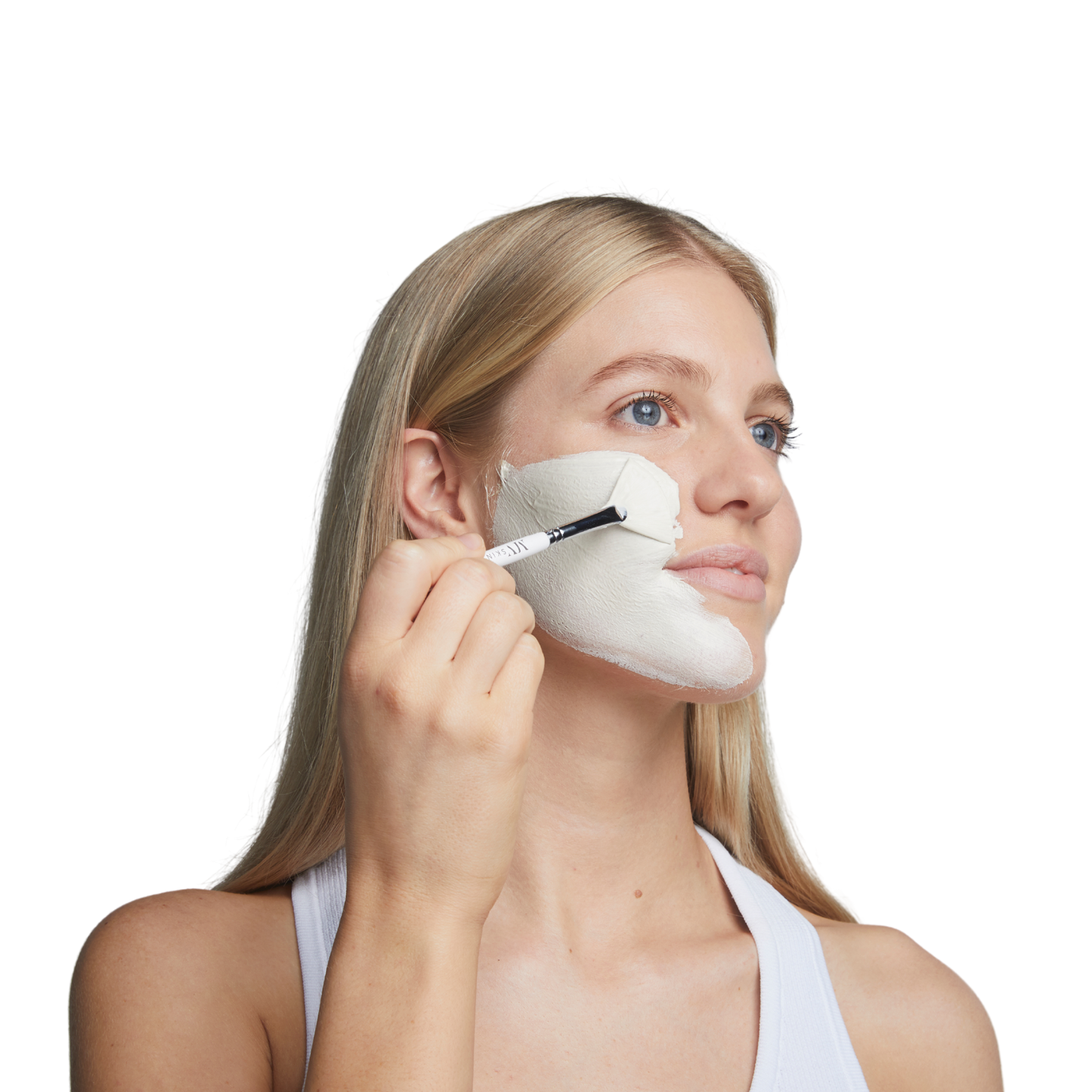 Why You'll Love It

A fusion of skin loving therapy and nurturing self-care.
An opportunity to come dynamically back to the present, and when infused with consciousness and inner stillness becomes an unforgettable and powerful ritual to return a clear complexion and an enviable glow.

Rich in minerals such as silica, zinc, magnesium, manganese, calcium, potassium and iron oxide, our Signature Mask bathes the underlying skin tissue with nutrients that:
・Strengthen
・Refine
・Soothe
・Clarify
・Heal
A Skin Ritual For All Skin Types
The Signature Mask Ritual features a universally suitable mask, prescribed for all skin types, including sensitive, oily, mature, delicate - or for those with normal skin types looking for a beautifully softening and clarifying treatment.
✔️ Instantly soothes & calms irritated skins
✔️ Strengthens barrier imparied complexions
✔️ Provides ultra-gentle exfoliation
✔️ Reduces redness and evens skin tone
✔️ Softens and refines skin texture
Real & Honest Feedback
'I'm in love with the Signature Mineral Mask – mixing it in the little pot and then applying it with the fanned brush takes me right back to my facial with Sharon every time and forces me to take 10 mins horizontal time out for a bit of a nervous system reset at the same time.'
JASMINE HEMSLEY
'The signature mask has completely transformed my skin. After weekly use, my skin is soft and clear, and my hormonal break outs have stopped. my skin looks incredible at the moment and I know your magic powders are to thank! Thanks again, I love MV!'
KATE WILLIAMS - Pistol PR founder, New York
'I've used various face masks for sensitive and dry skin but the benefits never last. This product definitely works well and makes you feel like you've just had a salon treatment.'
INDEPENDENT REVIEWER The Ultimate Natural Beauty Bible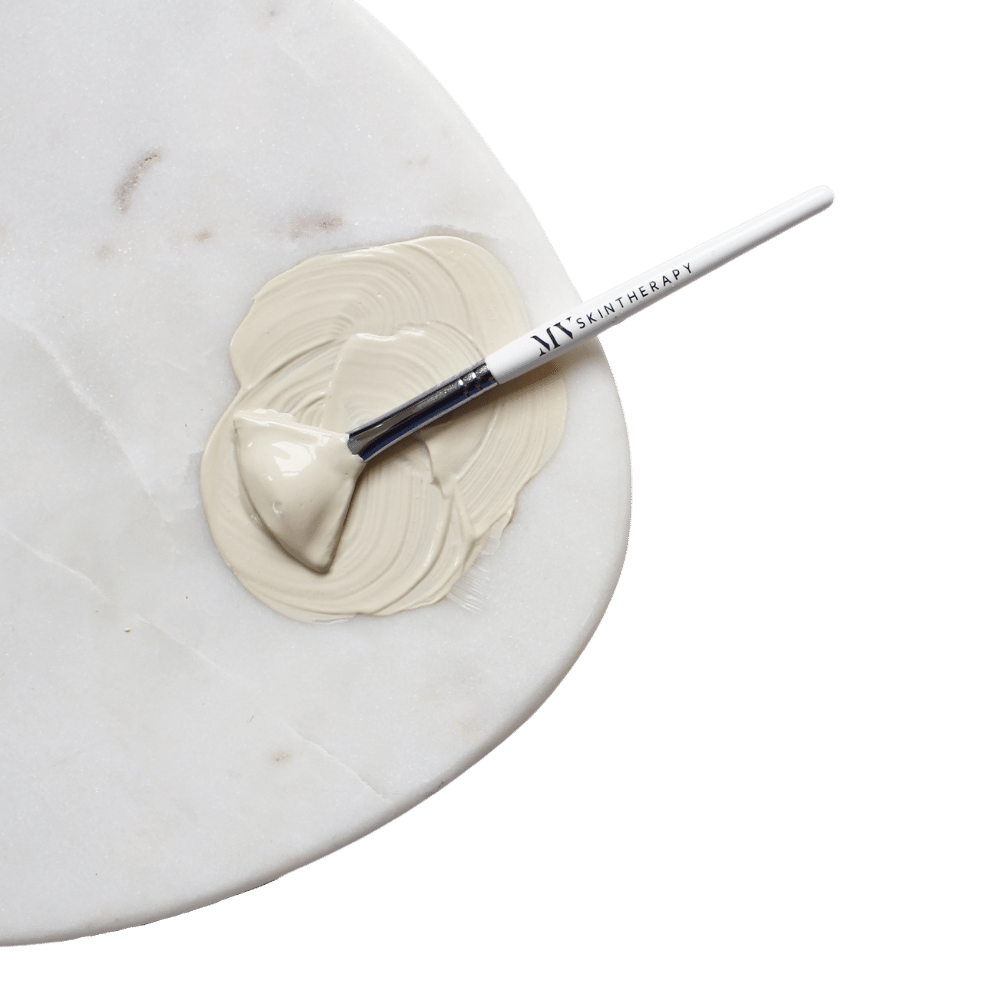 Not All Clays Are Created Equal
Over the last 27 years, I've had the opportunity to trial pretty much every clay available on the word market. My conclusion is that none come close to the results I have consistently achieved with French-produced clay.
I continue to achieve these results, with now more than two decades of use, particularly with sensitive and reactive skins. 
Our Mineral Rich clay masks are;
Food grade – so are safe to ingest
Made with the finest milled grade clay
Mined in France and Italy
COSMOS approved, meeting the highest global standards
Suitable for sensitive skin
Highly effective in the short- and long-term
The Signature Mineral Mask Ritual Kit Contains
The Signature Mask Ritual brings the transformative results of a spa-treatment into the comfort of your home.
SHARON MCGLINCHEY
MV Founder, Celebrity Facialist & Sensitive Skin Expert
Step By Step
Take a deep breath, and enjoy.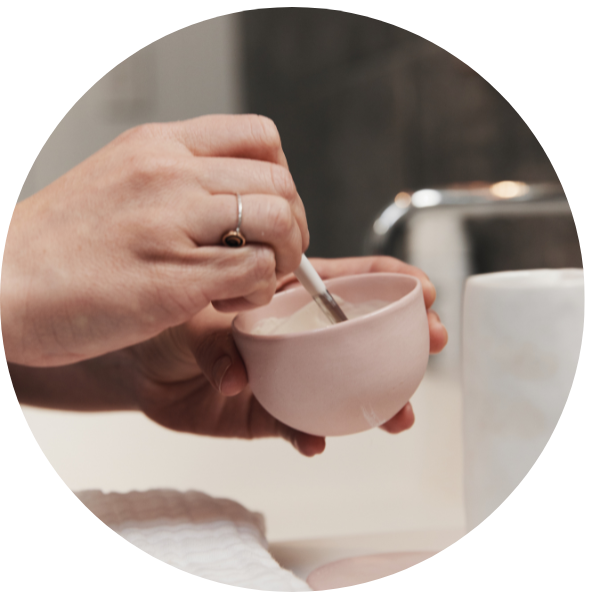 Create a silky cream by blending 2 heaped teaspoons of pure powdered mask with fresh spring water into the hand-crafted ceramic mixing cup. To achieve the perfect creamy consistency, add the water very slowly, while blending.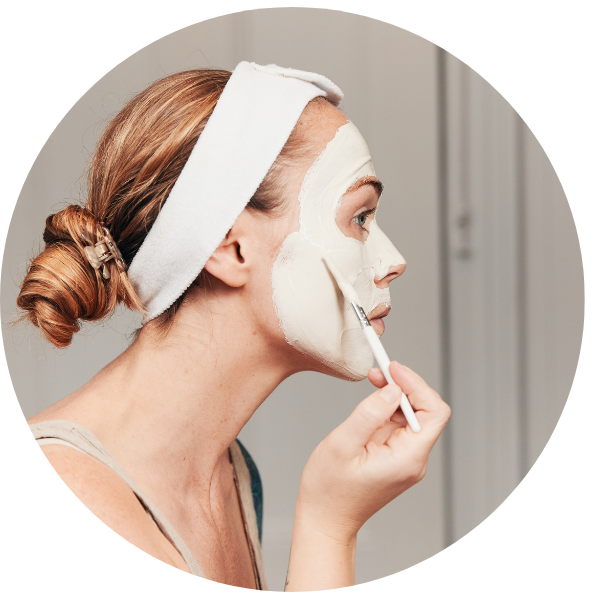 Using feather soft brush strokes, glide this lush mask over the contours of your face avoiding brows, hairline, and lips.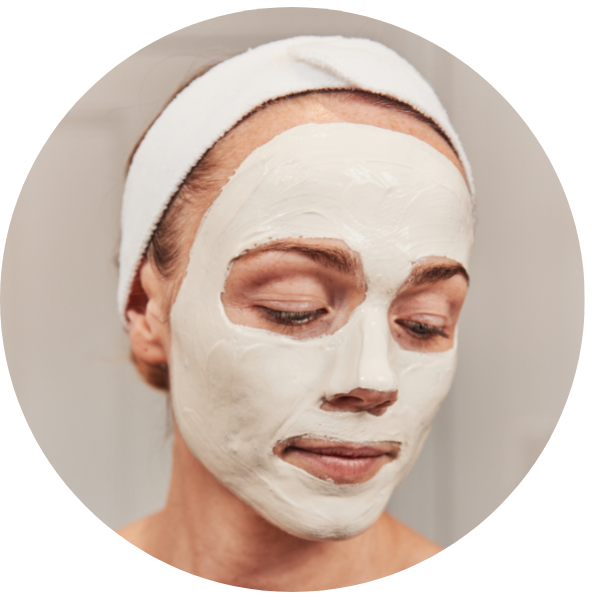 Close your eyes - find inner stillness
Allow this mineral rich skin-drink to soothe, soften and refine.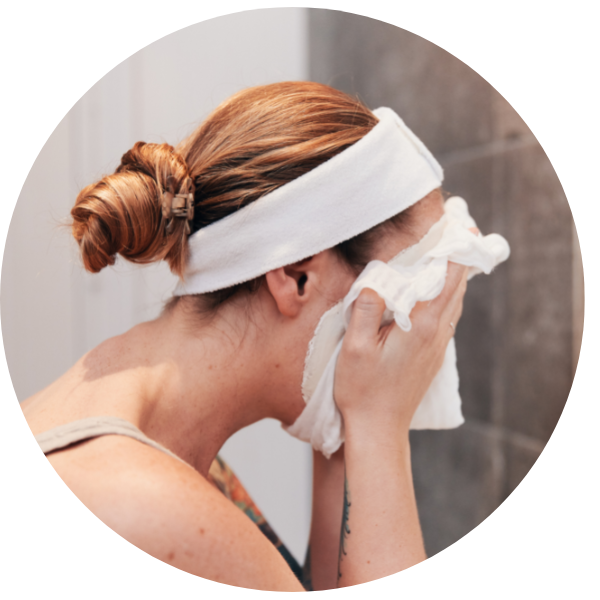 Before the mask dries completely, hold a steamy compress cloth against your face to gently and thoroughly remove the mask, revealing a clear and refined complexion.
Frequenty Asked Questions
Let's help you achieve incredible results
How long do I leave the Mask on for?

Our Signature Mask needs to be removed before it dries completely.


Which is not long at all, but the exact time is a little tricky to provide as it will depend on both the humidity of the environment, and the mask consistency you've created (please refer to the FAQ on mask blending to ensure application perfection).


Keep an eye on the change of consistency when you've applied it - once it has started to tighten and dry around the edges of your face, yet remains wet towards the surface, this is the perfect time to remove and often occurs around 7-10 minutes.

*Please never let this mask become flaky and crackly. We know this is contrary to how you've likely used clay masks previously, but allowing a clay mask to dry on your skin will rob you of nourishing oils, and dupe you with a tight feeling that people often mistake as 'squeaky clean'. This sensation is actually indicative of skin that has been stripped, and will result in dehydration, irriation, sensitivity, and over-production of sebum.

Click here to learn exactly why you should never let a mask dry.


If you're confused, watch our Mineral Mask Ritual for the full tutorial.


Why must I use spring or filtered water only?

Please mix MV Signature Mask with spring or filtered water only.

Avoiding tap water means avoiding potential contaminants including heavy metals, which can be found in some water supplies. Tap water consitutents vary greatly depending on factors such as region, and even quality of plumbing. This can result in what is known as 'hard' water which is incredibly drying on the skin, and especially irritating for those with sensitivity.
How much water should I add when mixing the mask?

We recommend that you first scoop 2 heaped teaspoons of powdered Signature Mask into your blending cup, and then very s-l-o-w-l-y add small amounts of water. The key is consistency, and not necessarily on an exact measurement of water.

Aim to achieve a cream-like texture (see the little moving image below). If you can hold your mask brush upside-down and the mask 'dollops' off - you have achieved perfection.

If you've accidentally added too much water and your mask is runny (ie: drips too easily off your brush), please add a little more powdered mask until you've achieved a creamier blend.
Why doesn't this mask comes pre-mixed and ready to use?

Good question.

MV's Signarure Mineral Mask is made from pure bentonite clay, which is a product of the earth. If we were to pre-mix this into a paste for you, then we would need to add many preservatives, because bacteria breeds rapidly in water.

Delivering the mask to you as a pure and powdered product allows us to forego the use of additives and harsh preservatives. We specialise in sensitivity and advocate for purity, so this outcome is paramount.

Our clays are rich in therapeutic minerals, when you mix them with water they become immediately 'activated' and able to work their magic - infusing into the skin. We also personally love the ritualistic experience of blending the fresh mask and creating immediate skin therapy - we hope you also fall in love with this meaningful selfcare ritual.
Which ritual should I do first?

If you're an MV devotee and feel like indulging in all 3 of our powerful skin rituals, click here to visit our R I T U A L home for guidance.

The most common question we get asked is, "I want to do the 9 Oil Radiance Ritual AND The Signature Mask Ritual - which comes first?"

1st - Signature Mask Ritual
2nd - 9 Oil Radiance Ritual

The Signature Mask Ritual should always be experienced before the 9 Oil Radiance Ritual. Water before oil is our philsophy. As the 9 Oil is an intensive oil ritual, it's nourishing ingredients (if applied first) will prevent the water-based minerals of the Signature Mask from adequately penetrating the skin.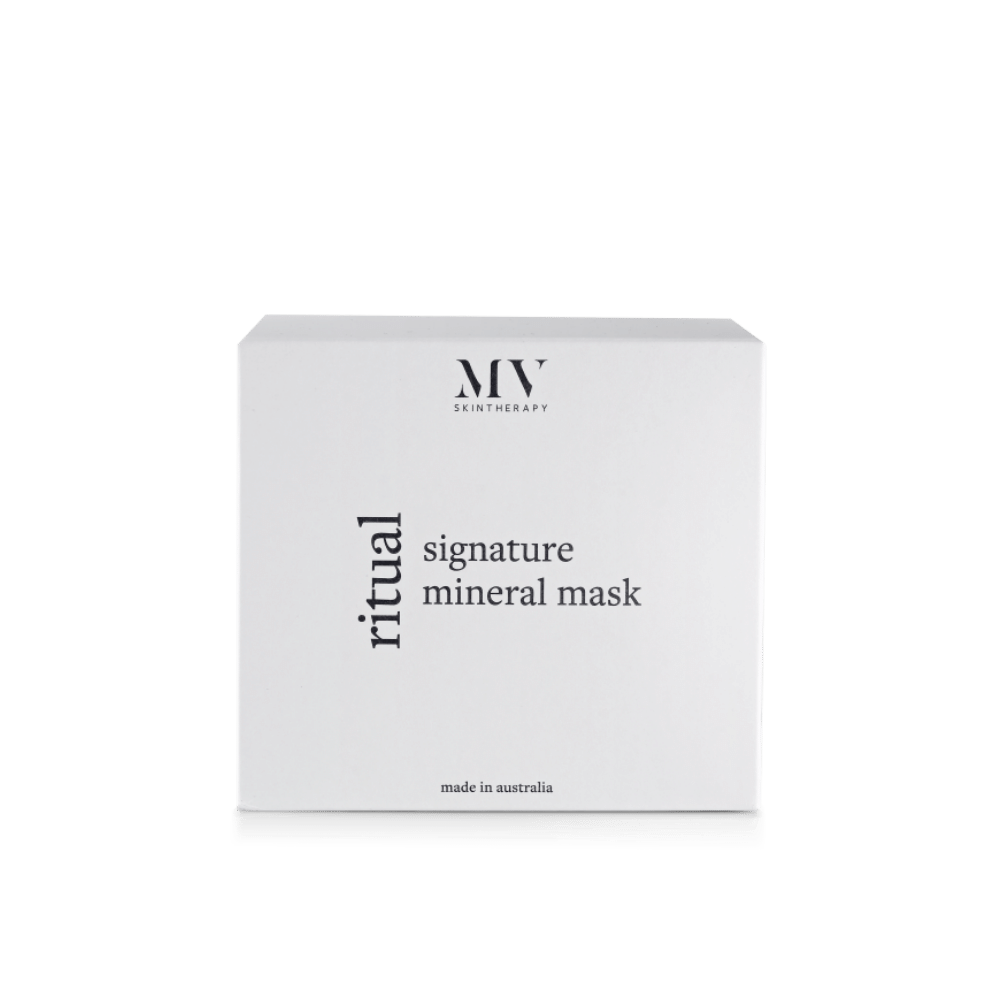 Add A Skin Booster
Add A Skin Booster
If you feel like customising your Signature Mineral Mask for specialised therapy (just like Sharon does in her treatment room), add 1-2 drops of your favourite MV Booster Oil into the blending phase of your mask.
Did You Know....
Did You Know....
That you should never let a clay mask completely dry? Learn about the III stages of a clay mask, and what mistake to avoid (one that we know you've probably made before).
Explore Other MV Rituals
Explore Other MV Rituals
We have developed three sensory and skin transformative ritual experiences.
Therapeutic grade ingredients
Therapeutic grade ingredients