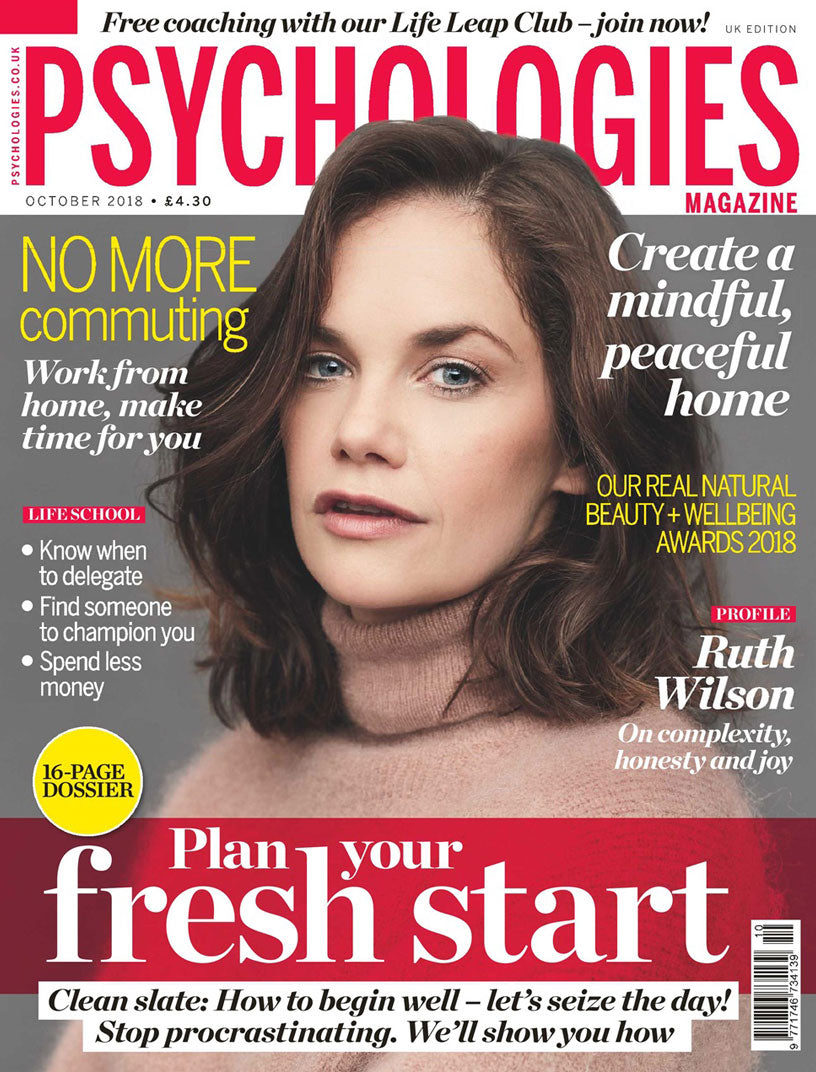 The Real Natural Beauty + Wellbeing Awards 2018
Winner Best Face Oil
MV Rose Plus Booster, £80 Beloved by over half our panel, this is pricey but lasts up to three months: two drops treat the entire face, with the purest extracts of jojoba camellia, rose damascena and rose geranium oils.
Psychologies Wellbeing Director-at-Large, Eminé Rushton, introduces the best natural products on the planet, as chosen by our panel of 21 industry insiders
Natural. Naturally derived. Of natural origin. Organic. Non-toxic. Clean. Conscious. Eco. Green. But what do these words really mean when it comes to the products in which we invest our hard-earned money, and trust? We hope to find products that repay our investment, offering a wholly transparent, pleasurable and efficacious experience, to boot. But the beauty world is notoriously woolly; there is nothing to stop the invention of terminology and, when it comes to items such as perfume, it is perfectly legal to sell them with limited ingredient information, protected as they are by intellectual property laws as 'trade secrets'.
Also, anyone can call products 'natural' – it is an unregulated term – and means you could be buying something full of cheap, questionable and synthetic chemicals, but which has a dash of natural essential oil. Thankfully, the rising tide of interest in ethical living has led to more consumers questioning what is actually in their products.
Change never begins at the top though – it takes a huge consumer movement to apply enough pressure to get big corporations to become accountable. This is happening right now, with consumer appetite for not just 'real natural' products growing exponentially (69 per cent of 35- to 44-year-old women say buying all-natural beauty products is important to them*) but also our awareness of whether or not these products are vegan, sustainably packaged, biodegradable, refillable or recyclable, and ethical throughout the production line, too.
For the first time, almost all of the beauty giants are paying attention, and almost all have implemented sustainability charters and more transparent information on their products. But, for you and me, those of us who want to buy beautiful products that are a pleasure to use, while safe in the knowledge that they are free of harmful ingredients, we must still do a lot of our own legwork. This is why the Real Natural awards matter.
A pure method
Not only are we stringent in our selection process, but we also open up the awards to all brands, free of charge. You do not need to pay us, or advertise with us, to 'win' something, you simply need to be natural, transparent and brilliant – and it's always clear which products are, because the same ones crop up over and over again when we sit to review the voting forms that pour in over the summer.
In our awards, we are proud to celebrate brands across the board, from tiny, one-person operations to large companies blazing their sustainable trails – as tested and selected by our expert panellists. We call them Real Natural awards because there is no greenwashing here: almost all of our selections are 100 per cent natural. This is notably different from 'naturally derived', which means that although the original source of the product may be natural, for example, coconut, the ingredient then goes through any number of chemical processes to turn it into another ingredient. It's a sketchy term: imagine taking an organic apple and using a chemical solvent to extract part of it, then a synthetic preservative to extend its shelf life, then additional synthetic chemicals to get it to behave as you want it to, before presenting it as a 'naturally derived' apple... We have, therefore, avoided 'naturally derived', aside from products that are almost entirely natural, but may use one or two safe 'naturally derived' preservatives, which are deemed of the lowest possible risk by the Environmental Working Group (EWG.org) and two other helpful consumer apps, Think Dirty and Skin Ninja. There are also certifying bodies, such as NATRUE, COSMOS and The Soil Association, which operate widely within the EU.
That said, many natural colour cosmetics brands – including one of our winners, ILIA Beauty – use stable, low-toxicity, food-safe but synthetic pigments, in lieu of some natural pigments. This is for a variety of reasons, one of which is that the natural 'carmine' red pigment, often used to produce reds and vivid pinks, is made from the shells of cochineal beetles, which is a deterrent for some - and, of course, these products are not suitable for vegans (the maybe labelled carmine, cochineal extract, Natural Red 4 or E120). For those who use mineral pigments, there are challenges, too, and which iron and other metal oxides, there is also the risk of heavy metal contamination.
The ethical choice
The US has its own regulators, overseen by the FDA, which is nowhere near as strict as ours: 1,328 chemicals are banned from cosmetic usage in the EU, while only 11 are off limits in the US.** These official stamps and labels can count for a lot – not least of all because companies have to invest heavily in going through the certification procedure, which can be lengthy and costly. Many 'little guys' simply can't afford certification, but this does not mean that their products are less pure, natural or safe. By the same token, simply because a product is natural, does not mean it is the holy grail of cosmetics. Some naturals do not perform well – they are poorly formulated, or may be inexpertly preserved (thereby oxidising which, if applied to skin, can be irritating and prematurely ageing), or are simply not suited to your skin.
Everything is subtlety and individuality – one size never fits all. What we can trust, however, is that by making a conscious decision to avoid products that contain questionable ingredients, from non-biodegrading sulphates, to endocrine-disrupting phthalates, we are choosing to support brands that care about these things. We are also raising awareness of the murkier side of the cosmetics industry, and boycotting ingredients that come from the notoriously polluting petrochemical industry (petroleum jelly, petrolatum and mineral oil), and saying we will have no part in that, thank you very much. We understand we are the product of our choices, and we want those to be kind, ethical and safe; ones we can trust.
We assembled an unbiased and unaffiliated judging panel, all of whom work across the worlds of natural beauty, wellbeing, nutrition or health. They include leading green beauty champions, editors, insiders and pioneers, naturopathic make-up artists, nutritional therapists, wellbeing authors and green beauty bloggers. Each expert voted for their favourite products across each category, after testing a range of all-natural products. The results were hearteningly clear cut across almost all categories – this really is the best of the best when it comes to 'real natural' products.
I am proud to present the Real Natural Beauty + Wellbeing Awards 2018. Follow us as we share more about these brands, via our hashtag #realnaturalawards – on Instagram, Facebook and Twitter – and let us know which you have tried and loved, or would like to see included next year. Keep it Real Natural.