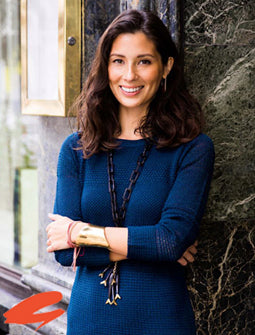 The Expert Edit: Jasmine Hemsley's Beauty Essentials
If you love a high-performance natural beauty product and like your tongue to be as clean as your teeth, the wellbeing author and healthy foodie's top 10 is for you
Here at GTG towers, we've been following Jasmine Hemsley's journey into Ayurveda and loving some of the recipes from her new Ayurvedic-inspired cookbook East by West (her turmeric Golden Milk being a current favourite).
Ayurveda is not just a way of eating, it's a way of life and when we asked Jasmine for her beauty edit it was no surprise to find Ayurvedic oil pulling and tongue cleaning on this list - as well as some high-performance natural brands such as MV Skintherapy and Tata Harper. Having spent time with her on a shoot recently, I can confirm that there was only a slick of eyeliner and maybe a dab of bronzer in evidence for the cameras - that glow is really all her own work!
Here are the beauty picks that she wouldn't go without.
MV Skintherapy Daily Soother Booster
This super-moisturiser is when I need urgent skin SOS! I travel a lot which completely dries me out and this rebalances, soothes dry patches and protects.