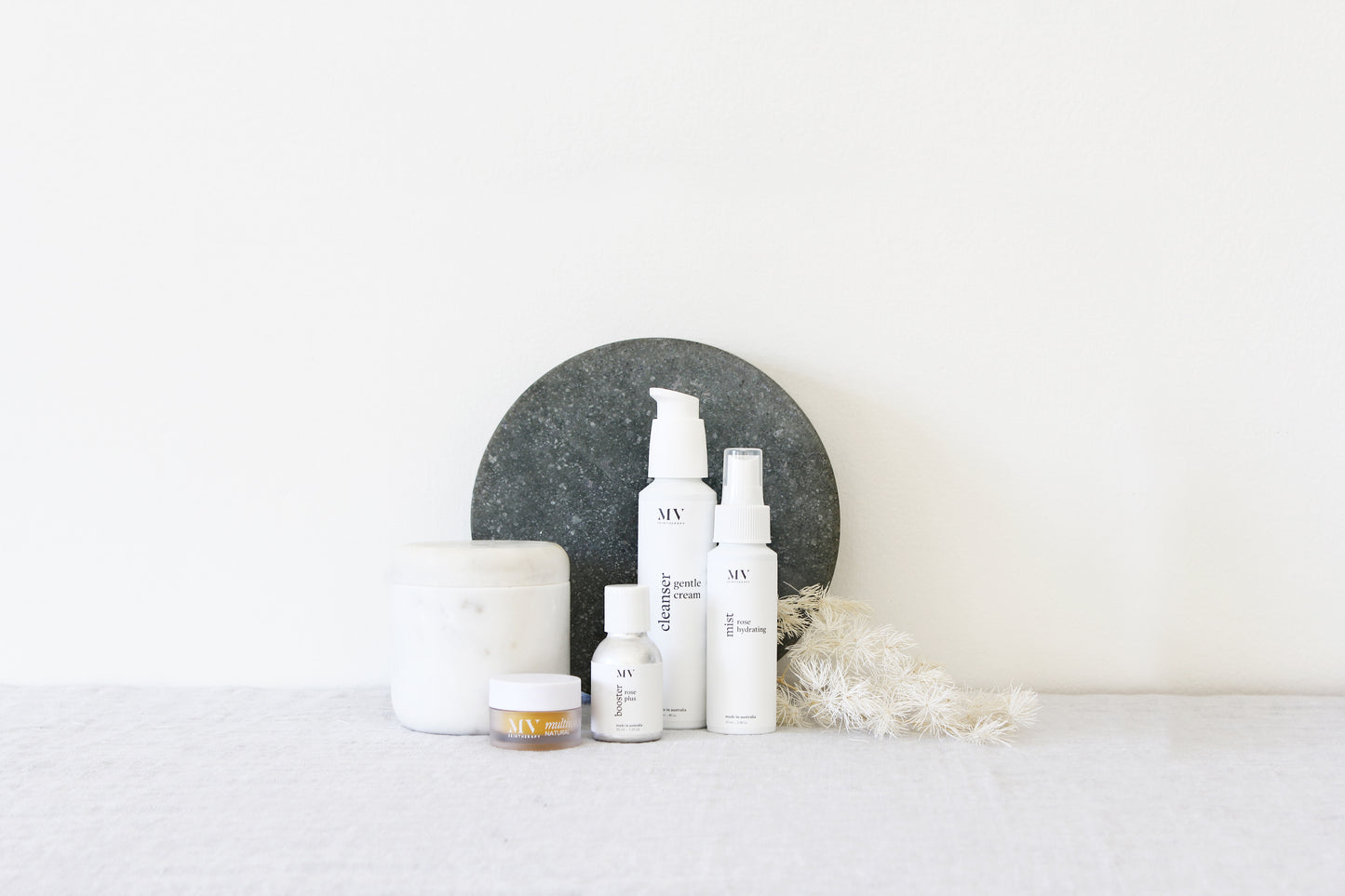 Welcome to the next evolution in holistic skincare
For more than two decades, acclaimed beauty therapist and beauty rebel Sharon McGlinchey has built her award-winning, all-natural skincare brand according to one simple mantra: My Vision, My Values.    
Now, as MV celebrates an incredible 21 years in business, this pioneer of the global green beauty movement has unveiled an updated name and logo, and a fresh new look that better reflect the ethos of the brand. 
Say hello to MV Skintherapy.
Much more than just skincare products, MV Skintherapy is a powerfully healing range of therapeutic and concentrated plant-based skin remedies that build on the heritage and expertise of the MV brand.
"Long before 'wellbeing' became a beauty buzzword, I was championing a gentle, more holistic approach to skincare, and promoting to my clients and to the beauty industry – often in the face of cynicism– my belief that skincare equals self care," says Sharon. 
"After 21 years of rebelling against the damaging, profit-driven 'more is more' approach of the mainstream beauty industry, the values I hold dear – purity, integrity, efficacy and simplicity – remain unchanged.
"The MV Skintherapy evolution is about celebrating the past and future of the MV brand. It's about continuing to shift the narrative around beauty and skincare, and showing the world at a glance the purpose of MV – which is to nurture, heal and empower people, and help them love and respect the skin they're in."
A PIONEER IN HOLISTIC SKINCARE
Since 1999, MV has been one of the first Australian beauty brands to align with naturopaths and health practitioners. Sharon opened her first MV salon and developed the signature MV Radiance facial treatment, which incorporates elements of healing modalities such as reiki and yoga.
To create the experience for people at home, Sharon created the 3-Minute Skin Ritual, which is based around gentle cleansing with a warm compress. "It's all about inspiring people to be mindful and use their daily skincare routine as an opportunity to incorporate considered personal touch, aka self-care," says Sharon.
"The whole 'mindfulness' industry has exploded recently, yet I've been quietly educating my clients about stillness and the breath – focusing on the feeling body instead of the thinking body – for more than 20 years!"
THE ATTITUDE OF EVOLUTION
Sharon's vision and values have regularly found her out of favour with the mainstream beauty industry. In the early days, MV was dismissed as niche and alternative.
"There I was advocating for holistic skin health – for the use of ritual, compress cloths and stillness – at a time when the industry was moving into machinery, peels and, a bit later on, injectables," she says. "But for me, skin health is holistic and incorporates mental and physical health too."  
The MV evolution extends to attitudes around marketing terminology, too. Sharon has always rejected the term 'anti-ageing', refusing to communicate in a manner that disempowers women, panders to insecurities, and treats the passage of time as something to be undesired.
"MV Skintherapy is all about skin health at any age and stage of life, and celebrating ageing in a positive way," Sharon says. "After losing my best friend to ovarian cancer, I refuse to treat life as something that needs to be 'cured', I want to respect the blessing and gift of time."
The MV evolution is about proudly continuing to step outside the boundaries of what a skincare brand "should be" and staying true to the vision and values of MV Skintherapy – a brand that supports true health and wellbeing.