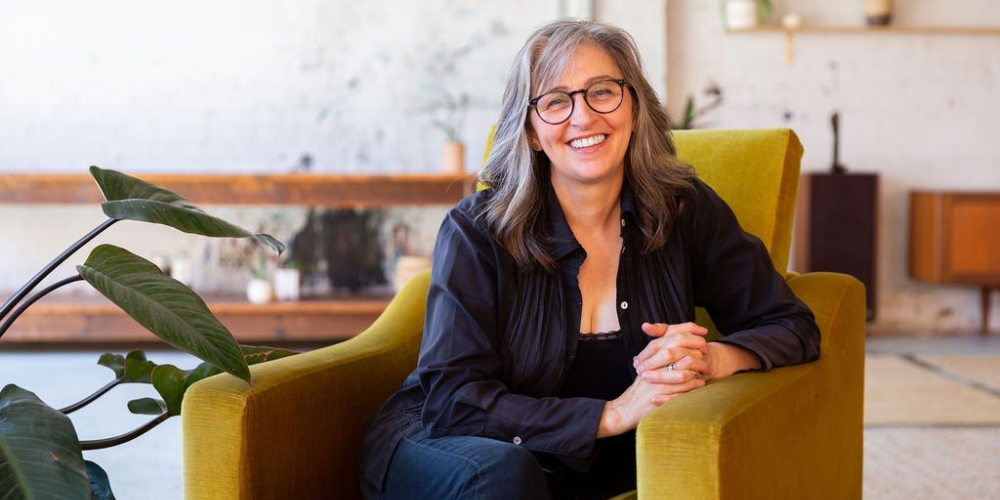 Menopausal skin is one of those things which we know will affect most of us at some point, but it still takes us by surprise when it occurs. All of a sudden, menopause is here and on top of everything else, your reliable long-term skincare routine no longer works the way it has. 
There's enough to adjust to during menopause without the challenge of also finding a new skin routine. Our goal is to make caring for menopausal skin simpler, and who better to consult than 57-year-old MV Founder, Sharon McGlinchey. We hope Sharon's menopausal journey and the new skin ritual she developed will inspire you to take a fresh look at your own skin regime, and consider tweaking it to match your life stage. 
Sharon's menopausal journey
Sharon's menopausal journey began with smooth sailing for the first 2 years before the storm of menopause came crashing in. 
Firstly, her hair began to fall out around her hairline, temples, and even the crown of her head. Secondly, her sleep patterns fell apart, regularly waking at 3am. After that, the dryness began to set in - leaving her whole body feeling like the Sahara Desert. Her nose, her ears and her eyes, all felt incredibly dry, and only Pure Jojoba helped to ease the discomfort. Distracted by her battle with dryness, one day Sharon also realised she was not feeling at all herself. In fact, she wondered if an alien had inhabited her body which then resulted in a daily struggle to "work out where Sharon has gone."
At this stage, she knew she had to take action. She had to re-think her position on HRT and revise her current skincare routine to protect and nourish her new skin! Through trial and error over months, Sharon zeroed in on the products which worked best for her menopausal skin, and developed a protocol which has restored the vitality of her skin with daily application. 
With the help of an integrative GP, Sharon 'found herself' again once the bio-identical hormones kicked in. 
Cleansing with care and kindness
Let's start with the most important part of any skincare routine - cleansing. 
A shift in thinking is essential for those with menopausal skin. The mainstream approach can be harsh and aggressive, resulting in irritation and the woeful destruction of the skin's microbiome. 
23 years ago, Sharon decided she would never advocate for 'squeaky clean' so made the decision to create only one
Gentle Cream Cleanser
- a unique moisturising formula that would suit pretty much every skin type and condition. A skin-loving cleanser that would do the job beautifully while protecting the skin's natural barrier. A cleanser designed to be removed with a steamy compress cloth to relax, nurture and effectively prepare the skin for her lush treatment oils. 
Causing controversy decades ago, Sharon recalls the looks she received when giving her sensitive and menopausal clients at-home skincare advice to ditch their 'wash off' products, avoid the harsh and drying effects of water and instead embrace the ritual of warm compress cleansing. 
"That's a key skin preservation tip I give everyone but especially those with sensitivity and anyone heading into menopause" Sharon says. 
The best product for menopausal skin
Sharon's ultimate menopausal skin saviour is the 9 Oil Radiance Tonic. 
Menopausal skin will drink the nourishing organic plant oils and powerful antioxidants of this luscious blend, resulting in a dewy and clear complexion. Our most versatile tonic literally irons out the creases and makes for the perfect addition to your morning routine to wake up your skin or - in the evening - for intensive restoration while sleeping. For menopausal skin needing a little more TLC, we suggest using the 9 Oil Radiance Tonic both morning and evening. 
Another skin concern associated with peri-menopause and menopause is annoying break-outs and even acne for some. This is where the 9 Oil Radiance Tonic shines as a multi-purpose hero, nourishing parched skin as well as helping to soothe inflammation, fight bacteria, decongest skin and speed up healing. All very welcome benefits to anyone who finds themselves suddenly blemish-prone as they approach menopause. 
Sharon's new daily ritual for menopausal skin
During Sharon's menopause journey, it took a few months to discover what her new skin really needed. Eventually, she discovered that more layering was the key to success. 
At first glance this routine might look a little intense! But rest assured it's actually quite simple when you break it down. 
Before we begin it's important to note that this routine should always happen after warm compress cleansing with the Gentle Cream Cleanser. This goes a long way to protect your skin because the cleanser is a rich moisturising formula that nourishes as it cleanses and doesn't strip your skin. 
Now that's covered, here's Sharon's new daily ritual and layering sequence to really lock in moisture, nourish deeply and encourage absorption of the ingredients that menopausal skin craves. 




Other great products for menopausal skin
The Daily Soother Booster has really been a godsend for Sharon throughout her menopause years because it's like a protective glove for the skin. It's deeply nourishing and soothing thanks to a significant amount of Calendula and Carrot Oil. All you need to do is add 2 drops to the Rose Soothing & Protective Moisturiser to instantly supercharge this cream. Essential for all skins experiencing any form of dryness, sensitivity or environmental damage.
Another menopausal recommendation is the Rose Plus Booster. It's an incredible mood enhancer, so it's a great choice to switch to during those times of emotional flux - the days when menopausal mood swings hit a little harder than usual. The power of aromatherapy can never be underestimated, especially when it comes to pure unadulterated Bulgarian Rose essential oil. It's enough to make anyone feel good!
During menopause your body changes in many ways. One of the most visible places that it can change significantly is your skin, and this process can honestly be a bit emotional. MV is here to hold your hand through this journey and provide the tools you need to protect and nourish your new skin so that it can feel its best.