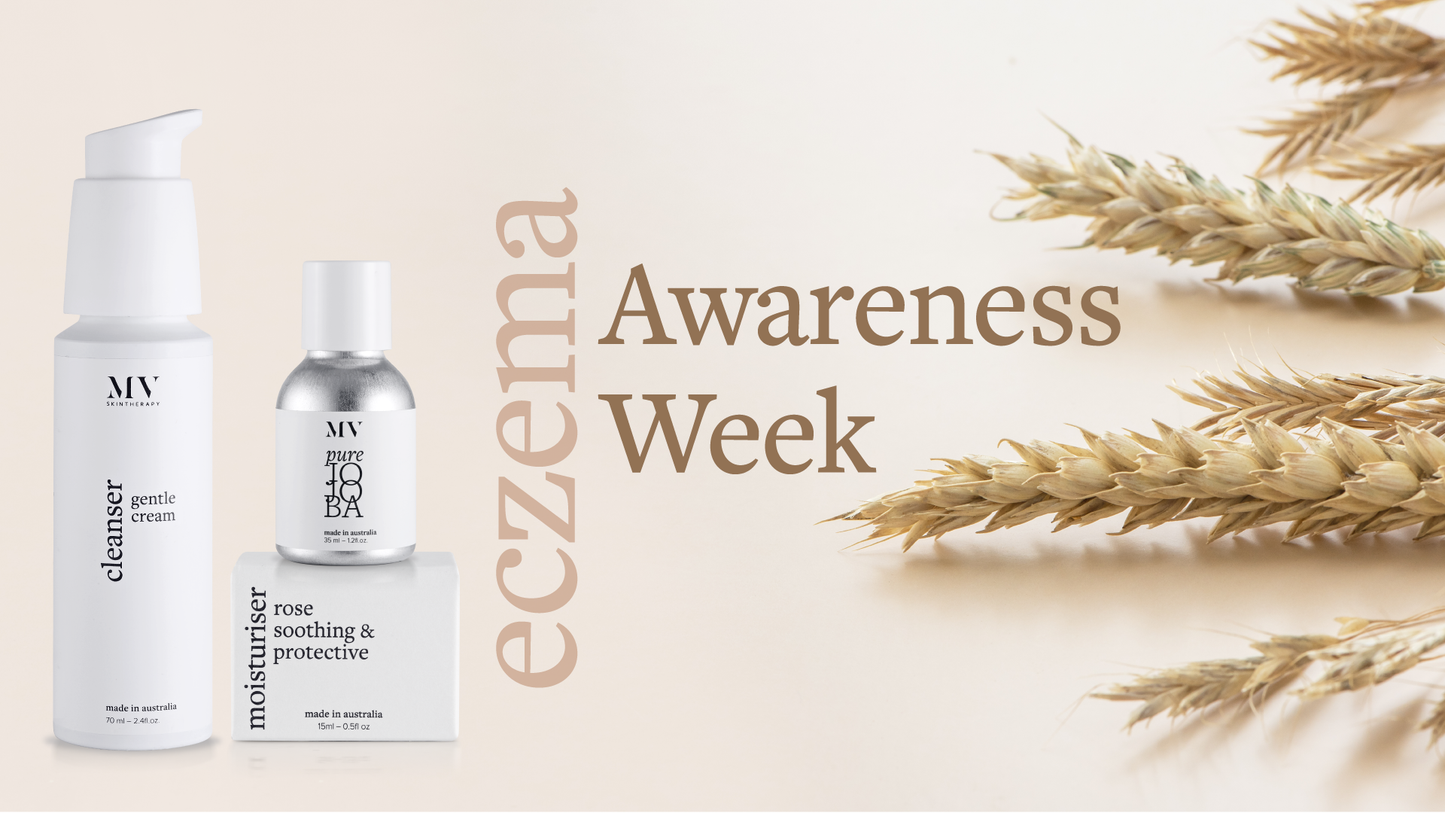 HAVE YOU EVER EXPERIENCED SYMPTOMS OF ECZEMA - OR KNOW SOMEONE WHO DOES?

In honour of National Eczema Awareness Week, and as a skin therapy company founded on the principles of providing therapeutic solutions for our sensitive skin sufferers, we would love to take this opportunity to share some resources that may help you - or someone close to you - manage eczema.
'Australia is among the countries with the highest prevalence of eczema or atopic dermatitis.'
COMMON TRIGGERS
Foods such as cows milk, wheat, nuts, rice, alcohol, coffee and food additives

Environmental factors including dust mites, pollens, animal hair and saliva and fungal spores

Man made products such as washing detergents, household cleaning products, perfumed soaps, bubble baths and shampoos, fragranced moisturisers and personal care items

Emotional stress, woollen clothing, synthetic fabrics which can overheat the skin, excessive bathing and hot showers
TREAT THE SKIN FROM WITHIN
You are probably already familiar with our holistic philosophy when addressing any skin condition. It is vital to recognise that the health of skin (our largest organ and detoxifier) is acutely connected to our internal health & wellbeing. Due to the complexity and diversity of eczema presentations, we highly recommend that you work with a qualified integrated health practitioner in designing you a customised program. This may include elimination diets, nutritional interventions, probiotic treatment, or herbal tonics.
Taking the time to understand the underlying cause of 'your' eczema will ultimately result in a more targeted (and successful) treatment.
TOPICAL SOLUTIONS

Thankfully there has been a move away from steroid based creams which do have side effects and are unsuitable for long term use.
There are now many natural alternatives to relieve the symptoms of eczema and here at MV we recognise the growing number of people looking for more natural solutions to better manage this frustrating condition.

ADD EXTRA PLANT THERAPY TO YOUR TREATMENT
OATMEAL WATER RECIPE
To dampen the skin with Oatmeal Water before moisturising, simply place 2 teaspoons of (uncontaminated) oats in a bowl with a small amount of warm water. The water will become cloudy as the mucilage seeps out. You can then dampen a make-up disc or cotton ball in the Oatmeal Water and smooth over the face before applying your daily moisturiser.
Never allow moisture to evaporate on the skin. While the skin is still damp from the Oatmeal Water or Spring Water, apply Pure Jojoba and follow with the Rose Soothing & Protective Moisturiser. Alternatively, blend a few drops of Pure Jojoba with half a pump of Rose Moisturiser before smoothing over the skin. This helps to lock in much needed moisture to hydrate and relax the surface of the skin.
FOR BATHING & SHOWERING
Make it easier and more convenient to use this treatment by preparing 'oatmeal balls' in advance.
You will need an inexpensive pair of stockings and some organic *uncontaminated/gf oats.
Place a hand inside a stocking, once you reach the toe, take a handful of oats, make a fist then remove while turning the stocking inside out.

Tie a knot to form an oatmeal ball then cut and repeat until you have approximately

10-12 oatmeal balls.

Store in a dry place and keep on hand to help relieve some of the symptoms associated with eczema and dermatitis such as itching, burning and tightness.

Place an oatmeal ball in a warm (not hot) bath or take in the shower and use like a sponge – cleansing the body while soothing the skin.