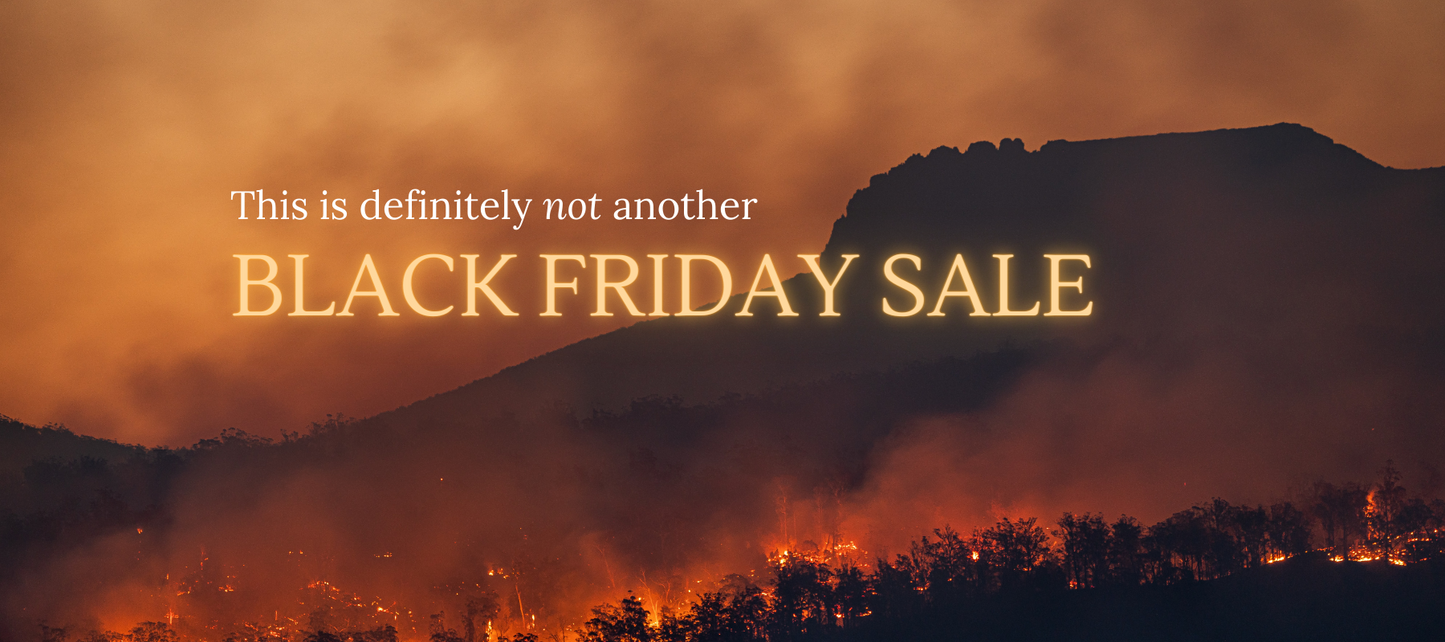 BLACK FRIDAY
These two words are likely filling up your inboxes, plastered across screens and billboards everywhere you cast your eyes. It's a little overwhelming to say the least.

The term 'Black Friday' is well known as a SALE FRENZY, an event that has somehow evolved into a weeks long affair. While we absolutely appreciate a fantastic bargain, we can't help but *eyeroll* at the whole event. Yet another cash-grab, a way to push consumerism, and add more unnecessary 'things' into our life. While ideally, it would result in smart and savvy purchases for useful necessities - alas, we all know that this is seldom the case. For those who are awaiting our (very rare) MV Sale Event, we haven't forgotten you...this time of year is coming up shortly.

What It Means To Us
When the term BLACK FRIDAY was recently raised around the MV office we knew that we were going to politely opt-out of partaking in any sale campaigns. Instead, chat soon turned to the catastrophic BLACK SUMMER Australian bushfires in 2019 that occurred around this very same time of year. Here's a recap for those who are unaware...


In the summer of 2019/2020, Australia was ravaged by the most devastating bushfire season the country has ever seen. The fires of 2019/2020 saw the largest single loss of wildlife in modern history. Tragically, 34 people lost their lives, over 12 million hectares of forest and woodlands were burnt, and nearly 3 billion animals - including thousands of koalas, kangaroos, wallabies, birds and other iconic wildlife were impacted by the devastating crisis - pushing many of our threatened species, including the koala, to the brink of extinction.
Learn more HERE


The tragedy of this event, and the impact of climate change on our planet is something that hits hard with us. It left a heavy feeling. Sharon mentioned her friend, Eva Orner (incredible filmmaker and MV customer) was due to release her documentary 'Burning'....on 'Black Friday' - how serendipitous! 

Here's the trailer.



....And so, it was crystal clear that THIS is how we should be spending our energy at this time of year.


What We're Doing Instead
We've swapped DISCOUNTS for DONATIONS, and we would like to celebrate the launch of her film, entice you all to spend the weekend watching it, and of course - to giveback in support of the Australian Bushfire Recovery Efforts.

For every single order, over this Friday 26th - Monday 29th November, we will donate $10 in your honour to The WWF Bushfire Recovery. Plus, we're giving you a little gift as a token of our immense gratitude for allowing us to support this worthy cause, instead of discounting. If you are due for an MV top-up order, or were planning on gifting your loves ones with MV products, this weekend is a meaningful time to do so. If you're not ready for a purchase, please don't feel pressured, we intend to support more worthy causes throughout 2022 too - we'll let you know when another 'giveback' event is taking place.

The Details
Offer starts 12am Friday 26th November and ends Midnight Monday 29th November.
Offer valid for all orders over $50.
Add this product to your cart, and it'll automatically discount x

Thank you for supporting small business, and for allowing us to do something a little different. I hope you find some products you love, and maybe even something for someone special.
xo
Sharon