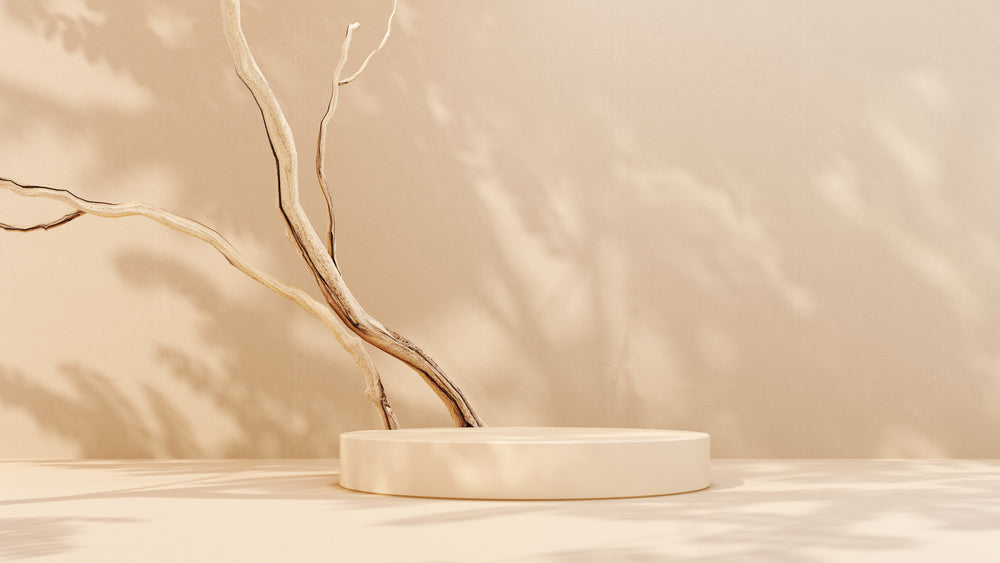 MV's founder, Sharon McGlinchey, has never made it her mission to keep up with skincare fads. In fact, the opposite is true, which is how she earned the moniker of Beauty Rebel. Yet, Sharon is often described as ahead of her time. There's a very good reason for this dichotomy.
Although beauty trends may cycle in and out, our skin microbiome never really changes. Efficacious, ecological and sensible skin care is always in vogue, and that's where Sharon has put her energy. So let's break down a few so-called 'new' trends that MV have embraced since day one. 
Green Beauty
In the skincare world, it seems that green is the new black, but plant-aligned products and sustainability-driven practices are what Sharon has built her business on. From ingredient sourcing to packaging, the MV business ethos of 'less is more' informs everything we do. 
Take our aluminium packaging, for example. "The term used for the production of this material is closed-loop manufacture which means it is infinitely recyclable. When MV began, everyone thought bottling aluminium was a crazy choice", says Sharon. "Now it's all the rage for it's eco-credentials!"
MV product formulas are also ultra-concentrated. This benefits the earth as we're not needlessly shipping bottles that are bigger and heavier than they need to be, bulked up with water and filler. Less weight in shipping, less need for constant refills which reduces emissions, and it's more cost-effective for our clients. 
Multifunctional Beauty 
Everybody is raving about multifunctional and multipurpose products now, but cutting down has never been cutting edge at MV - it's just how we do things. We've long focused on creating a 'capsule' collection of hard-working skincare products which play more than one role in your daily ritual. 
"Multipurpose, versatile and multifunctional all add up to fewer products in your bathroom cabinet. We formulate wisely so one product can have many functions regardless of age, allowing MV to be shared with the whole family. Again, this brings the double benefit of being better for the planet, and better for our customers' budget," Sharon explains. 
Customisation 
Customisation is a market trend which has exploded in the past few years. It sounds great in theory - the thought that you can have skincare created with your exact skin type and condition in mind - but what it looks like in reality is a different story. Big brands advertise a basic cream online and allow customers to choose a number of ingredients which you believe are mixed in especially for you at the factory. The more likely scenario is that these 'customised' creams are in fact pre-mixed and sitting in a warehouse by the hundreds if not thousands ready for despatch. 
True customisation occurs when YOU have the ability to experiment and customise products in real-time, which is exactly what MV has been designed to do. Whether it's adding a booster to your Rose Soothing & Protective Moisturiser, or Signature Mask, using our Rose Hydrating Mist to create a lighter cream or lotion or adding Pure Jojoba  to an MV moisturiser on those days your skin feels a little more sensitive, we've long encouraged our customers to take control of their own bathroom cabinet. 
By customising your products - with tips and guidance from our team and our how-to videos - you're getting a level of precision and control that a factory dropper cannot match.
Remember: you live in your skin and you know it best!
Skin Cycling 
The seasons, our hormones, our diets, our days, and our lives are ever-changing. The 'skin cycling' trend refers to taking these natural fluctuations into consideration to keep you feeling at your best. 
"The concept of skin cycling is the reason why the MV range has three boosters. Customers can mix and match, selecting the one which suits their skin and mood at the same time," Sharon explains. 
She goes on to explain the best way to skin cycle with MV products. 
"For periods of heightened emotions, mood swings, pregnancy and menopause, choose Rose Plus Booster for calm and balance", Sharon says. 
"When skin and mind are flagging, energy is low or to shake off jetlag, choose our Instant Revival Booster for invigoration. 
When exposed to harsh environments, opt for the Daily Soother Booster to not only nourish and protect parched skin but to provide a sense of immediate comfort - like being tucked in at night." 
Sharon also notes it's worthwhile letting your skin rest and re-set every now and then. She recommends that with each new season, you take a 5-7 day break and use nothing apart from MV Pure Jojoba morning and night as your moisturiser. 
"It's like sending your skin off on retreat" she explains. 
This is especially true if you regularly partake in laser, microdermabrasion, IPL treatments or retinol use. These are all barrier-disruptive procedures which your skin will need some time to recuperate from. 
Skin Flooding / Moisture Sandwiching
Have you heard these juicy-sounding terms being thrown around online? They sound catchy, but Sharon emphasises that what they're describing is nothing new. 
"Skin flooding is a repackaging of the classic skin 'layering' approach for a new generation. It refers to moisture-loading your skin for maximum hydration and this is achieved when multiple products such as a serum, an oil and a moisturiser are each applied to damp skin in close succession. An application technique essential to the efficacy and success of MV for over two decades. A technique that raised eyebrows in the industry 23 years ago!"
You can always count on Sharon McGlinchey, the Beauty Rebel, to call out BS marketing when she spots it. Despite all the bells and whistles, these new fads are nothing revolutionary - at the end of the day, skin is skin. It doesn't read the magazines which means it's not keeping up with new buzzwords, so why should we buy into them? 
Invest in your skin by listening to its needs and pampering it with treatments that aren't trend-induced, but which instead have stood the test of time. 
That's what Sharon has done for 23 years. It's why after so many years, MV remains well ahead of the curve.