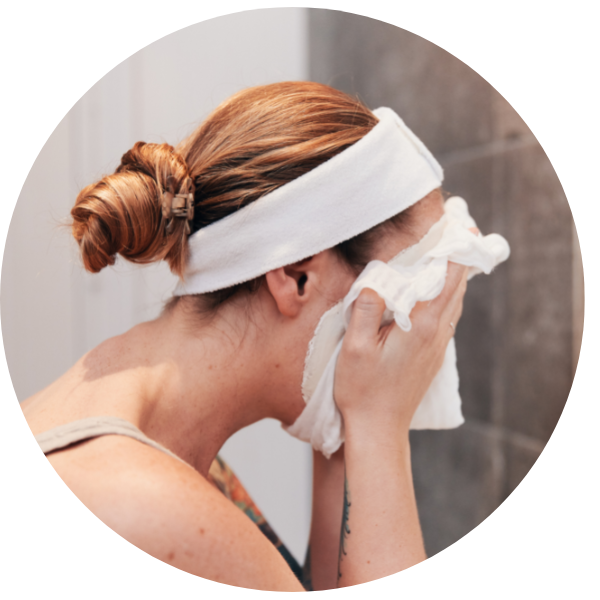 1. Start Slow & Simple
With any form of sensitivity we always recommend starting out slowly, initially introducing too many products may trigger a reaction. Adopt a 'less is more' approach to your skincare regime — clear out your bathroom cabinet and discover the power of our multi-functional and kind formulations.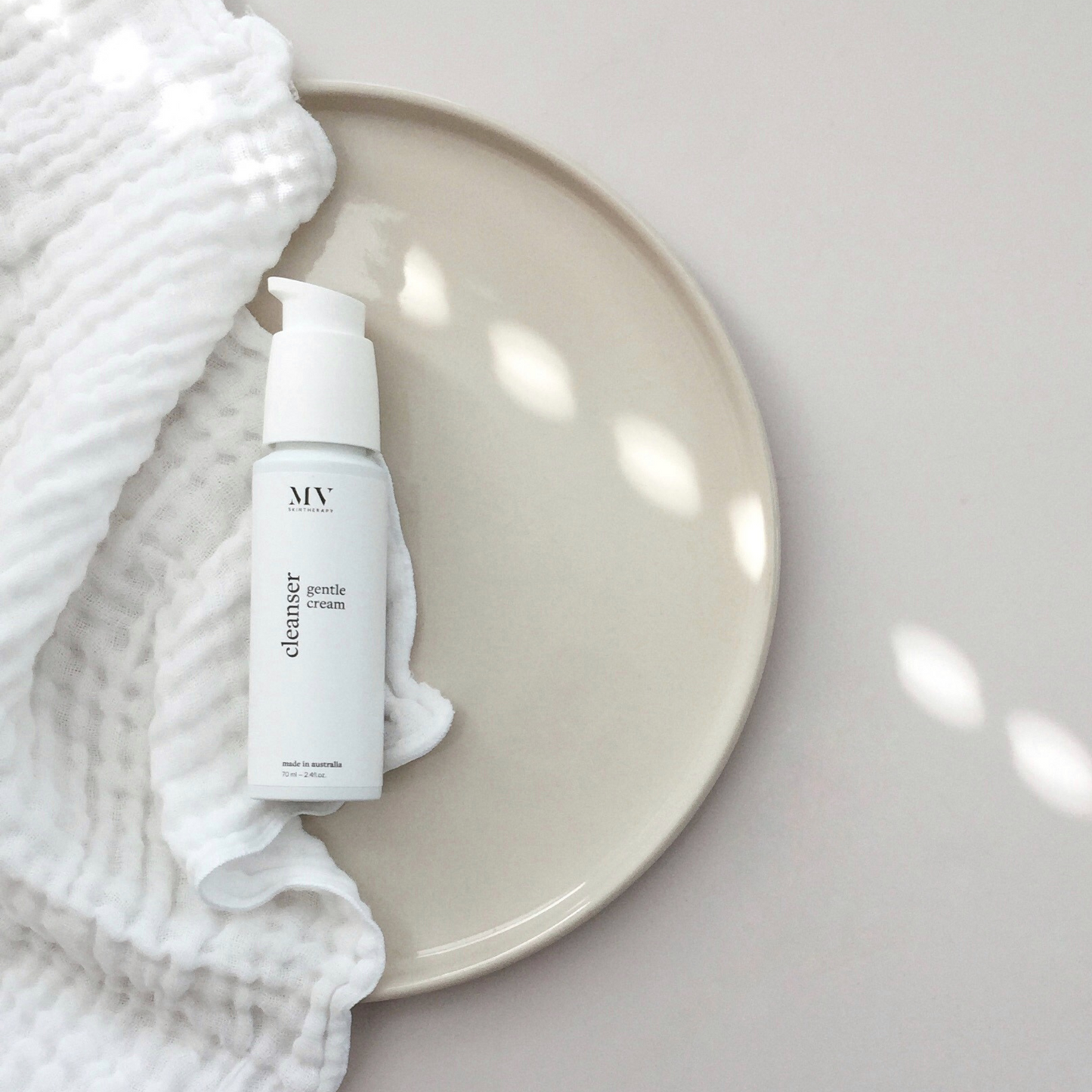 2. Stop Washing With Water
Do you emerge from the shower with red blotchy, tight-feeling skin? For most people with sensitivity, the answer to this question is yes. Tap-water, full of various minerals can be very drying and irritating on the skin.
Avoid splashing your face with water or fully immersing your face while in the shower and instead, discover the art of MV compress cleansing, to gently and effectively instil nurturing calm on your complexion.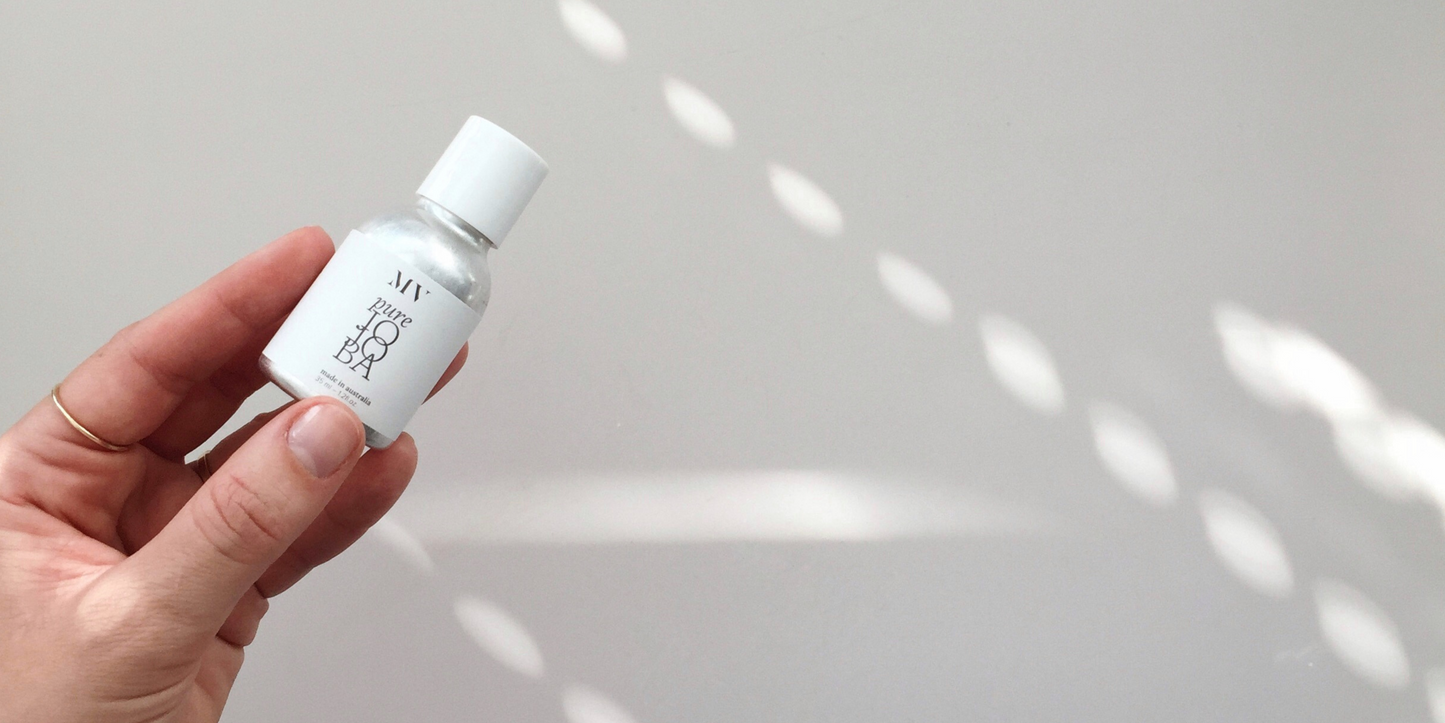 3. Pre Shower Prep
Protect reactive skin from the harsh effects of the shower. Immediately after cleansing at the sink, smooth a few drops of MV Pure Jojoba over your face and neck. This will instantly relax, soothe and provide a protective barrier to the skin, creating a natural buffer against the water. This simple trick works wonders, and a very well-known beauty editor I shared this tip with (over 10 years ago), just told me that she still SWEARS by this method.
Extra shower tip: Tilt your head so that the water does not gush over your face.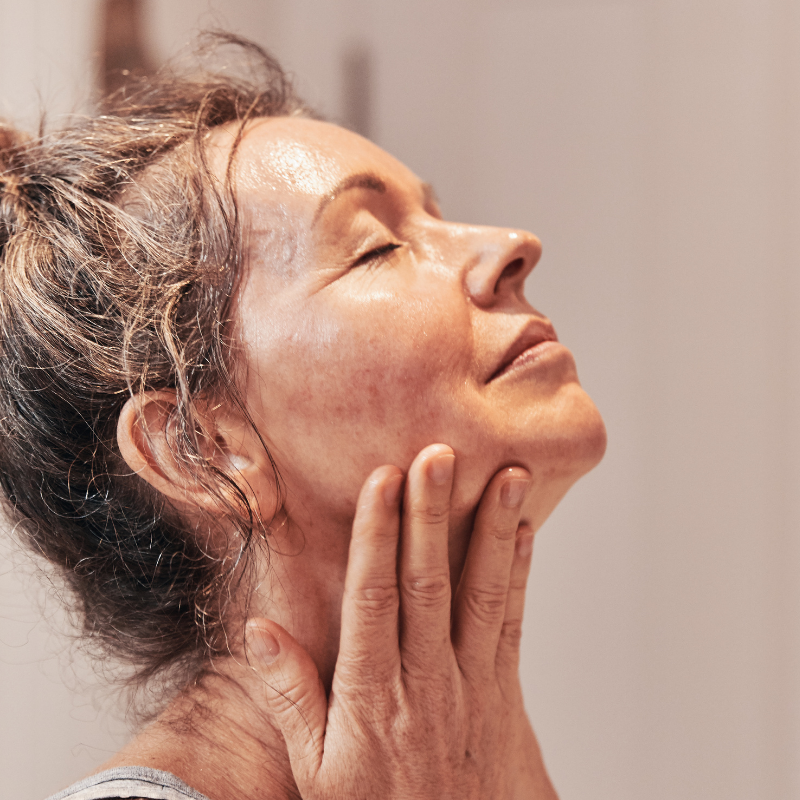 4. Learn To Buffer
Start to rely on MV Pure Jojoba as your new best friend. All barrier-impaired complexions, including sensitivity, will find welcome relief in this multi-functional and extremely skin friendly product.
・Layer it underneath any skincare product as your shield or protective buffer.
・Use it as a comprehensive eye treatment product to remove makeup, condition lashes, and hydrate fine lines.
・For days of hyper-reactivity, use Pure Jojoba as a superfine light moisturiser to balance breakouts, and restore calm to flaky or inflamed complexions.
5. Throw Out Foaming Cleansers
All skins, but especially sensitive skins, should avoid using foaming cleansers. Particularly those containing sodium lauryl/laureth sulphate or glycolic acid, by far the most potent and potentially irritating of the family of hydroxyl acids. You should also avoid cleansing with hot water and steer well clear of granular scrubs.
Over-exfoliation is one of the most common causes of 'man-made' sensitivity. Constantly removing 'healthy' as well as 'dead' skin cells creates micro-trauma that strips the skin's delicate acid mantle, compromises natural resilience, often creates sensitivity and contributes to pigmentation issues.
A current buzz word in the beauty industry is 'skin microbiome'. Ironically, if we did not regularly strip the skin and remove the acid mantle (hydrolipidic film*) through daily use of high pH foaming cleansers and frequent exfoliation, we wouldn't need to have discussions about restoring the skin's microbiome.

*A protective film that covers the entire surface of the skin. It is composed mainly of sweat, sebum and water, and its main function is to defend the skin against bacteria, acting as an external protective barrier.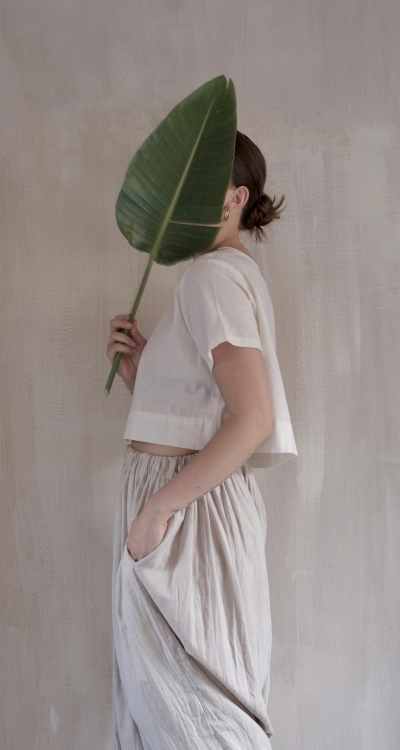 6. Avoid Daily Use Of SPF
A controversial topic, I know.
The truth is, many sunscreens contain ingredients that are highly irritating to sensitive skin. Their active ingredients come in two forms, mineral and chemical filters. Each has a different mechanism for protecting the skin. All TGA-approved sunscreens are exempt from displaying their full ingredients list on the product, so the consumer is totally unaware the SPF 30 or 50 their dermatologist has recommended contains a cocktail of known skin irritants and oestrogen-mimicking ingredients including oxybenzone, avobenzone, octisalate, octocrylene, homosalate and octinoxate.
We are already exposed to far too many irritants without adding unnecessarily to our daily load. So for those who spend most of their days working indoors, I would recommend giving your skin a break - and instead practice sun safety by staying in shade, wearing a hat, and avoid midday sun exposure when UV is highest.
If you do spend much of the day outdoors then buy a dedicated SPF rather than a moisturiser with an SPF, and pay close attention to the actual dosage and reapplication instructions. Invest in a good quality zinc-based sunscreen, as natural light reflectors are a much healthier option. Just remember: always apply physical sunscreens containing either zinc or titanium dioxide after your moisturiser – not before.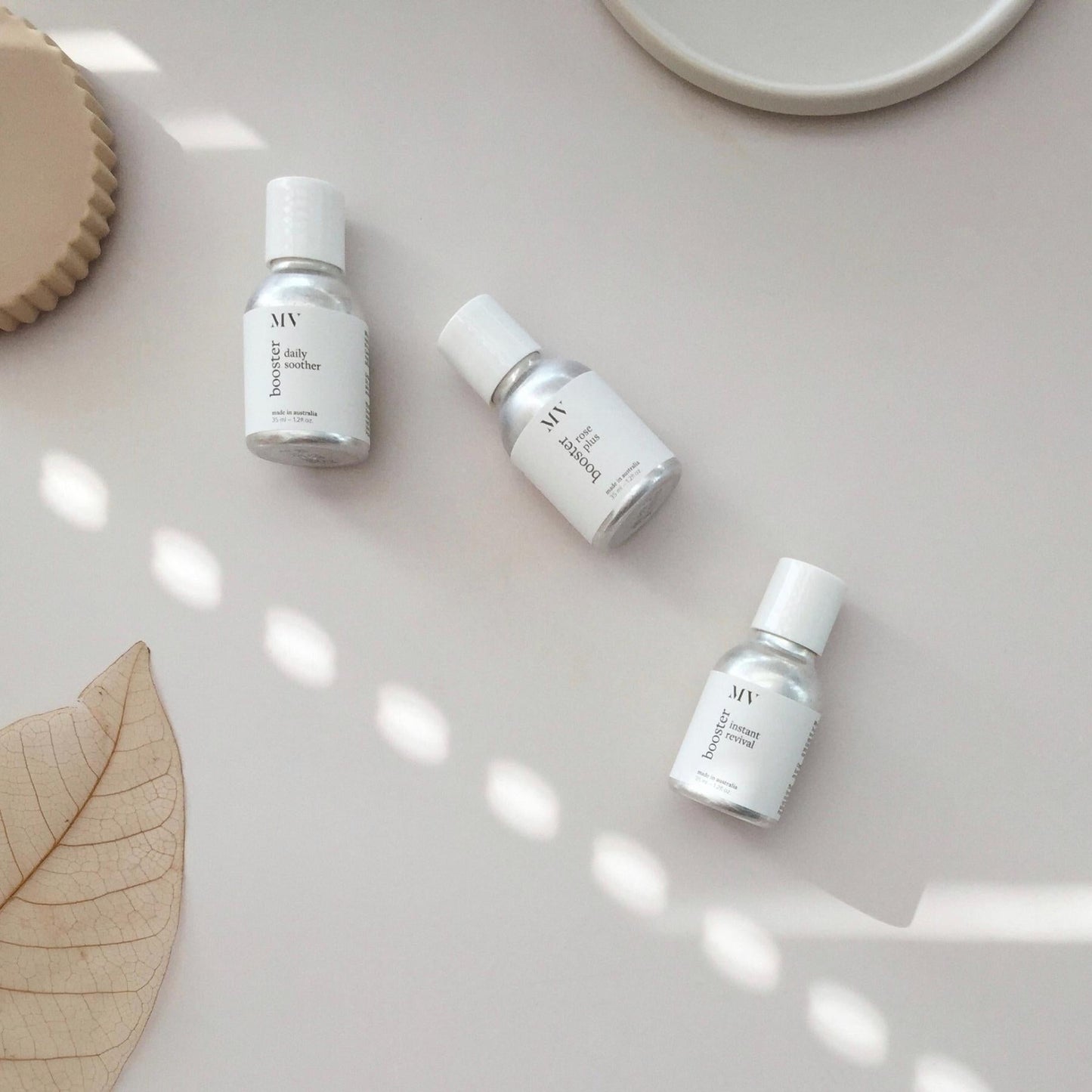 7. Stop Wearing Moisturiser To Bed
The MV philosophy skips moisturiser before bed. Diurnal rhythms mean that skin undergoes regeneration, cell turnover, and repair during the evening. Moisturiser sits atop the skin, as a protective barrier, which would hinder this vital process. In the evenings, give your skin a rest and instead treat it to a few drops of an antioxidant rich plant oil that supports the microbiome and protects the skin barrier.
8. Listen To Your Skin
Skin health is holistic. The health and happiness of your largest organ is dynamic, and will be impacted by factors such as lifestyle, diet, stress, emotions, environment - as well as topical irritants.
FREE Sensitivity eBook
FREE Sensitivity eBook
Advice & insights from MV founder, celebrity facialist, and sensitive skin expert - Sharon McGlinchey.
100% Australian owned & made
On Sydney's Northern Beaches
Sensitive Skin Friendly
Created because of, and for, sensitive skin
Small batch & Handcrafted
Using only therapeutic grade ingredients
100% Australian owned & made
On Sydney's Northern Beaches
Sensitive Skin Friendly
Created because of, and for, sensitive skin
Small batch & Handcrafted
Using only therapeutic grade ingredients