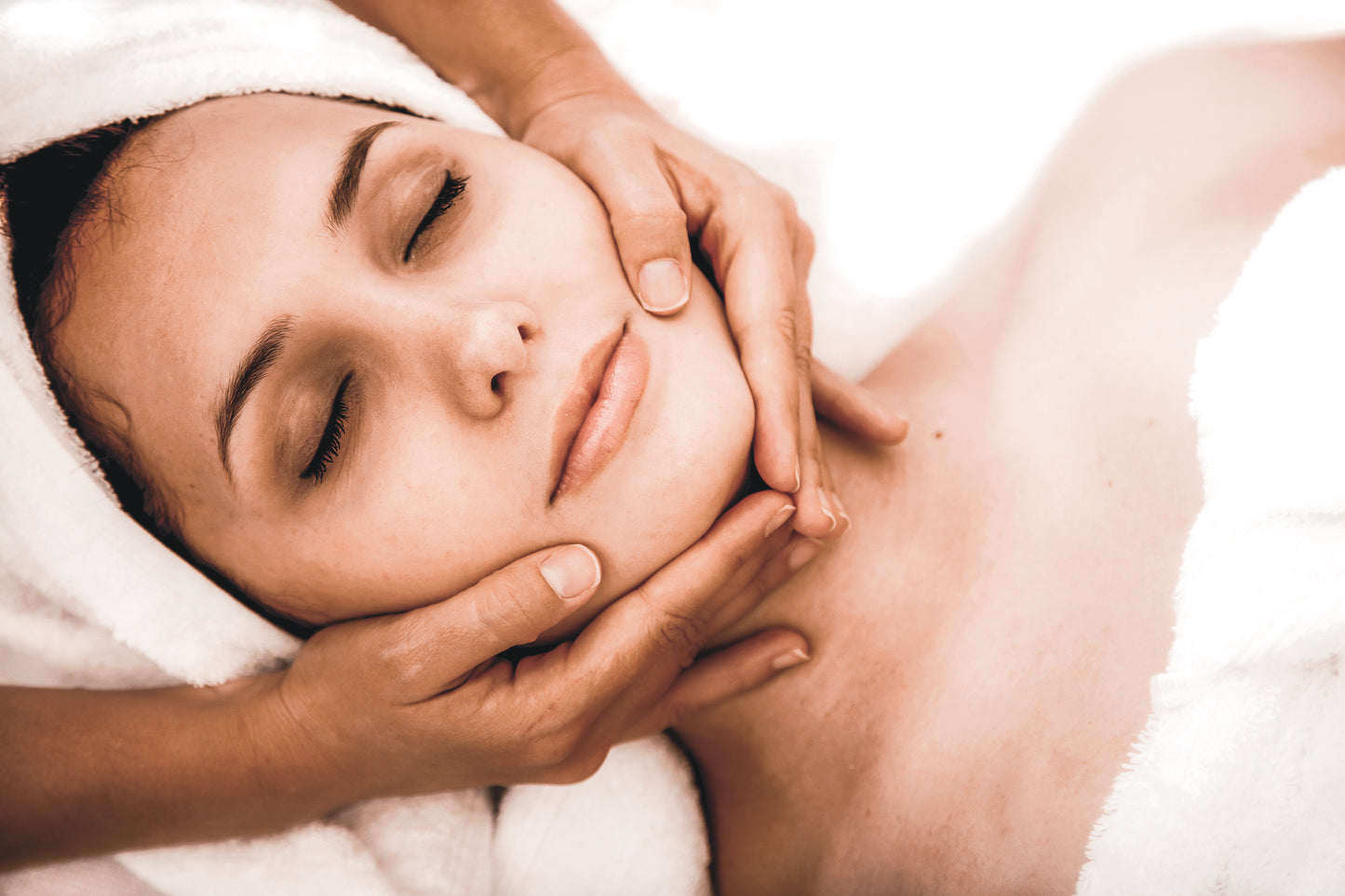 Finding presence can be challenging in a world that demands us to be constantly switched "on". Most of us experience an unending stream of mental chatter: our thoughts surrounding deadlines, worries and what-if's can sometimes feel like passengers crowding onto a train at peak hour.
So, how can we make a little more space for presence amongst the chaos?
Sharon McGlinchey believes that taking one deep breath is a good place to start. We chatted to her about how her skincare rituals, such as the 3-minute and mineral mask ritual, are small acts which act as circuit breakers in our busy minds to centre us, calm us and offer us the space to breathe.
How did you come up with these rituals?
I thought about the sensations I truly loved when receiving a facial and set about replicating some of these but with a toddler running round my feet it soon became apparent that 5 minutes in the bathroom with the door closed was 2 minutes too long.
I then considered the standard application methods for skincare products and it dawned on me that when I gave a facial, I wasn't pressing or patting a product into the skin, I was gliding over the face with relaxed palms. This combination of hugging the skin with relaxed palms and holding a steamy compress over the face while taking long slow deep breaths was a winning formula.   
What are the different ways that these rituals allow you to connect with yourself?
They allow you to connect with yourself because they take you out of your thinking body and into your feeling body and that's how meditation is often described: feeling, not thinking! Being immersed in beautiful aromas, the warmth of a compress and a kinder touch twice a day for 3 mins really does make a difference and it connects you with your skin in a far more positive and accepting way. Also, the power of aromatherapy on the nervous system should never be underestimated.
How have you seen others in your life benefit from taking that little extra time for these rituals?
The amazing feedback from hundreds of MV devotees over two decades has left me in no doubt that magic happens when we are a little kinder to ourselves. I'm often told the 3 Min Skin Ritual is the best part of the day and that there's no going back to face washing in the shower with a foaming cleanser after seeing the difference in their once very sensitive skin. 
What other small acts of kindness do you practice daily that help you take a deeper breath?
I always drink my morning cuppa sitting on the step of my balcony with all my flowering plants around me. This takes me back to my Gran's garden where I spent many hours over the summer school holidays with my head stuck in her garden beds picking flowers and watching the bees gathering pollen. This small act each morning makes me smile inside, and an inner smile always results in a much deeper breath.
What advice would you give to someone who feels guilty for taking the time to practice daily self-care?
Many, many women feel guilty about taking time for themselves, especially when they have children. I always encourage women to invest in themselves by saying
"You can't care for everyone else in your family unless you also care for yourself"
.
I like to use the analogy of the flat battery and remind women that often the only person who can charge that battery is themselves.