BUNDLE & SAVE $22
The Perfect Pair
This duo contains our multi-award winning Rose Soothing & Protective Moisturiser with our Rose Hydrating Mist for a beautifully balanced and nourishing way to hydrate. 
Rose Mist
More than just an indulgence for the senses, this skin-loving mist infused with Australian Native Quandong, enhances hydration and provides welcome relief for unsettled complexions. Each bottle contains thousands of precious petals - picked only at dawn - from the exquisite Bulgarian Damask Rose.
Rose Soothing & Protective Moisturiser
Adored by celebrities and make-up artists across the globe for its impressive performance and versatility, this is the iconic product that started it all. Thousands of Bulgarian Rose petals work harmoniously to soothe unsettled complexions, protect delicate skin, and provide wonderfully quenching relief for all skin types.

 ___________________________________
'I have the most unbelievably sensitive skin so I love this moisturiser. It's extra hydrating and smells of roses, which is heaven.'
- Emma Watson, Actor and UN Ambassador
'My skin is a sucker for Rose Soothing & Protective Moisturiser by MV Organic Skincare, the fabulous super-natural skin-cherishing range by Australian-based beauty therapist Sharon McGlinchey. Infused with Bulgarian rose oil (the most expensive and sought after), it suits all skins and all ages, she says, including demanding complexions like mine – dry, mature and very sensitive.'
- Sarah Stacey, Co Founder of The Beauty Bible UK
'The rose hydrating Mist is a 'skin-saviour' in the vital toning regime.
- Nicola Joss, celebrity facialist and skincare expert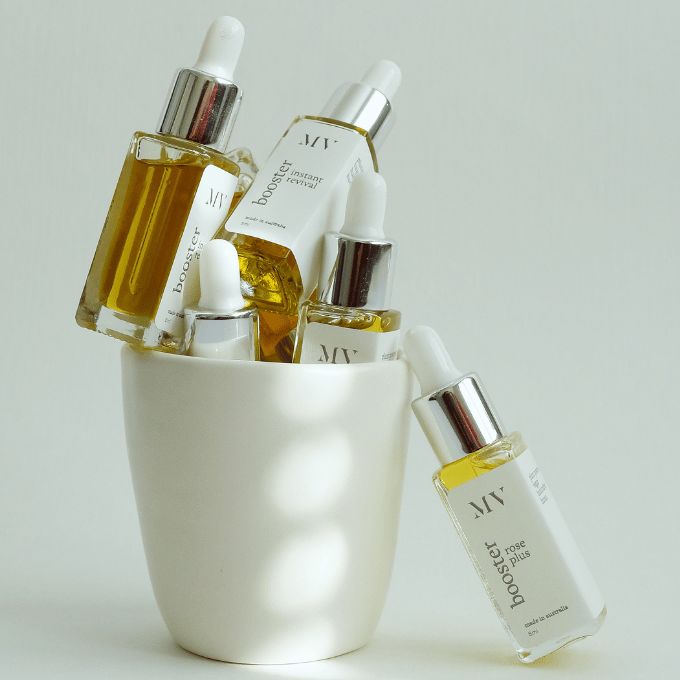 Booster Oils
Created over 23 years ago, these heritage formulations deliver targeted bioactives deeper into the cellular matrix.


Discover why these receive industry accolades and celebrity fanfare.