Highly therapeutic
Formulated with plant-powered actives used at their therapeutic doses
A Multi-Purpose Hero
The key to unlocking the MV power of customisation and multi-functionality
Hand crafted & small-batch
This protects the potency, efficacy, and ensures incredible quality is preserved
Highly therapeutic
Formulated with plant-powered actives used at their therapeutic doses
A Multi-Purpose Hero
The key to unlocking the MV power of customisation and multi-functionality
Hand crafted & small-batch
This protects the potency, efficacy, and ensures incredible quality is preserved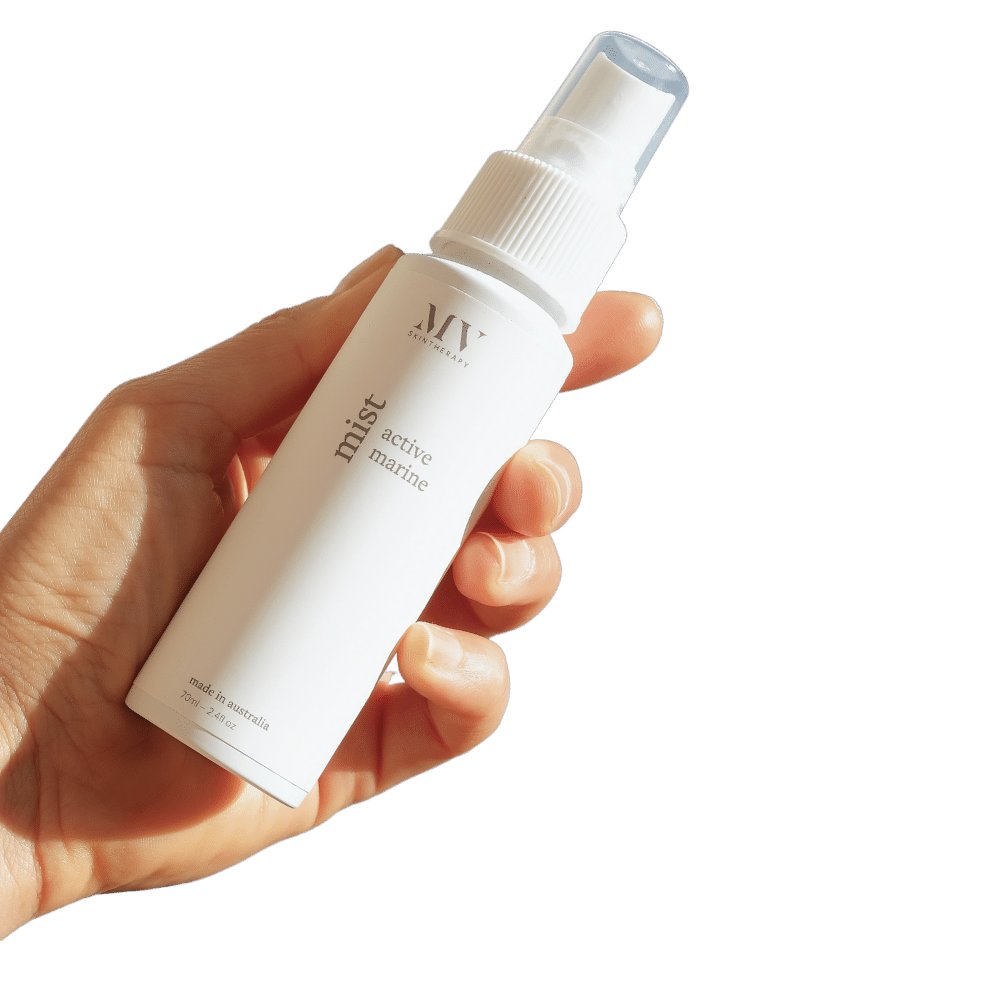 Why You'll Love It
A super hydrating, nutrient-infused moisture boost to support a healthy skin barrier, promote a plump and dewy complexion, and provide much-needed protection from daily environmental aggressors.
Each bottle is brimming with amino acids and minerals from Tasmanian Ocean Kelp and skin-supportive Niacinamide.


✔️ Quenches and prevents dehydration
✔️ Reduces the visible signs of environmental damage
✔️ Brightens, smoothes and clarifies skin texture
✔️ Stimulates collagen synthesis & cellular renewal
✔️ Instantly uplifts and energises the skin
✔️ Promotes immunity & skin resilience in barrier-impaired complexions
✔️ Transforms MV moisturisers into either a rich cream or light lotion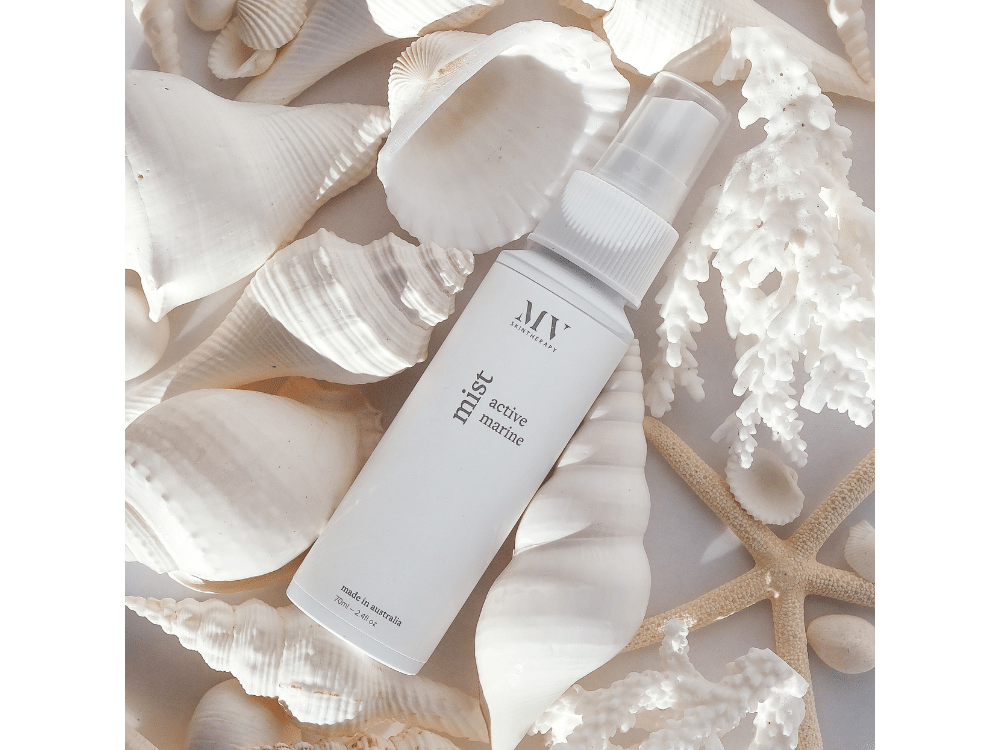 A Gentle & Therapeutic Remedy For
・Dehydration
・Impaired barrier-function
・Acne affected skins
・Hormonal imbalance
・Uneven skin tone
・Devitalised complexions
・Reparation of UV induced damage
・Skin pigmentation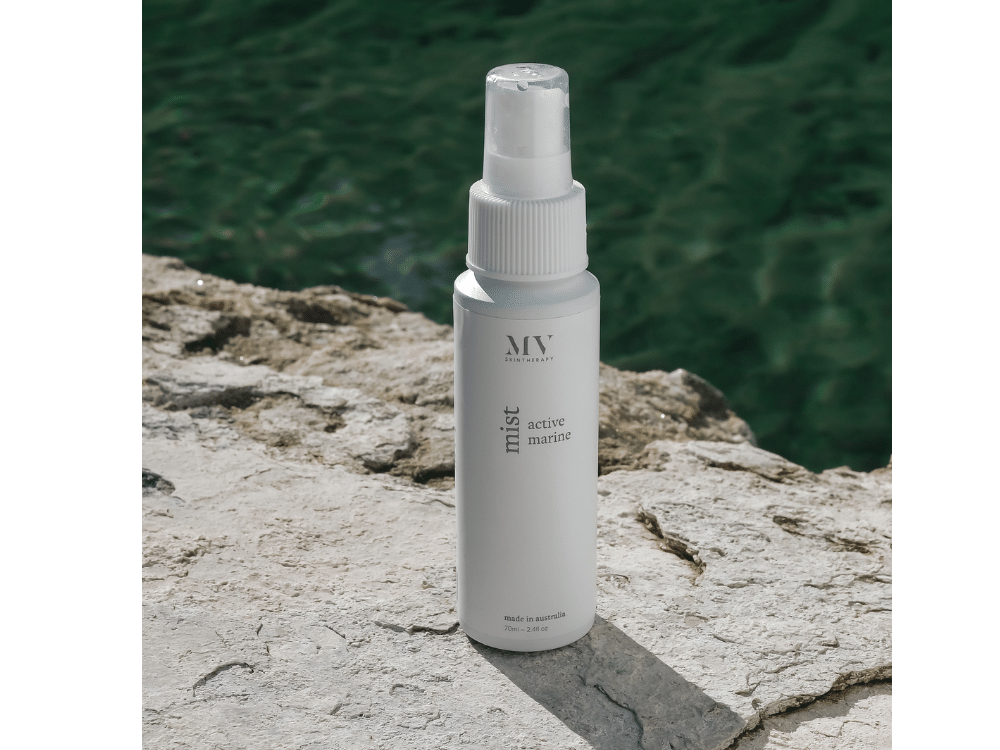 Feels just like..
An invigorating dive in the ocean.

Bursting with vitality, the Active Marine Mist lavishes the skin in powerful minerals, nutrients, and restorative antioxidants. Feel instantly revitalised and refreshed with the uplifting aromatics of bitter orange, geranium, and sandalwood.
VitaminSea
Awaken devitalised skin with energising and restorative compounds from Tasmanian Ocean Kelp & Niacinamide.
TASMANIAN OCEAN KELP
Cellular Extraction
A robust source of vitamins, proteins, amino acids and minerals including iodine, zinc and magnesium. This versatile extract helps firm, soothe, detoxify and balance the skin. Rich in naturally occurring marine collagen - and containing peptides that stimulate collagen and elastin production.
A naturally healing bodyguard for the face. 
FUCOIDAN & PHLOROTANNINS
Bioactive marine plant compounds
Tasmanian Ocean Kelp is brimming with these uniquely protective and restorative compounds. Free-radical scavenging, these bioactives can help protect the skin from UVA damage and pollution, prevent the breakdown of collagen - as well as stimulate healing and the formation of new skin matrix.
NIACINAMIDE
Vitamin B3
A comprehensive skin-brightening nutrient. This natural keratin builder provides essential support, inhibits the transfer of pigment in cellular turnover, and improves the surface structure of the skin. Promoting a plump and firm skin barrier, reduced redness and inflammation, and an overall luminous complexion.
WEST AUSTRALIAN SANDALWOOD HYDROSOL
Supremely hydrating and naturally rich in water-loving compounds, this exquisite hydrosol soothes complexions of all ages. Used as a skin tonic to promote healing and regeneration for both barrier-impaired and mature skins.
Full Ingredient List

Aqua (Water), Santalum Spicata (Australian Sandalwood) Wood Water, Glycerin, Niacinamide (B3), Sodium Levulinate, Sodium Anisate, Polysorbate 20, Citrus Aurantium Amara (Orange Bitter) Peel Oil, Durvillea Potatorum (Native Seaweed/Tasmanian Kelp) Plant Extract, Lactic Acid, Pelargonium Graveolens (Geranium Rose) Flower Oil, Citric Acid, Sodium Benzoate, Potassium Sorbate, Citronellol, Geraniol, Limonene, Linalool,
Citral.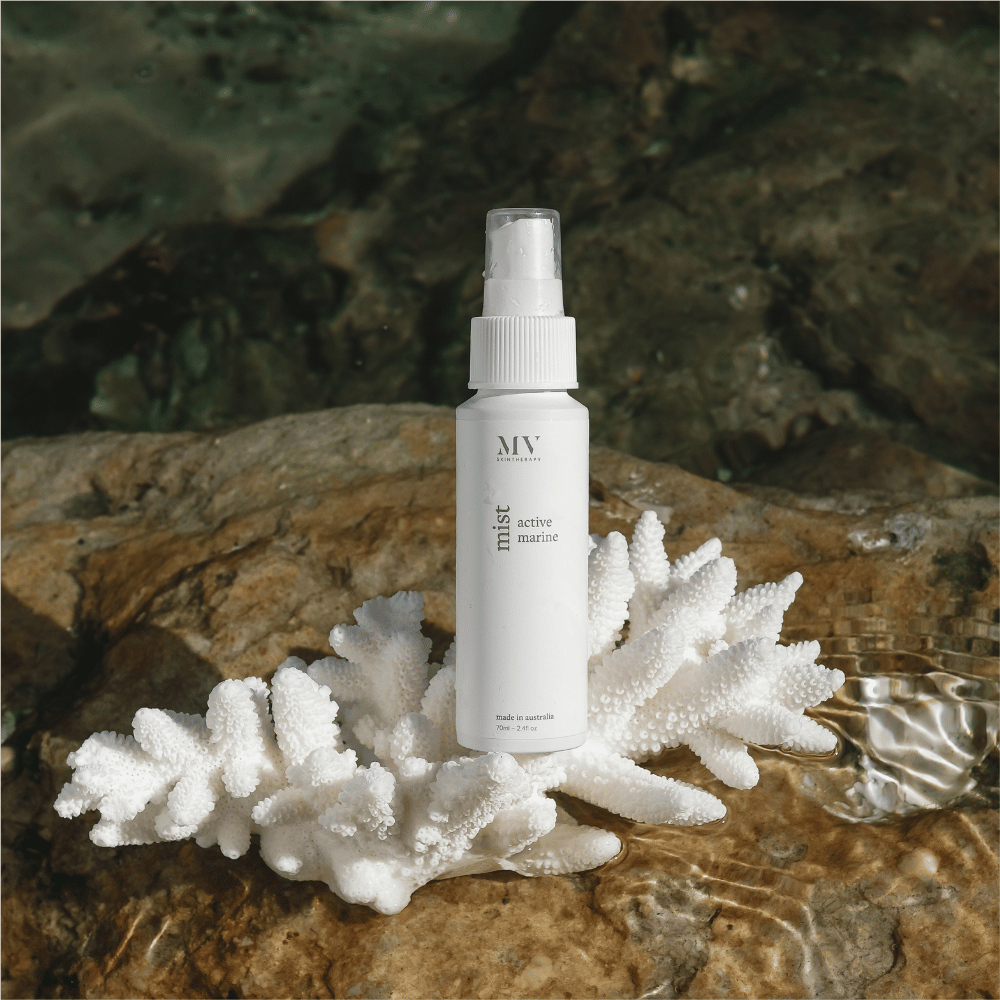 More than 'just' a mist....
• To set make-up beautifully, spritz several times at arms length - ensuring a fine veil of mist settles over the entire face.
• During the hot summer months, pop the Active Marine Mist in the fridge to help cool you down, and re-hydrate your skin.
• Re-spritz throughout the day to energise a tired complexion, and provide a dose of protective compounds to heal and soften.
The Ritual
Follow these simple steps for application perfection.
Essential Skin Prep
Spritz the face 2-3 times with Active Marine Mist, immediately before application of our Native Power Serum, Moisturisers, and Booster Oils. This lowers the skin surface tension and allows for absorption of both hydrating and therapeutic actives, whilst reducing the amount of treatment product needed by ~50%.
Cream to Lotion Customisation
Both MV Moisturisers are concentrated formulas, designed to be customised and adapted with the skins changing needs. Use the Active Marine Mist to create a tailor-made consistency every day.
Layering
Layering is an essential and integral part of MV's 3 Minute Skin Ritual - the key to long lasting hydration, to deeper absorption and to ensuring the skin receives just the right amount of product - never too much. The Active Marine Mist is the key to layering success.
I have quite sensitive skin so can I use the Active Marine Mist?
I have occasional sensitivity, can I use the Active Marine Mist?

Occasional sensitivity can come and go with the seasons, our diet and lifestyle, our hormones and new skincare and cosmetics we try.
If this sounds like you, please give the Active Marine Mist a go because it has wonderful skin-strengthening properties, helps build resilience and maintain a healthy skin barrier. However, if the Active Marine Mist doesn't work for you, switch back to the Rose Hydrating Mist.
I have normal-combination skin that's often dehydrated - which Mist should I choose?

Choose the Active Marine Mist and pair this with the Native Power Serum, the combination of these 2 super hydrating and skin-quenching products will provide day long hydration. The golden rule is to then seal these products in with one of our nourishing and protective moisturisers.
I have acne, which mist should I use?

If there's no sensitivity present, then choose the Active Marine Mist because Niacinide (B3) is an amazing skin all-rounder with anti-inflammatory properties and Tasmanian Kelp is packed with vitamins, amino acids and skin healing minerals such as zinc and magnesium - a winning combination of ingredients to help balance and heal those with acne and blemish-prone complexions.
I have rosacea, which Mist should I use?
I have mature but hormonal skin so which Mist should I use?

You can use either. Both will suit your skin well so, try the new Active Marine Mist. You may prefer this aroma or - if you love both - you can switch them up with the seasons.
Tested On Real People
The Active Marine Mist is brilliant, it does indeed take you to the sea ( I should know I am a trained Marine Scientist…phycologist…seaweed expert). It is heavier than the rose mist and I love that it feels like it is doing more. It is a great make up set, mist before oil at night and before booster in the morning.
I could spend a while raving on but in short - fantastic! I didn't think I would ever use anything else but the rose mist- but…I think you have done it!
Nicole B. - Verified Customer Review
I loved that this mist allowed me to further customise my MV experience. On long, hot days I found it really energising as a pick me up spritz. It worked to revive and restore, whereas I love the MV Hydrating Rose Mist to calm and quiet. I was able to further blend my MV products and support my skin in new ways. I loved the scent, the feeling on my skin, and the overall experience.
My (male) partner also enjoyed the Active Marine Mist - it felt more masculine for him.
Catherine M. - Verified Customer Review
For me this isn't simply an alternative to the rose mist. I paired it with the Native Power Serum and then Jojoba Oil - and wow - what a beautiful dewy skin quality. I can imagine all genders and age groups really enjoying this one.
Thank you for yet another stunning high quality treatment option.
Clare B. - Verified Customer Review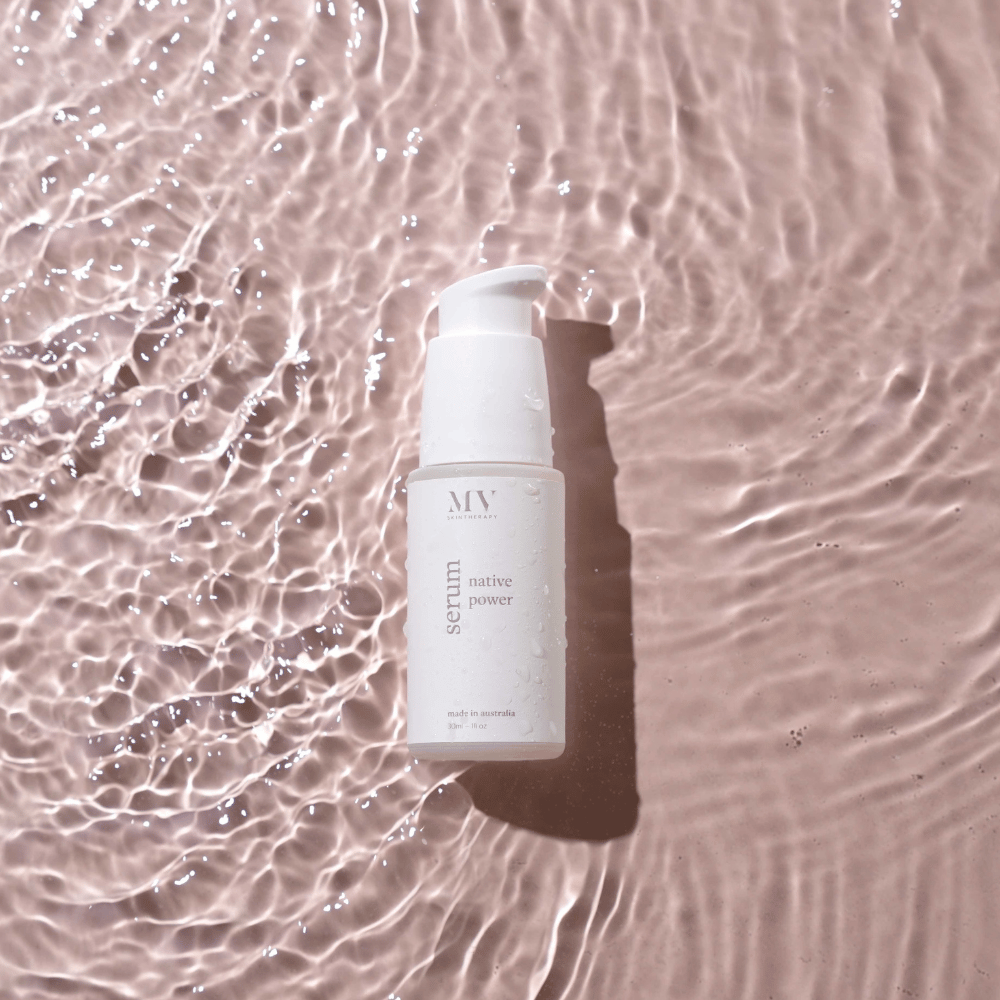 A Hydration Companion
A powerful duo.
Couple the Active Marine Mist with our Native Power Serum for the ultimate in skin-quenching hydration.
Therapeutic grade ingredients
Therapeutic grade ingredients