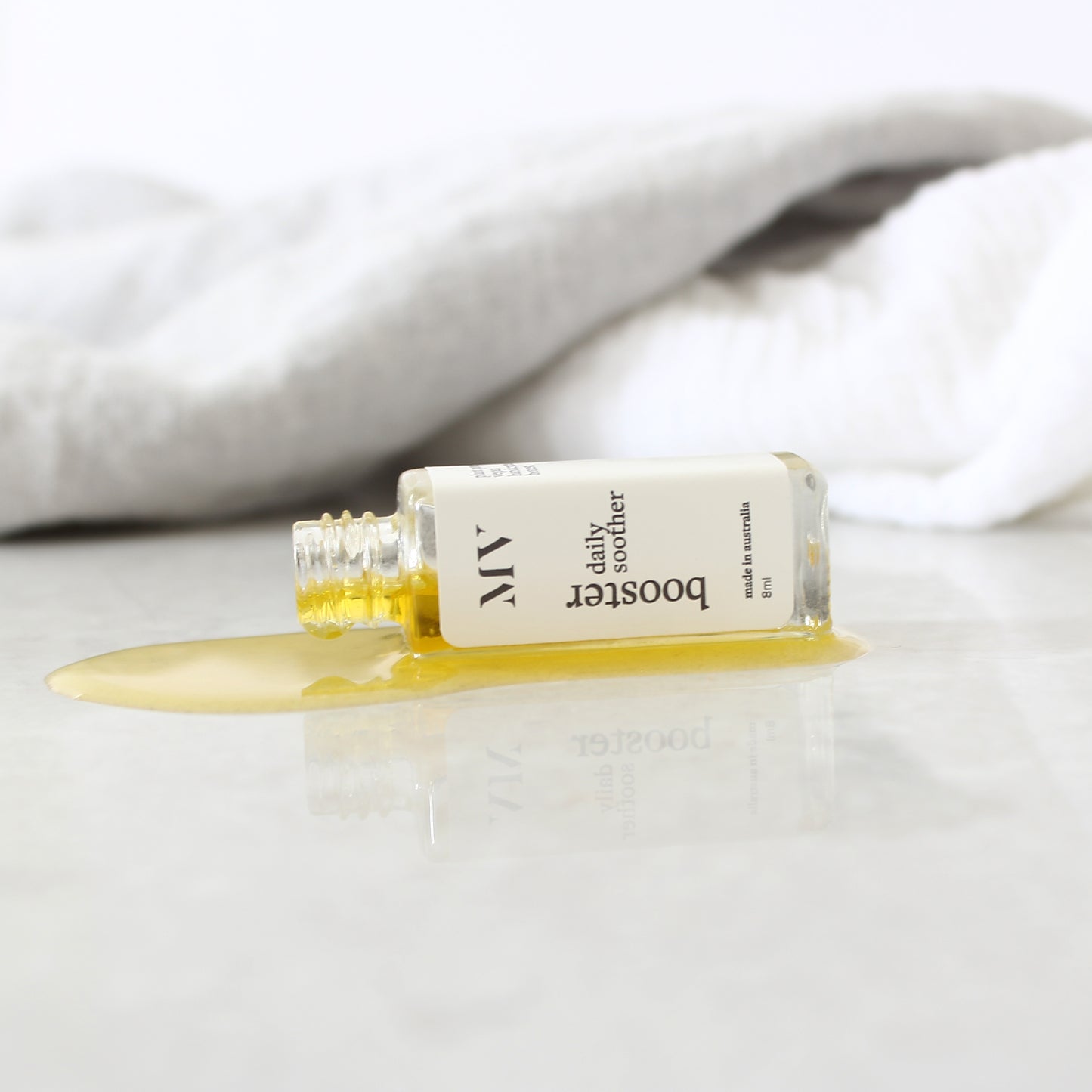 It happens to the best of us – the winter chill robs our skin of the plush, balmy softness we so carefully cultivated during summer and before you know it, flaky, itchy, cracked and dry has taken its place.
You may already be well-prepared with an armoury of super-nourishing and protecting skincare to safeguard against winter's effects but, if your skin has suddenly undergone a not-so-attractive transformation overnight thanks to the dropping temperature, you'll be needing rescue remedies that can turn it around super-fast.
Enter wonder product, the Daily Soother Booster. This little bottle of goodness is your 'go-to' product for winter, or for anyone who works outdoors. It has a rich concentration of plant oils and essential oils, which nurture the skin and provide extra loving care for drastically dry skin - even flaky and itchy conditions such as Eczema and Dermatitis.
The 'hero' ingredients are:
* Calendula Oil – softening and protective
* Roman & German Chamomile – anti-inflammatory
* French Lavender – antiseptic, anti-inflammatory, healing and scar-reducing
The Rose Soothing & Protective Moisturiser does exactly what it says: it soothes the discomfort associated with dryness, and it protects by forming a nourishing barrier. Reach for this one every morning during winter, or anytime your skin is feeling parched or overexposed to the elements. Infused with exquisite Bulgarian Rose Oil, this super-hydrating and soothing formula makes it ideal for extra sensitive skins – including those suffering from Rosacea and Eczema.
The 'hero' ingredients are:
* Bulgarian Rose Oil – strengthening, hydrating and balancing
* Camellia Oil – softening, soothing, natural humectant
* Vitamin E (non GM) – healing, scar reducing and a powerful antioxidant
For harsh weather conditions or for skin that's in serious crisis mode, application is the key to getting excellent results. Here are a couple of top tips revealed:
Application Tip #1
First, smooth 2-3 drops of Daily Soother Booster over the face and neck. Next, follow with half a pump of Rose Soothing & Protective Moisturiser. Wait a minute and then apply another half pump of moisturiser. This technique is ideal for building a deeply nourishing and protective veil against harsh winter weather, and before applying make-up for smooth, even coverage.
Application Tip #2
Blend 2 drops of Daily Soother Booster with half a pump of Rose Soothing & Protective Moisturiser. Smooth over the face and neck with relaxed palms. If your skin is particularly dry, wait one minute after this, and then follow with another half a pump of moisturiser.